Halle Berry Dipped Her Bare Breasts In Guacamole For 'Movie 43'?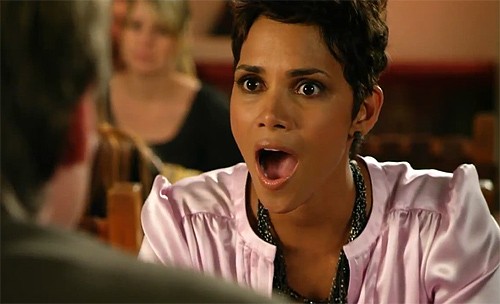 The myriad of stars who appear in Movie 43 may not be saying or doing much to promote the new film, but one story has been giving the film a lot of hype: Halle Berry dipping one of her breasts into a bowl of guacamole.

The new film from producer Peter Farrelly (among others) is made up of several short vignettes a la 1977s Kentucky Fried Movie; with A-list stars ranging from Hugh Jackman and Kate Winslet to Richard Gere Naomi Watts.

Last week Farrelly told the Chicago Sun Times that despite his cast of superstars appearing in what promises to be the year's raunchiest comedy (it's dubbed a "hard R" movie) and the film's almost non-existant promotion, a pair of past Oscar winners surprised him.

"What shocked me is both of these ladies pushed for more," Farrelly told the Times. "Halle Berry called me and said, 'I thought you said this is a hard R. It's too soft.' So, we came up with a scene where she puts her breasts in guacamole."

Farrelly talked about the scene again during a chat with fans on Reddit.com earlier today, saying that Berry's short was already so over-the-top that he thought she would drop out of the production.

"I was a little nervous about meeting her because her scene is so outrageous and I was afraid she might get on the set and balk. Not only did she not, but she thought the scene was too soft, and asked us to amp it up a little," he explained. "We ended up coming up with a couple of things for her to do that weren't scripted, but were insane.

"To give you an example (her scene) is about a couple (Berry and Stephen Merchant) who play Truth or Dare on a first date.

"Among other things she ended up sticking her bare breast into a bowl of guacamole. She couldn't have been more fun to work with."

But E News reports that Farrelly isn't exactly telling the truth about the scene, saying those who have already seen the film (which opens Friday) say that it's "obvious" the actress wore a prosthetic for the scene.

"They're so huge," their source said. "You can totally tell they're fake."

Berry's rep has since confirmed that they're fake also. Well, there's still Monster's Ball then.

Check out the Red Band trailer for Movie 43 below (not safe for work language & some nudity).