Hale Berry Shared Fun 'Cloud Atlas' Set Experiences With Daughter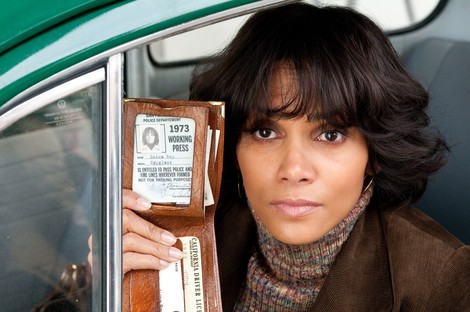 This weekend's major movie release, Cloud Atlas, is making a lot of waves because each of its stars plays six characters in the film. That includes Tom Hanks, Hugo Weaving, Hugh Grant and Halle Berry. One of Berry's characters was a Korean man in the future, Dr. Ovid. She brought her daughter to set the day she played Ovid.
"I can't remember the last time I had this much fun on a movie," Berry said. "There was one day my daughter came up, when I was dressed as Dr. Ovid. She loved coming to see all the different characters, and she liked most of them, but this day I just said, 'You're going to come see mommy's new character.' So, she walked up, she saw this old man and she was a little frightened of him because he had this thing on his eye and was like what the heck's that? And then, I walked up to her and she was a little scared of just who this man was. And then, when I said, 'Hi, honey' her wheels came off and she took off running in the other direction I think she was just traumatized."
Aside from the childhood trauma, Cloud Atlas was a profound experience for Berry. In one of the film's stories, she plays a German Jewish Caucasian woman in 1936. "I have to say that I loved it," Berry said. "I loved every second of it. Had it not been for a movie like this, that required each person to play all of these characters to fulfill the theme of the movie, nobody would have ever picked me to play a Jewish German woman or an Asian man, ever. There was a knowingness, when this was all happening, that this was pretty special and, as artists, we should soak in every moment of what this process is, every day that Ovid [makeup] was on, to really enjoy what that felt like and what that was about."
Cloud Atlas is now in theatres.