Gwyneth Paltrow Says Humiliating Butt-Baring Dress Had Everyone 'Scrambling For A Razor'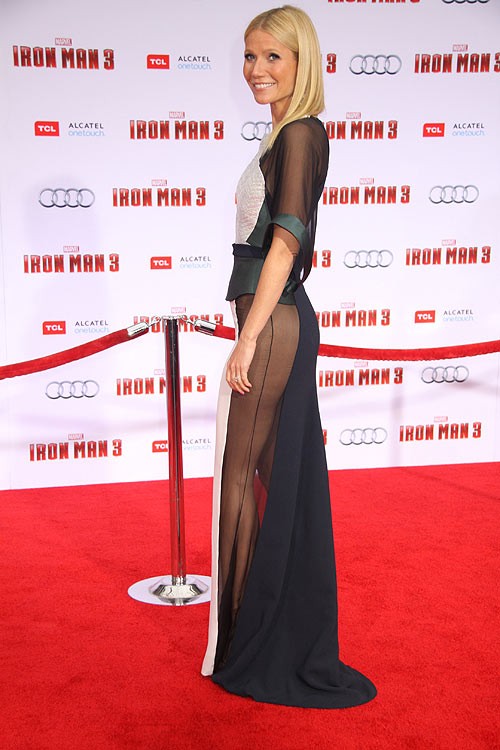 Gwyneth Paltrow was left blushing after bearing some serious skin in a green and white dress at Wednesday night's Iron Man 3 premiere.

The actress, who was just named People magazine's "Most Beautiful Woman In The World," joined talk show host Ellen DeGeneres for a chat on Thursday and revealed that her fashion choice for the evening turned into a "disaster."

The Antonio Berardi gown, which featured sheer, see-through panels down the sides, was meant to be worn sans underwear, and the star revealed that she had some grooming issues she had to quickly deal with before donning the dress.

The 40-year-old told Ellen, "Oh, I kind of had a disaster. I was doing a show and I changed there and I went and I couldn't wear underwear -- I don't think I can tell this story on TV...

"Well, let's just say everyone went scrambling for a razor. So I went from being the most beautiful to the most humiliated in one day."

Ellen giggled through her reply, saying, "I really have some questions now! You certainly don't take care of yourself... It was just the side of your leg. What is going on!?"

"I work a 70s vibe. You know what I mean?" Gwyneth replied.

"Oh, got it!" Ellen said.

Ellen also had a surprise for Gwyneth, bringing out a trio of strippers to celebrate her People magazine "Most Beautiful" title.

Watch the hilarous videos below...