Gwyneth Paltrow Offers Up Love & Sex Tips For Valentine's Day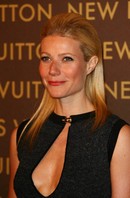 Gwyneth Paltrow is giving hopeless romantics a helping hand this Valentine's Day by sharing her top tips to make the most romantic time of the year one to remember.

The actress, who is married to Coldplay frontman Chris Martin, has offered up her advice in the latest edition of her goop.com newsletter, in which she provides useful tips on how to surprise a loved one on a budget.

Paltrow suggests fans should load a special playlist onto their loved one's iPod with songs like "Maps" by the Yeah Yeah Yeahs, "By Your Side" by Sade, and Bruce Springsteen's appropriately-titled "Valentine's Day".

She then recommends serving breakfast in bed and hiding a sweet surprise into a pant pocket, wallet or purse for their partner to find.

She writes, "In this pocket, you have placed either a love note, tickets to a play/movie/event that evening, a gift card to their favorite store, or an address and time of where and when they should meet you for a surprise evening activity of your choice."

Paltrow also gets saucy by suggesting products for use in the bedroom, such as the Kama Sutra Original Weekender Kit and author Laura Corn's book 101 Nights of Grrreat Sex.