Gwyneth Paltrow Named People Magazine's 'Most Beautiful Woman'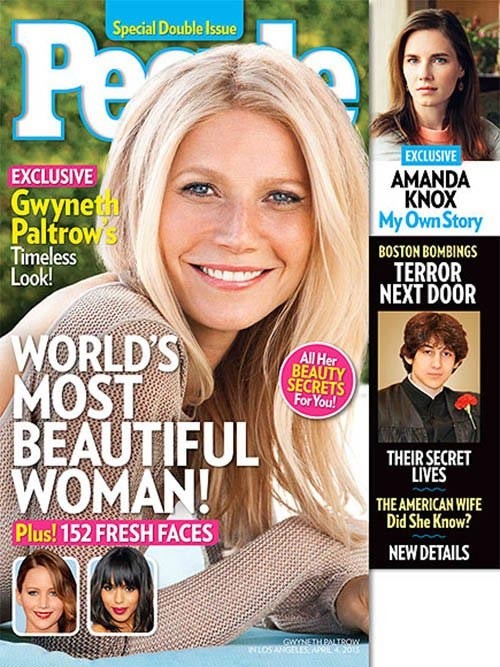 Gwyneth Paltrow is named PEOPLE's World's Most Beautiful Woman 2013 in the magazine's special double issue, now celebrating its 24th year. This marks the fourth time the Oscar-winning actress has made the coveted list. She is joined by fellow "Most Beautiful Woman" Hall of Famers Halle Berry (16 times), Jennifer Lopez (12 times), and Portia de Rossi, a newcomer to the list. The 152 fabulous faces featured in the issue also include such gorgeous guys as Tim McGraw and Justin Timberlake, plus PEOPLE's Sexiest Man Alive, Channing Tatum.

Embracing her role as wife and mom, Gwyneth Paltrow finds happiness in life's little moments. This week's issue of PEOPLE reveals why she's more gorgeous than ever at 40 – and how she does it. Curled up on a sofa during PEOPLE's full-day photo shoot in L.A. a few weeks ago, Paltrow takes a breather to share her beauty secrets and admits it's all a balancing act. Like most moms, she says, "I'm just doing the best I can." The following are some excerpts from PEOPLE's interview with the World's Most Beautiful Woman 2013.

PEOPLE: You look better now than you ever have. Do you feel better too?
Paltrow: "I'm more in proportion now than I was when I was 20, so I feel better in a bathing suit now than I did before I had kids…One of the most beautiful things about growing up is this self-acceptance that starts to happen."

PEOPLE: Well, it's easy to see why women could be intimidated by you now.
Paltrow: "…I mean, we all have our own self-esteem issues. I have to work out Monday through Friday for almost two hours every day, and it's a nightmare. Sometimes I cry, like, 'I can't do this anymore! I'm so sick of it!'"

PEOPLE: Your new cookbook stresses a pretty strict diet. What do you typically eat throughout the day?
Paltrow: "Coffee with cream, which I cannot give up no matter what. Then for breakfast, I make a smoothie with a lot of protein and good fats in it. I graze a lot during the day; I'll have a handful of nuts or an avocado. For lunch, I'll have something light like a salad with grilled chicken. And then for dinner, I eat whatever I want."

PEOPLE: As a wife, what would you say is the key to making a marriage work?
Paltrow: "…I'm not the type of wife who is like, 'Where are you?' I never make him [husband Chris Martin] feel hemmed in or like he's in trouble…There's a good foundation. I mean, we've gone through terrible times where it's been really, really hard, but I've sort of come through those times with a much deeper understanding of myself."

PEOPLE: And you're still married…
Paltrow: "And we're still married. We worked through it. I think it's easier to get divorced. But I think the more you can keep at it, the more you end up seeing the value in it. But man, sometimes it is not easy."

More of Paltrow's exclusive interview – in which she opens up about her marriage and family, shares beauty tips, and sets the record straight on all the rumors – appears in PEOPLE, on newsstands Friday, April 26.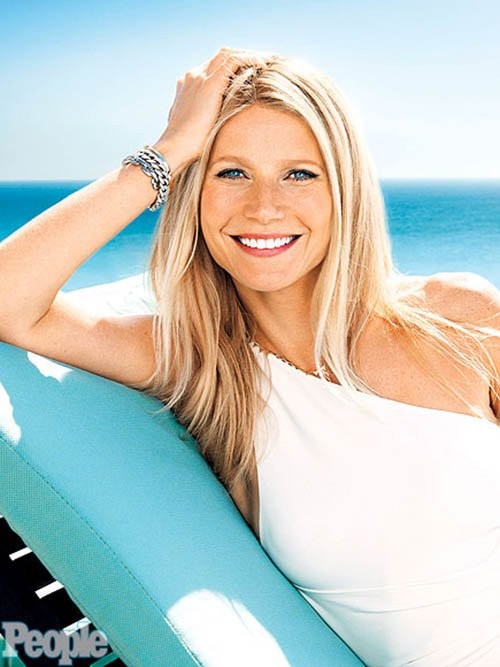 Plus These 'Most Beautiful' Features:
–Not A Drop Of Makeup
–Half Their Age
–Real Beauty At Every Age
–Jane Austen Tribute To Classic Beauties


Kicking off PEOPLE's 7th annual "Not a Drop of Makeup" section – Six fresh faces – Olivia Munn, Morena Baccarin, Kelly Rowland, Demi Lovato, Jordana Brewster, and Famke Janssen photographed in nothing but moisturizer and lip balm – is Homeland star Morena Baccarin, 33. "It's vulnerable and scary, but I love the challenge of being comfortable without makeup," she admits to PEOPLE. "I was self-conscious about the dark circles around my eyes – they're not from being tired, they're from my Syrian background." Singer Kelly Rowland, 32, says, "I started wearing makeup at 14 for Destiny's Child…For me, makeup reminds me of work. Without it, I feel natural and untouched." And X-Factor judge Demi Lovato, 20, reveals, "Anytime I can get away with wearing no makeup, I do it. But when it's showtime, I rock it up."

In a tribute to Jane Austen, classic beauties bring some of the author's words to life in honor of the 200th anniversary of Pride and Prejudice. The women of Parks & Recreation, Rashida Jones, Amy Poehler, Retta, and Aubrey Plaza recreate a scene from Austen's Emma. "I wouldn't have lived in Jane Austen's era," says comedian Retta, 43. "I watch Downton Abbey, and they don't have black people."

In "Half Their Age," PEOPLE honors five radiant stars – Sheryl Crow, Leslie Mann, Jane Fonda, Portia de Rossi, and Gabrielle Union -- who reveal the secrets to their decades-defying beauty. At 51, Sheryl Crow, reveals, "I haven't done any Botox. Sometimes people rob their youth by disabling their expressions. Natural beauty is when you're using your natural facial expressions." Legendary actress Jane Fonda works hard to maintain a smoking-hot-bod that women of all ages would envy. "I do yoga three times a week," the 75-year-old Oscar winner says. "I'm learning tai chi, and when I go home, my assistant drops me at the bottom of the hill and it's a mile to walk up." Plus, "I don't forget to take supplements; I moisturize; I have a lover [music producer Richard Perry, 70]; and I'm careful about what I eat." Actress Portia de Rossi, was known for years for having long hair, but the Arrested Development star chopped it off just before turning 40. "Part of aging is the opportunity to do something different, and the one thing I don't want to do is chase what I looked like when I was 20." De Rossi credits her youthful look to the vegan diet she and wife Ellen DeGeneres adopted six years ago. She says, "I feel healthier, and I don't gain weight!"

In "Real Beauty at Every Age," meet the winners of PEOPLE's search for the most beautiful real women in their 20s, 30s, 40s, and 50s. More than 20,000 women submitted their photos to PEOPLE.com, and readers voted on the final four.

For more information and exclusive video from PEOPLE's "Most Beautiful" photo shoots, visit www.people.com/mostbeautiful


*Also In This Week's 'People'*
Exclusive: Amanda Knox: "When I First Came Home, I Was Still Trapped In Myself"
Boston Marathon Tragedy: Dzhokhar "Told His Roommate…He Was Leaving The Country"