Gwen Stefani Talks Music & Motherhood In The January Vogue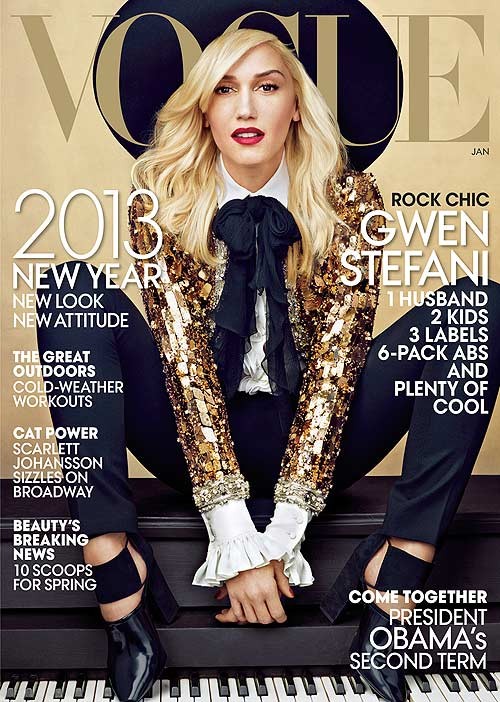 Gwen Stefani talks about mixing motherhood and music in the January 2013 issue of Vogue magazine. The singer, shot by legendary photographer Annie Leibovitz, reveals that pregnancy and touring don't mix; and that she had a hard time leaving her sons -- Kingston (6) and Zuma (4) -- to hit the road with her reunited band, No Doubt.

While working on her debut solo album, "Love. Angel. Music. Baby.", Stefani was expecting her first son, and when the album was finished she didn't let a little thing like pregnancy stop her from hitting the road to promote it.

"I did my first solo record and went on tour while I was pregnant," she says. "I would want to throw up during certain songs. Certain outfits would make me sick. It was torture.

"I toured until I was four and a half months pregnant, showing. I came home and had Kingston, and when he was eight months old, I went back on the road. I nursed him for fourteen months, so I would literally do my hair and makeup, go back to the bus, nurse him, put him down, and walk out onstage. And I did that for 100 shows."

Gwen was also wary of joining her reunited bandmates in the studio and leaving her two boys to record their latest album, "Push & Shove."

"I think a lot of what I was going through on the record was wanting to be who I've always been, but now I'm somebody different. I am a mother. And if you don't do it right, there are serious consequences. That's what this whole record was: trying to balance it, trying to be my creative self but also be the new me," she says. "I felt so guilty. I am letting everyone down in the studio right now; I'm letting down my kids; I'm letting down myself. Because time was so precious. So I didn't know what the album's tone would end up being in that kind of state, but it's really upbeat considering."

She wouldn't change a thing, though, and is happy to be back with her band after their 10-year hiatus.

"We know that we all play a role. But there was a time when it was confusing. It was messy. The breakup, the new relationship, everyone recognizing me. All of that stuff feels like it's so far away now; it's just us as friends, so grateful to be doing what we're doing still."

And the future of her solo career may be in doubt now.

"I feel like we've always been in our own little lane. Never fitting in. Never a nineties grunge band, never a pop girl band. And it's the same now," she says. "I did the solo thing, but I felt like I was trying to play a character in a way, this Alice in Wonderland pretend version of myself. But this, being in No Doubt, is really who I am."
See more of Gwen and read her full interview in the January issue of Vogue and at Vogue.com.