Gwen Stefani Shows Off Her Killer Abs For Marie Claire Magazine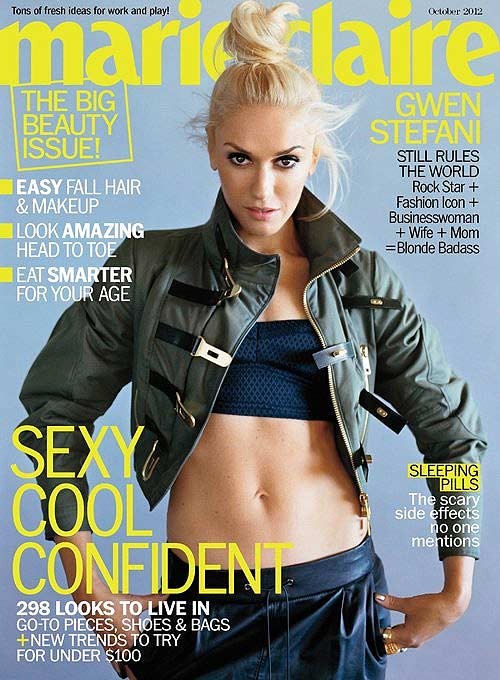 Gwen Stefani shows of her killer abs in the October issue of Marie Claire magazine and discusses the difficulties she had balancing family life with recording her reunited band No Doubt's latest album, "Push And Shove."

Gwen somehow found a way to balance her ridiculously busy schedule with raising her two kids and hitting the studio to work on the new CD, which was released Tuesday (Sept. 25).

"I would be up all night because my second baby (Zuma, 4) didn't sleep, and he had a lot of ear infections." She tells Marie Claire. "Then I'd wake up in the morning and do my workout, which I always felt I had to do, and then meetings for my three clothing lines, and then hang out with my kids, take them to preschool, da-da-da.

"And then at 4 o'clock, I'd be like, 'All right, I'm out of here, I'm going to go to the studio' and try to write a record. Sit on the couch [with bandmates Tony Kanal, Tom Dumont and Adrian Young] and be like, 'Let's do this now because I'm missing time with the kids; I could be having dinner with them and putting them to bed.' It was really hard."

But despite all her success as an artist, the singer is quite grounded. She's been happily married to Bush frontman Gavin Rossdale for 10 years now; and she considers the couple's union to be her biggest accomplishment in her life.

"A miracle…my biggest accomplishment is my marriage so far. Because it's hard, everyone knows it's hard," she says. "[Marriage] is something that I always wanted to do successfully. It was a dream of mine. I like the official-ness and the family-ness of it all, having the same name and making decisions together."

Read Gwen's interview at MarieClaire.com and in the new issue of Marie Claire magazine, on newsstands now.


Win a copy of No Doubt's "Push And Shove," along with a poster and sticker. Click here to go to the entry page!