Guy Ritchie's 'Sherlock Holmes' Will 'Deliver And Surprise People'

Guy Ritchie
has enjoyed a cult following in America for his British gangster flicks like
Snatch
and
Rocknrolla
. He's been more famous for his marriage to, and divorce from,
Madonna
. This Christmas, everyone will know his directing skills. His
Sherlock Holmes
film is likely to get noticed for its own merits.
"I hope so," said producer Susan Downey, wife of Sherlock actor
Robert Downey, Jr.
"He did an amazing job, on a scale that no one's seen him work on before. He delivered. I think it's going to surprise people."
Ritchie's British films were characterized by kinetic violence and flashy camera work. He didn't have to tone that down for Holmes. "You'll see the flare and you'll see Guy's touch on it, but it's a whole different canvas," Downey continued.
Warner Brothers is expected to show footage from Sherlock Holmes at this week's San Diego Comic Con, including a panel discussion with the filmmakers for fans packing the convention center's Hall H. Joel Silver, who also produced, and has shepherded major films like
Die Hard
, Lethal Weapon and
The Matrix
, is also pleased to brag about Ritchie's film.
"It's fantastic," Silver said. "I think it's a triumph that really is fantastic."
Sherlock Holmes opens this Christmas.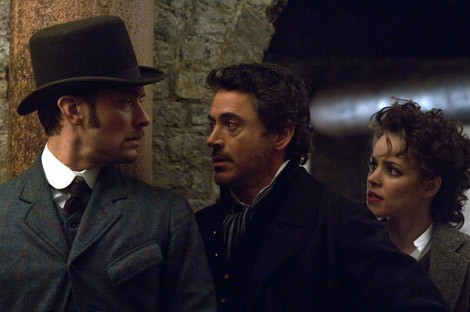 Sherlock Holmes © Warner Bros.
Click the pics for Sherlock Holmes's gallery:
Story/Interview by
Fred Topel
Starpulse contributing writer
(Starpulse in Hollywood)
: Every week, Hollywood's biggest stars are meeting in the hot spots and Starpulse is there.