Guy Pearce Causes Outrage Down Under With Canberra Taunts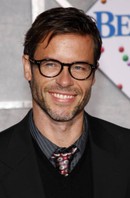 Actor Guy Pearce has infuriated his fellow Aussies by making fun of the country's capital in a TV interview.

The L.A. Confidential star, who was born in England but moved to Geelong, Australia aged three, appeared as a guest this week on The Late, Late Show with Craig Ferguson, and the host spent much of the episode making jokes about the city of Canberra.

When Pearce took a seat, Ferguson asked the star whether he was wrong to criticize the Aussie capital and he replied, "No, no, there's a lot wrong about Canberra but you're not wrong about Canberra... People from Canberra usually deny they are from Canberra."

The actor went on to add, "The thing about Canberra is it's like a series of circles and you end up going round and round and round and never end up getting out of there. It's like Washington (D.C.), I guess, a totally man-made city and constructed for the government."

Pearce's comments have upset officials in Australia, and Ian Hill, acting director of Australian Capital Tourism, has urged the actor to visit the city to see its positive points.

He says, "Perhaps this is a bit of a call to arms for some of the Canberra community to get behind and support why Canberra is such a great place. Everyone here has their own hidden gems of what to do and see, so why not get online and share some of those things... We should invite Guy Pearce to come down Northbourne Avenue on the top of a bus."

Local member of parliament Andrew Leigh adds, "I'm sure most Canberrans will laugh this off. We don't need affirmations from movie stars and talk show hosts... It would be wonderful to welcome Mr Ferguson and Mr Pearce to do a proper tour of Canberra."