Guillermo Del Toro Packs The Horror References Into 'Simpsons' Couch Gag Opening (Watch It!)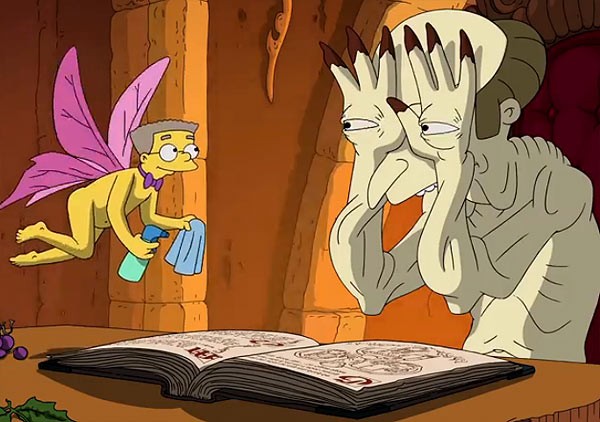 Director Guillermo del Toro created the opening "Couch Gag" for this year's 24th annual Halloween-themed "Treehouse of Horror" episode of The Simpsons, and it's nothing short of an animation masterpiece.

The director paid homage to countless horror movies and weaved in scenes from his own films, such as Pan's Labyrinth, Hellboy and his more recent Pacific Rim.

Del Toro was originally approached by producers of the show to make a simple guest appearance or to come up with a basic opening credit scene, but instead he went all the way with his near three minute gag.

"I really wanted to land the connections between the [show's] set pieces and the titles and some of the most iconic horror movies, and intersperse them with some of my stuff in there for pure joy," he tells Entertainment Weekly.

He also says that he'd love to return and direct the episode in the future.

"There's a lot of stuff in the title sequence that's pretty graphic, but it would be great to make a Treehouse of Horror that is really scary — that actually makes you shiver," he says.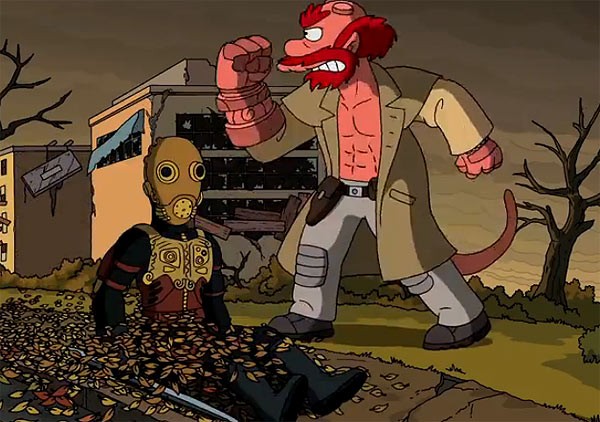 "It's almost surreal in a way, because I adore the Simpsons with a passion," he told the New York Daily News. "This is the very top of career achievements for me.

"My daughters call me Homer whenever I make a mistake or I sleep on the couch or I overeat, so you can see we have a whole family of 'Simpsons' fans."

Amongst the numerous references -- too numerous to count in just one viewing -- del Toro included tributes to such classics as "The Day The Earth Stood Still", the Universal Monsters (Frankenstein, Dracula, The Mummy, et al), and 1977 B-movie "The Car" -- his favorite bit in the opening.

"I own a replica of the car from the movie, but I only drive it on Sundays," he said, "So that's near and dear to my heart."

Del Toro took part of his inspiration from the work of such Mad magazine writers as Mort Drucker and Will Elder.

"They would try to cram so many references in. You as a kid could spend an afternoon on your bed with your magnifying glass going through a frame of Mad magazine and finding all these references to this and that," del Toro says.

Check out the opening below and see if you can find them all...
Want to know what's referenced in the scene? German website Movie Pilot thinks they found them all. Check out the video on page 2 (we put it there because it automatically starts) that breaks it down...


"Treehouse of Horror XXIV" Couch Gag by Guillermo del Toro"