Gucci Mane Sentenced To Six Months In Prison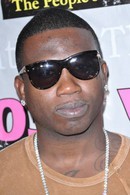 Rapper Gucci Mane has been sentenced to six months behind bars after pleading guilty to battery charges.

The rapper, real name Radric Davis, was accused of pushing Diana Graham out of his moving vehicle in Atlanta, Georgia on January 28.

And, on Tuesday, he pleaded guilty to two counts of battery, two counts of reckless conduct and one count of disorderly conduct, prompting State Court Judge Eleanor Ross to hand the star a half-year jail sentence, to be followed by several months of probation.

Davis must also complete 12 weeks of anger management classes, pay a $3,000 fine and $5,091 in restitution to cover Graham's medical bills, according to the Associated Press.

This isn't the rapper's first brush with the law - he served six months behind bars in 2005 for assault and one year in 2009 for violating the terms of his probation.