'Guardians Of The Galaxy' Must-See, Behind-The-Scenes Photos From London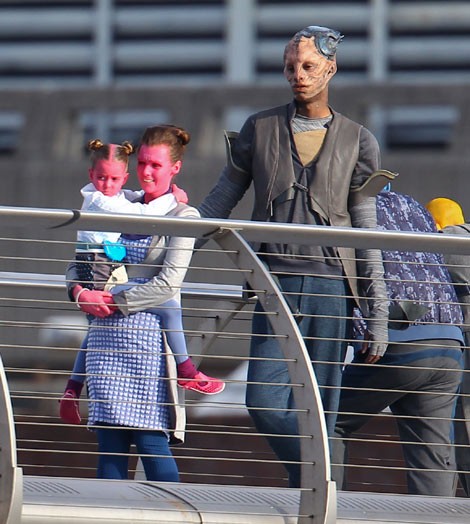 We got some behind-the-scenes photos from Marvel's Guardians of the Galaxy, which is due in theaters next year. Cast and crew were shooting the movie on the Millennium Bridge in London this weekend.
"Parks and Recreation" star Chris Pratt plays pilot Peter Quill, the half-alien superhero who becomes an interplanetary cop under the name Star-Lord and leads the Guardians of the Galaxy in protecting the universe.
John C. Reilly, Benicio Del Toro, Zoe Saldana, Karen Gillan and Glenn Close have also been cast in the film.  The movie will feature both a talking raccoon and tree (voice casting for Rocket Raccoon and Groot have not yet been announced.)
Gillan made headlines at Comic-Con after she shaved her head for her role in the film. The former Doctor Who star will play villain Nebula, a space pirate bent on wiping out entire civilizations.
Pratt also made a drastic change for his role as Quill. The actor swore off beer for six months (gasp!) in order to get into serious shape. He posted a buff, shirtless photo on Instagram last month, writing: "#GOTG Kinda dou***y to post this but my brother made me."
See more photos from London...