'Grown Ups' - Which Actor Has The Best Post-SNL Career?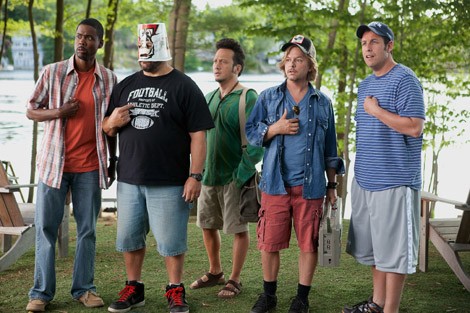 This weekend the comedy film Grown Ups premieres starring four of the most currently well known Saturday Night Live alumni: Adam Sandler, Chris Rock, David Spade, and Rob Schneider. Kevin James, a beloved comedian from TV land, also stars with them. The film is about five men who were best friends as children and reunite after 30 years to catch up and learn about how they've all become adults. None of these actors are particularly known for being grown ups themselves, so it will be interesting to see how the movie goes. Here's a look at the main actors, specifically the SNL survivors, and who exactly has been the biggest hit since the late night comedy show.

Adam Sandler - In terms of box office and film, Sandler is one of the most successful Saturday Night Live alumni of all time. While his work has not usually been critically acclaimed, he almost always manages to draw in huge crowds on the popularity of his face alone. Just consider some of his films: The Wedding Singer, Anger Management, 50 First Dates, and Click all made over $100 million dollars in the box office. Even his less popular films like The Waterboy, The Longest Yard, and Mr. Deeds made over $100 million. While he's had his flops, and his last movie Funny People barely broke even, Sandler has box office power. If he can get over $200 million dollars for I Now Pronounce You Chuck and Larry, he's a successful front runner in the comedy world. His company Happy Madison Productions also produced a great deal of his films, giving him creative control over many of them and showing that he's more of a shrewd businessman than one would expect.

Chris Rock - Rock is an interesting case, because while he's one of the most respected stand-up comedians in the world, his success in the box office has not been very impressive. He often plays side characters, but his lead in films like Bad Company or Head of State did not go over well, and even I Think I Love My Life, Head of State or the most recent Death at a Funeral did well, but none really exploded the box office. The most successful movie franchise he's a part of is doing a voice in Madagascar, and that's in a group ensemble. The television series based on his life, Everybody Hates Chris, did fairly well with critics for a few years, but it was canceled last year. Where Rock really succeeds is in his stand-up comedy. He wins awards for his comedy albums and his HBO specials are always celebrated and beloved. He might not be able to bring in hundreds of millions in a film, but he's probably made that much on his stand-up alone. So both Sandler and Rock are about even ... meaning they're both ridiculously rich and respected by comedy lovers.

David Spade - Spade has reasonable success when it comes to doing movies. Joe Dirt and The Benchwarmers performed adequately, as did his voice acting stint for The Emperor's New Groove. He gained some notice in Tommy Boy and Black Sheep because he was starring against his best friend Chris Farley, but since Farley's tragic death they could not continue with their partnership. Spade's success really comes from his work on television. He was one of the breakout hits of the show Just Shoot Me which ran for seven seasons, and 8 Simple Rules for a few years. Now he's one of the leads in Rules of Engagement, a well rated comedy on CBS. While he's not to the level of Rock or Sandler, he holds his own in other ways.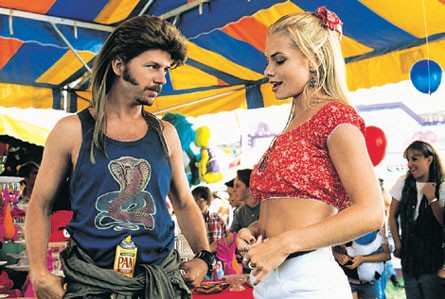 Rob Schneider - For several years, Schneider was known better as 'that guy who appears in all of Sandler's movies.' He does guest star in pretty much every film Sandler does, although he's had a few starring roles of his own. Yes. We have to talk about Deuce Bigalow: Male Gigolo. While wildly despised by critics, the film and its sequel did well in the box office, as did his throwaway movie The Animal. Other than that though, Schneider is definitely known more as a side player than as a lead. His supporting roles are usually humorous enough, so if it ain't broke don't fix it. He'll always have Sandler movies to lean upon.

Kevin James - James is on the end here because he was never in Saturday Night Live. He got his break through stand-up comedy and appearing on several late night talk shows. Eventually he got a guest role on Everybody Loves Raymond, and that led to his very successful sitcom The King of Queens. It almost ran for ten years, and he was nominated for an Emmy. His role in Hitch got him praise and it was a huge hit in the box office. As pointed out in Sandler's description, their film I Now Pronounce You Chuck and Larry was a big success, and so was his comedy Paul Blart: Mall Cop. His fame is relegated more to stand-up and television, but he's starting to come out in film, so who knows what's ahead for him.