'Grimm's' Reggie Lee Gets The Spotlight In Tonight's Episode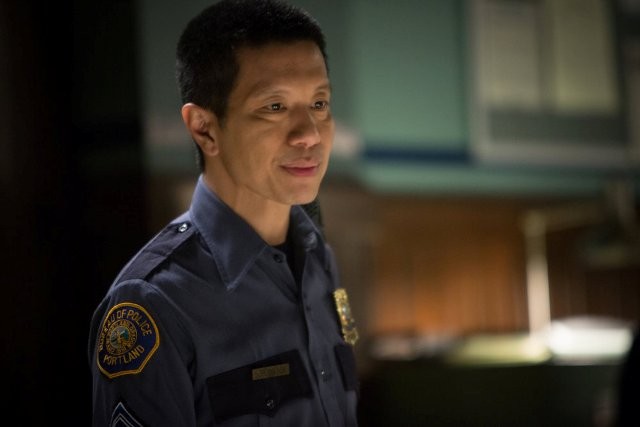 Tonight's Grimm is a big installment for the wisecracking Sergeant Wu, played by the fantastic Reggie Lee. BFTV checked in with Reggie last week to get the dish on "Mommy Dearest," one big thing we'll learn about Wu tonight, and what it's like when you're front and center in a TV episode.
To hear him tell it, it was a real team effort. "I've got to give credit to these showrunners, and this writer in particular, Brenna Kouf. I think this might be her first script ever produced for TV, and she did just an amazing job," Reggie enthused. "It is really one of my favorite episodes ever in terms of the story. It brings out a lot of Wu that you haven't seen before, but also it brings out a lot of how the entire cast deals with him seeing something for the first time."
"This will be the first time that I actually see a creature," he continued. "It's interesting, because the reaction that I have isn't quite one that one would expect from Wu, which is great. It's completely unexpected but it does continue to send me reeling for quite awhile."
And it's a particularly gross being to come across, too. "It is a folkloric tale from the Phillippines," Reggie told us. "It's this creature that has a long tongue, inserts it into a pregnant woman's navel, and eats the fetus. They eat the fetus in order to stay young. [And] the only way that they can stay young...is if the fetus is a close relative. They're saying that this is probably the creepiest creature that they've had on the show." Memo to audiences: you may not want to be eating during tonight's episode of Grimm.
But there's also a treat for fans of Wu in there, too. "The most important thing, you find out my first name. That's a huge, huge thing," he revealed. "[But] it happens in passing. You have to listen for it. It still rhymes with what I'd picked out!"
TV fans love episodes that feature our favorite characters, because we get to see more of them and learn more about who they are. But what's it like on the other side of the camera, when an actor gets handled a meaty script? We asked Reggie to describe the experience of making what we're about to see.
"I like things that I'm a little bit scared of, and this really took me out of my comfort zone," he explained. "This shows so many aspects [of the character]. You don't see Wu as being out of control, as being vulnerable, and so much of this storyline was. I had to find how to kind of blend his sarcasm and his humor with all this other stuff going on and still be able to use that.
"I logged probably over a hundred hours of homework before we started shooting. I literally was sitting down and working on it about eight hours a day, aside from my normal shooting schedule," he continued. "This was probably the most frustrating, tiring, fulfilling experience of my life."
When we spoke to Reggie last year, we talked about him becoming a presence in television through his roles on shows like Grimm, Prison Break and Persons Unknown. He's definitely got the charisma and the strong sense of character to carry a series. So we asked him, when a TV leading role comes his way, what kind of show would he like it to be? You might be surprised by his suggestions. "My agent has been like, what if Wu and Monroe had a spinoff. What if they would just have a spinoff for them?" he laughed.
But if that doesn't come to pass, he has other ideas. "I had never considered myself to be kind of the comedic aspect of a show. But I get cast in these sometimes comedic roles, and then I get cast in these gun-toting badass roles. There's no medium. There's no regular guy, ever," he added. "I would love to play a normal human being with a little bit of a comedic bend that had a love interest. I would love to explore comedy, like a half-hour kind of single-camera comedy. I think that would kind of suit me best."
"Now that I've been through this show, I like doing episodic television," Reggie told us. "I feel comfortable doing it because we get to develop a character over seasons and seasons. We've got a third season and we're hoping for a fourth. We're fortunate." And while he enjoys his role as Sergeant Wu on Grimm, we'll continue to enjoy watching him every week, no matter what crazy thing comes out of the dark.
Grimm airs tonight at 9 PM ET/PT on NBC. For more on Reggie, you can follow him on Twitter (@MrReggieLee).
(c)2014 Brittany Frederick. Appears at Starpulse with permission. All rights reserved. No reproduction permitted. Visit my official website and follow me on Twitter at @tvbrittanyf.