'Grey's Anatomy' Star Sarah Drew Talks Christmas Album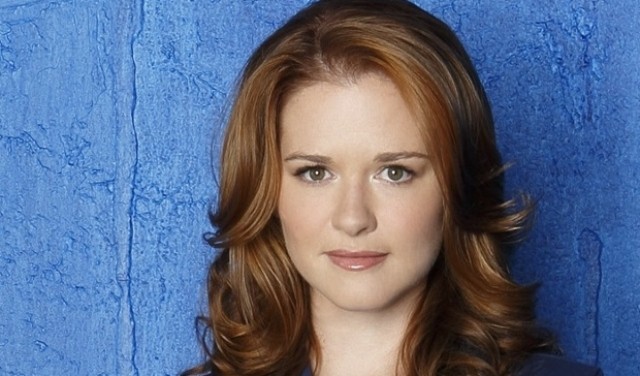 You know Sarah Drew as Dr. April Kepner on ABC's Grey's Anatomy, but this holiday season she's showcasing her musical side. Sarah is a member of Reindeer Tribe, a collective of folks who get together every year to record an album of Christmas music. With their new release, Sand On Sand On Sand, you can not only enjoy the music but donate to some very worthy causes. Sarah chatted with BFTV on Friday about the album, the charities, and her Christmas plans.
"I've always been pretty musical," she told us. "I grew up with a home full of classical music. My dad had classical music playing all the time. I started doing musical theater, and I would sing in every choir I could get myself into, and actually sang in an opera with my dad when I was about twelve. It's been really fun to have opportunities to start singing again."
Those opportunities have included the Grey's Anatomy musical episode and, for the last two years, being part of Reindeer Tribe along with her husband. Explaining the purpose of the group, Sarah said, "Pretty much, over forty-eight hours, we record an entire album all on tape, and we're supposed to bring ideas and write music there and create the musicality of it while we're all there together. I worked on one [song] with Rachel Chadwick, and then I brought an idea to the group that we did. And this year's the first year that we actually released [the album] with the opportunity for people to donate something."
"There are a lot of really fun songs on there," she continued. "'Snow on Snow on Snow' is one that I sort of co-lead with Rachel. We both sing solo on each of the verses and sing tight harmony on the chorus. And that was an original song by Rachel. 'Lo How A Rose' is the idea that I brought to the group. The first track on the album called 'Holiday Lover' is really, really fun, [and] actually one of my favorites on the album is 'Peace on Earth.'"
All of the proceeds from the record's downloads will go to three different good causes: one local, one international, and one close to home. "Door of Hope is a transitional living situation for families, parents and children who are homeless to kind of get back on their feet," Sarah told us. "The leaders of the Reindeer Tribe are also the worship leaders at the church I go to, [and] we as a church have been involved with this organization for awhile.
"[Then] I was on Good Day LA promoting the winter finale of Grey's Anatomy, and the piece right before our clip was about the organization World Vision. All of the Tribe were watching Good Day LA, and they were like 'oh my gosh, we've got to buy a donkey!'" she continued. "[And] one of the members of the Tribe, her mother is battling cancer, so we decided to give the other third to her for medical bills."
While Sarah's proud of the album, don't expect her to ditch acting for a singing career. "I would love to, for instance someday, voice a character in a kids' movie and get to sing," she said. "I think that if I were to try to kind of sing on Broadway or something, I would need to put in a ton of effort and train my voice and really whip it into shape. For now, I'm singing at a benefit for research for Alzheimer's in March. All these little opportunities are popping up, [but] I'm not sure that I would say this is the next stage in my career. I think I'm always going to be an actor who sings."
Speaking of acting, in addition to continuing her role on Grey's, she's excited about another project coming out next spring. "I have a movie coming out in May. It's called Mom's Night Out," she explained. "I play this harried mother of three children and I go out with my girlfriends, and all the kids are left at home with their dad - and everything goes wrong for everybody. It's funny and it's charming, and there's also a real depth in there that I love."
Whether it's in a movie, on TV or in music, Sarah's doing her part to bring some joy to the world.  And you can join her by downloading Reindeer Tribe's album Sand On Sand On Sand at Bandcamp. You can also find out more about the group on their website (reindeertribe.com) and keep up with Sarah by following her on Twitter (@SarahDrewGreys).
(c)2013 Brittany Frederick. Appears at Starpulse with permission. All rights reserved. No reproduction permitted. Visit my official website and follow me on Twitter at @tvbrittanyf.