'Grey's Anatomy' Season 7 Ep. 7 Recap: A Bitter Break-Up, Plus An 'I Quit'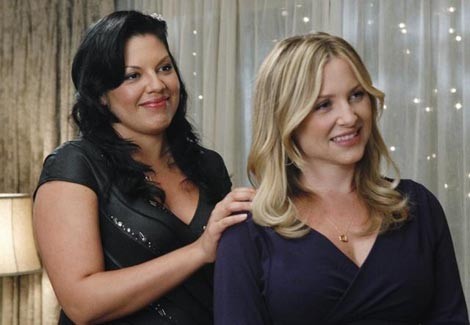 "Grey's Anatomy" Season 7 episodes 7 featured some dramatic decisions, the termination of a relationship and the resignation of one of Seattle Grace's best surgeons. With so many story lines in play, and each episode full of plot twists and surprises, "Grey's Anatomy" Season 7 continues to be one of the best to date—and one of the most unforgiving if you miss an episode!
"Grey's Anatomy" Episode 7 opened with Arizona (Jessica Capshaw) and Callie (Sara Ramirez) giving away possessions and packing, with Callie making it very clear that she wasn't excited about leaving for Africa. Chief Webber (James Pickens Jr.) taunted Callie with a vague comment about his "big plans" for her, and made his disapproval of losing two Attendings at once very clear. Mark (Eric Dane) spoke to Callie alone at their impromptu going-away party—which only three people attending, namely Chief, Mark and Lexie (Chyler Leigh)—telling her that she reminded him of women who opted for breast implants or other plastic surgery simply to please their boyfriends. She told him she loves Arizona, and he told her she needed to love Africa, too.
At the end of "Grey's Anatomy" Episode 7, Callie and Arizona were in the airport on the verge of leaving for Africa when Callie's passive-aggressive enthusiasm finally became too much for Arizona. She stopped them in the terminal, losing her composure and triggering a brief but relationship-altering fight between the pair.  She pointed out that she was going to Africa with almost unlimited funds to help "tiny humans" who might never see a pediatric surgeon. "I get to change lives—that's the dream, I am living the dream, and I am over the moon about it—or, I would be, but you are ruining it for me."
"You are ruining Africa for me," she declared, signaling the beginning of the end. Callie confessed that she didn't want to go to Africa, but that she did want to be with Arizona, but it didn't change Arizona's increasingly-obvious decision. "I don't want to go to Africa—with you," she finally admitted. Callie tried to reason with her, pleaded and finally resorted to threats, telling her that if she got on that plane they were over. "We are standing in the middle of an airport screaming at each other—we're already over," Arizona replied, and boarded the plane. But is Jessica Capshaw leaving "Grey's Anatomy" for good? Read more about those concerns in this article.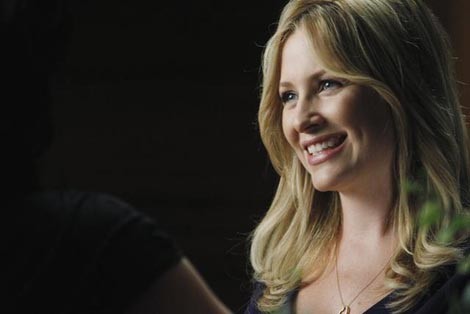 Meanwhile, Cristina (Sandra Oh)'s continued struggle to rejoin the Seattle Grace surgical staff came to a head. Fans have watched as Cristina floundered in the wake of the "Grey's Anatomy" Season 6 finale, more so than any other member of the Seattle Grace staff. The previous six episodes of this season have showcased her reluctance to resume her surgical career, and episode 7 had her finally saying goodbye. She informed the Chief that she was leaving the program, and threw herself into decorating her new apartment with newlywed-hubby Owen (Kevin McKidd). She told Meredith (Ellen Pompeo) that she blamed her for her struggle, which Meredith struggled to deal with.
Owen was busy putting the Seattle Grace cast through a rigorous trauma training course, taking them out into the parking lot to work with dummies in a faux-catastrophe situation. April (Sarah Drew) was pushed to the breaking point of her patience, when Owen continued to push the groups harder and harder. She thwarted his ingenuity with her own, declaring the ambulance "in play" and taking her remaining two dummy-patients to the emergency room. He relented and made her team the winners of the pseudo-challenge, and requested Meredith go and help Cristina with her case.
During episode 6, "Grey's Anatomy" viewers saw Cristina advocate for an older gentleman who needed a lung replacement. The patient returned, but suffered cardiac failure, sending Cristina into the operating room once more. Teddy (Kim Raver) saved the patient's life, but Cristina was unmoved by this victory. With none of her fellow surgeons able to convince her to continue to pursue medicine, she finally walked away from the program. Owen was telling her about his day, and when he asked about hers she said she quit. "You were right—I can do it, I can still be a surgeon. I just don't want to anymore," she explained.
Meanwhile, Bailey (Chandra Wilson) continued to struggle with the death of Mary (guest star Mandy Moore), participating in her autopsy and trying to find a cause of her unexpected death. The results were inconclusive, which made Bailey's loss that much more frustrating; Derek (Patrick Dempsey) warned her that she needed to just let it go. "I have to go and tell Mary's husband that I don't know why his wife died, that I can't answer the one question he has to ask. And I can't answer that question because medicine—because science—is failing me," she told him stubbornly, then said he had no room to talk because he can't stop thinking about his wife possibly developing Alzheimer's long enough to write an essay on the clinical trial he is beginning for a cure. Derek took her comments to heart, and told Meredith she couldn't be a part of the trial despite how much she wanted to be.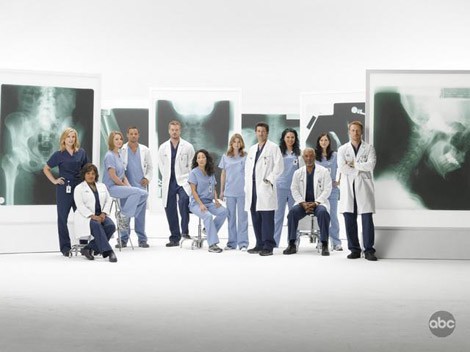 Mark had the other primary patient of episode 7, which was a svette young woman wanting butt implants. Lexie protested, and the pair spoke with the woman to make sure she wasn't doing the surgery for anyone but herself. She complimented Lexie's rear end, which Mark later caught himself admiring at Joe's Bar only to be caught by Lexie and chided--until she turned around and grinned, of course. It seems evident that "Grey's Anatomy" fans haven't seen the last of the Mark/Lexie romance, though with Callie single once again the trio might be headed for a dangerous love (or lust) triangle.
With Callie and Cristina's lives undergoing major changes, fans are likely going to have a hell of a cliffhanger waiting for them during the upcoming winter break of "Grey's Anatomy!"