'Grey's Anatomy' Season 7 Ep. 5 Recap: The Residents Play Attendings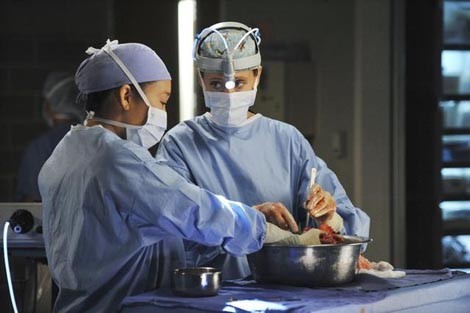 This week's episode of Grey's Anatomy reminded viewers that Seattle Grace is a teaching hospital. Unfortunately, in the (prolonged) aftermath of the Season 6 finale, certain members of the surgical team have continued to balk at resuming their education—none more so than Cristina Yang (Sandra Oh). But the show must go on, and the episode 5 of Grey's Anatomy Season 7 found the residents taking charge as temporary attending physicians.
 Chief Webber (James Pickens Jr.) announced to the attending staff were to present their vision for how to spend a million dollars. "The evolution of the craft, the passing of the torch, the life blood of the training process" Chief explained to the attendings after their protests, but added: "Pray, people—we want God in the building today." Callie (Sara Ramirez) advocated for new equipment which would propel Seattle Grace into cutting-edge sports medicine, but ultimately rallied against Arizona (Jessica Capshaw) and her little people ward until Chief Webber accused her of wanting the million dollars to level the playing field of their relationship.
 Mark (Eric Dane) and Teddy (Kim Raver) both tossed their hats into the ring, but Derek's (Patrick Dempsey) argument was deeply personal for both he and the Chief: An Alzheimer's disease trial. "(Meredith)'s got her mother's talent, she's got her mother's looks, Richard--what if she has her mother's disease?" he explained in the emotional scene. "Every time Meredith forgets her keys, or asks what day of the week it is, I…When that million dollars runs out investors are going to throw money my way for the same reason I am going to throw everything I have at this trial: Because their dad has it, or their wife. Breakthroughs don't happen because of the medicine--real breakthroughs happen because someone is scared to death to stop trying." In the end, Owen (Kevin McKidd)'s argument for trauma training for the entire staff—which may have saved the life of Dr. Percy's (Robert Baker) last season—won the million dollar surplus funds.
 As part of the acting-attending duties, each member of the Seattle Grace team faced the challenge of acting not as a 4-year resident, but as a self-reliant and capable attending surgeon. Alex (Justin Chambers) was observed by Mark and Arizona, and given their case involving a 13 year old patient desperately wanting breast reduction surgery—a male patient. His mother balked at the procedure, and finally Alex came to the kid's defense and protested that he shouldn't be subjected to the psychological damage of being bullied throughout high school. Given the recent real-life incidents of suicides following bullying by peers, it seems the ABC writers are continuing to infuse the Grey's Anatomy stories with actual headline events.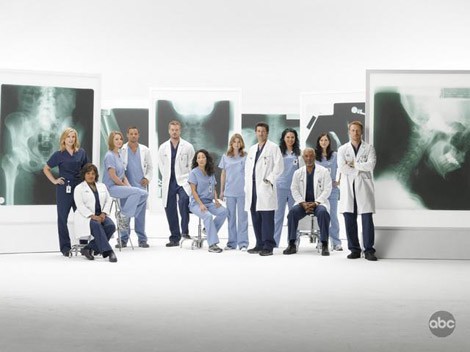 Meredith (Ellen Pompeo) partnered with Avery (Jesse Williams) under the watchful eye of Derek, and dealt with a case involving a woman needing a shunt in her brain to remove excess fluid and stop the headaches and ringing in her head. The patient's companion protested the residents' performing the procedure, but Derek assured them both he would oversee the procedure. "She's my life. She has been my life for 40 years—do you hear me?" she informed with Derek. Instead of choosing between the residents, Derek sent them to the skills lab to test their abilities on an egg; they had to remove the shell but not destroy the membrane, carving their initials. Avery feigned difficulty, and Meredith got overconfident—and lost, when Avery carved his full name in an egg instead of just his initials.
 Cristina came face-to-face with decision making repeatedly during this week's Grey's Anatomy episode, but she continued to avoid actually performing medicine much to the frustration of Teddy and April (Sarah Drew). Her case involved an older gentleman who needed a lung transplant and both Cristina and April had to determine whether or not to recommend him for the transplant list before a panel. Although April pushed and pushed Cristina to care—in vain, ultimately deciding against recommending the patient—Cristina finally acted like a doctor and interjected herself into the panel's decision. "This guy is borderline, that's why we're here," she began, listing all the pros and cons of recommending him. "But I've been involved in 23 transplant surgeries, and every time the patient's will to fight is just as telling—and Roy has it. If we give him the lungs it won't be a waste, because he will live—I know it." Her advocacy helped to sway the panel's decision, and they decided to place the patient on the transplant list.
 Lexie (Chyler Leigh), who is not a 4-year resident and was thus left-out of the temporary promotion, ended up with her own dangerous case. A young woman with a knee injury developed a bleed in her brain, which Lexie caught due to her attention to the patient despite her exaggerated work load. She paged Derek, but he was overseeing Avery's neurological surgery—and repairing his mistake—and so Meredith took the case. Without Derek to assist her, she did a solo repair with Lexie's help and handled herself beautifully.
 Grey's Anatomy Season 7 has been full of changes and character growth, as I have recapped week to week. This week's episode was no different, truly showing the advances the surgeons of Seattle Grace are making not only in their careers but in the personal lives which are a hallmark of the show. Episode 5 may have marked the true beginning of Cristina's return to medicine, in addition to showing deep vulnerabilities and fears of the characters fans have come to love. Personally, I can't wait to see what happens next.