'Grey's Anatomy' Season 7 Ep. 4 Recap: More Baby Talk, Plus Worms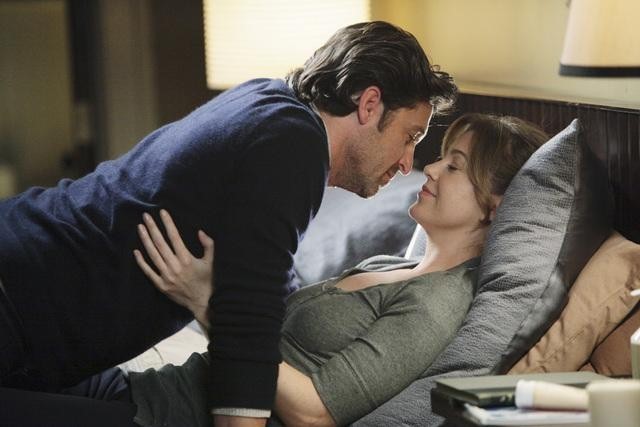 This week's episode of Grey's Anatomy focused on the interpersonal relationships among the staff of Seattle Grace and the biology which fuels every human and their relationships. Meredith (Ellen Pompeo) and Derek's (Patrick Dempsey) visit to the OBYGN took top billing, with the doctor telling Meredith that she had a "hostile" womb. On the wake of her miscarriage in the Season 6 finale, the news was a harsh wake-up call for the currently childless couple.
As usual, Meredith fretted over the diagnosis; her worry only increased when she met one of the mandatory patients for Episode 4. The woman suffered from Huntington's disease, a genetic condition which she knew she inherited from her mother. Considering Meredith's flawed family history, it was no surprise that she took the woman's situation personally. She decided to have genetic testing to scan for the Alzheimer's gene, which Derek immediately protested. "I love you, and you love me, and whatever happens, I don't care," he told her, "no more doctors; no more labs. You and I—we have a lot of sex. Maybe we make a baby; maybe not—maybe you get Alzheimer's; maybe not. Screw the odds, screw the science—let's just live. Whatever happens…happens."
Lexie (Chyler Leigh)'s increasing jealousy of Meredith's friendship with April (Sarah Drew), which started to develop after April's outburst in last week's episode, hit a breaking point. April was also one of the few people to know about Meredith's miscarriage, which Lexie took personally. Lexie lashed-out against the doe-eyed April, but eventually took her complaints about being kept out of the loop straight to big sister Meredith. "You're not crazy, Lexie," Meredith explained with a laugh. "You're a Grey." The episode also showed that Meredith's home has continued to be a depot for the staff of Seattle Grace, with Lexie, April, Alex (Justin Chambers) and Avery (Jesse Williams) all fighting for bathroom space and time—which often overlaps.
Callie (Sara Ramirez) and Arizona (Jessica Capshaw) have finally moved beyond décor and co-habitation only to argue about Callie's friendship with Mark (Eric Dane). "Besides, you like him," Arizona acquiesced, giving Callie the go-ahead to have dinner with Mark. "What do I care if his abs are where his soul should be?" She protested that Mark always stared at her boobs instead of her face, and she was glad that biology had made her gay so she could avoid men like that. Alex stepped-in towards the end of the episode, and reminded Arizona that the soulless McSteamy had saved his life; he also confessed that he, too, liked to look at her boobs. Arizona finally surrendered, and took Callie's place with Mark at dinner that evening. "Eyes up here, Mark," she remarked as they left the hospital together.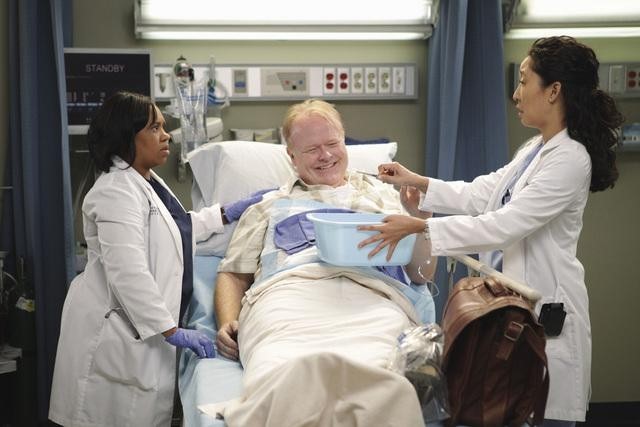 Episode 4 of Grey's Anatomy featured two primary medical cases, in addition to the scenes with Meredith and the Huntington's disease patient. The first was a biologist experimenting with a cure for asthma—which happened to require him to eat worms. With the threat of a perforated bowl looming, he finally surrendered to Bailey (Chandra Wilson) and Cristina's (Sandra Oh) logic, and although Cristina once again refused to visit the O.R. she did try to salvage the worms at the patient's request. Although the attempt failed, she had a heart-to-heart with him in recovery, in which he explained that he would continue his experiment. Cristina asked him why he would risk his life, and he replied: "Because I love what I do, more than anything. You don't find something you love that much and let it go, you hold onto it; throw yourself in deeper."
Callie had a turn to shine as a surgeon with the second case, which featured a young teenage dancer with cancer in his leg. With Alex's help, she devised a highly risky treatment plan which involved the removal of the bone to subject it to high radiation before returning it to his leg; they saved the limb, which was the patient's main concern. Once again, Alex proved himself as a candidate for the Pediatric, which was originally stated by Addison (Kate Walsh) when she was on the show in early seasons.  
Earlier in the episode, viewers saw Cristina and Owen (Kevin McKidd) shopping for a new home. After her heart-to-heart with the patient, Cristina purchased the rundown, former firehouse location and surprised Owen with the news. We can only hope that this step forward, a "baby step" as she told Meredith she was limiting herself to, is a sign that Season 7 will see Cristina's return to her former surgical glory.
Teddy (Kim Raver) had a showdown with Avery, who had taken to using his sex appeal and good looks to secure time in the O.R. after overhearing Teddy and Arizona painting him as nice to look at, but without any real merit as a surgeon. "You just got called a dumb blonde," Alex taunted, which seemed to strike a chord with the handsome new doctor. Teddy ordered him to cease his flirty for the sake of opportunities, after quizzing him on several routine procedures. As an added bonus, Episode 4 featured a lengthy shot of Avery without his shirt—yay!
Season 7 of Grey's Anatomy seems to be progressing more slowly in some aspects than in previous seasons. The writers seem to be drawing-out Cristina's recovery and the repercussions for Lexie following her breakdown; a flash of realism, compared to the two-episode recovery most of the cast enjoyed. Viewers are seeing more and more hints of a pregnancy or adoption in the future for Meredith and Derek, a plot thread which many fans have been asking for in the past few seasons since the will-they-won't-they nonsense stopped. In the end, Season 7 is  truly one to not be missed by any Grey's Anatomy fan who loves the high amount of character development and twisty-turny relationships.