'Grey's Anatomy' Season 7 Ep. 3 Recap: Confessions, Surgery & Siblings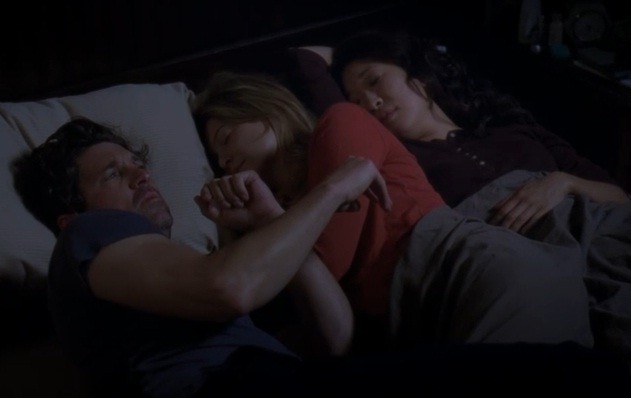 The third episode of Grey's Anatomy Season 7 continued to illustrate the vulnerabilities of the surgeons and staff of Seattle Grace following the murder spee Season 6 finale. This week's episode featured unwanted family members, a rare HPV condition, and Cristina's continued struggle with surgery.
 The episode began with Cristina (Sandra Oh) slipping into Meredith (Ellen Pompeo) and Derek's (Patrick Dempsey) bedroom. Owen (Kevin McKidd) was on-call, and she couldn't sleep, so Meredith invited her into their bed much to the surprise of Derek. "I can't sleep when you're not there," Cristina explained to Owen later in the episode.
 Owen approached later in the episode Derek, asking him if he found his wife sharing their bed to be strange. "Did you see E.T.?" Derek asked him with a smirk. "Remember the kid, Elliot? He and E.T. had this weird and disturbing bond. If he got sick, E.T. got sick; if E.T. got drunk, Elliot got drunk. That's kind of like Cristina and Meredith." Owen seemed to accept this explanation, especially considering he and Derek likely have no say in the situation.
 The staff of Seattle Grace found themselves debating which of the surgeons were ready to return to surgery. The entire Grey's Anatomy main cast has been cleared—except for Cristina. Everyone but Derek seemed to share the opinion that she should be put on research duty, but Derek protested. "If she goes, I go," he demanded, and finally had Cristina assigned to his service. Meredith refused to discuss Cristina with the rest of the surgical staff, remaining one of her biggest advocate.
 Derek's estranged sister was the main guest star of Season 7 episode 3, much to the frustration of Derek. He explained to Meredith that his little sister stole his prescription pad and overdosed, and that he saved her life; this happened after the death of their father, and he couldn't forgive her for putting their mother through that. By the end of the episode, the wayward "Little Shepherd" and Derek had a heart-to-heart, and seemed to put the past behind them and take strides into the future. This was after she insulted Cristina, calling her a "dud" after she once-again bulked in the O.R. "Cristina Yang saved my life," Derek said soberly. "I owe her everything."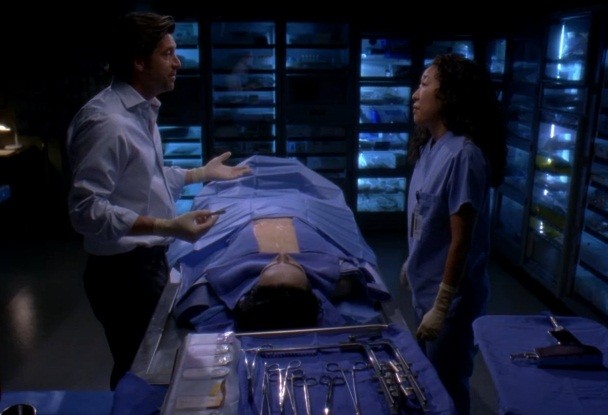 Derek, who seemed utterly determined to be instrumental in Cristina's recovery, took her down to work on a cadaver. She claimed she couldn't remember what happened in the Grey's Anatomy Season 6 finale, when she saved his life by removing a bullet from his chest with a gun pointed to her head. He unbuttoned his shirt and showed her the incision (much to many viewer's delight), and finally convinced her to retrace the steps she had taken while performing surgery on him. He told her she was family, and so he would continue to worry about her.
 This week's Grey's Anatomy featured three unique cases: the brain tumor patient whom Derek's sister brought along, a virgin bride-to-be who aspirated a condom at her bachelorette party, and a man with a rare symptom of HPV which caused horrible warts all over his body. The young woman sparked discomfort for April (Sarah Drew), whom by the end of the episode revealed that she too is a virgin, much to the shock—and ridicule—of her fellow surgeons. While she, Meredith and several others were having drinks, April finally retaliated and exploded in frustration.
 "We all have things we don't talk about!" she lectured, and went one-by-one down the list. Alex's (Justin Chambers) paranoia about the elevator, in which he crawled and laid in a blood of blood during the Season 6 finale, was exposed; Chief Webber (James Pickens Jr.) had discovered the situation earlier in the episode, and forced Alex to ride with him in the elevator until he stopped being afraid and was just bored. After her outburst, Meredith told April that she was beginning to like her.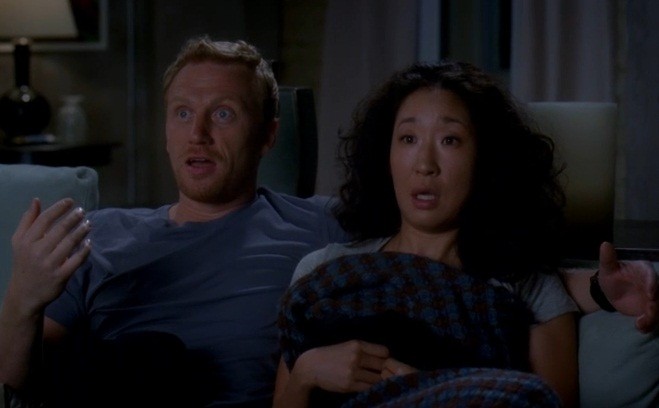 "I'm not GI Jane—I'm attachment Barbie!" exclaimed Teddy (Kim Raver) to Callie (Sara Ramirez) and Arizona (Jessica Capshaw). She was depressed over the conclusion of the staff evaluations, knowing that her new Beau would be leaving with the final assessments. Callie and Arizona on the other hand, continued to fret over their shared quarters. They asked Teddy to speak with Owen about moving out with Cristina, but she refused; Meredith refused the request earlier in the episode after shaming Callie for even asking. The two ladies took matters into their own hands, and at the end of the episode they came home and proceeded to strip each other of clothing in front of a shocked Owen and Cristina; the newlyweds immediately decided to find a new apartment.
 Mark (Eric Dane) continued to pine for Lexie (Chyler Leigh), and as usual sought the council of Callie. "Her last words were 'leave me alone, leave me alone, leave me alone;' only louder," Callie explained to him patiently, and clung to her opinion that Mark should give her space. Lexie was surprised to hear April, during her outburst at the bar, tell her that Mark was still in love with her and that was why he stared at her. At the end of the episode she went looking for Mark, only to find him making out with "Little Shepherd" outside his apartment door, sweeping her inside.
Obviously, the familiar faces of Grey's Anatomy have a long road ahead of them in way of recovery, not only personal fears and concerns but also their interpersonal relationships.