'Grey's Anatomy' Season 7 Ep. 15 Recap: Meredith Runs The E.R.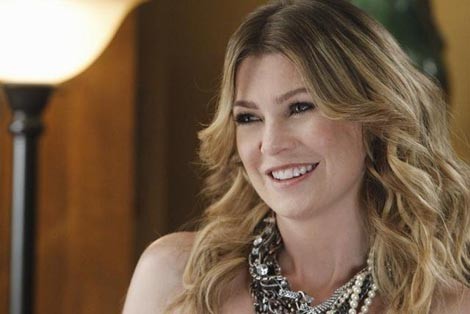 Episode 15 of "Grey's Anatomy" Season 7 featured Meredith (Ellen Pompeo) at the forefront of the plot lines, after she volunteers to run the E.R. for a night. Viewers watched a single, solitary hour—the 'Golden Hour' as the episode title suggests—tick away over the course of this week's show, giving a potent glimpse into the chaotic lives of the Seattle Grace surgeons. "When you think about it, an hour really isn't very long," Meredith said during the voice-over intro. "In medicine, though, an hour is often everything. We call it the golden hour—that magical hour of time that can determine whether a patient lives, or dies."
 The episode began with Meredith and Cristina (Sandra Oh) having a mock show-down over Cristina sitting down on the job, with the mention of "Chief Resident" coming up several times during the conversation. In case you've missed a few episodes, Chief Webber (James Pickens Jr.) announced that the race for Chief Resident was still underway and even Cristina—who left the program briefly during her meltdown earlier this season—was still in the running. Competition between the Seattle Grace surgeons has always been an aspect of "Grey's Anatomy," though Season 7 has even more characters entering the race.
 Meredith confessed that the new pregnancy hormones were making her chipper, which prompted Cristina to present the first source of conflict for this week's episode. Callie (Sara Ramirez), who is pregnant with Mark (Eric Dane)'s baby—despite being reunited with Arizona (Jessica Capshaw) once more—asked Cristina to be her baby's Godmother. Meredith didn't take the news well, making it "a thing" as Cristina feared, first dismissing the notion as nonsense, then explaining that too many people would have to die for Cristina to be needed as Godmother, and then finally coming clean and explaining the situation made her feel like she'd never become a mother (and thus Cristina would never be her baby's Godmother). Once again, "Grey's Anatomy" viewers were reminded in spades that Meredith is desperate to be a mother.
 The first patient of "Grey's Anatomy" Episode 7 was a young father, who came to the E.R. with mild chest pains. An underlining theme of Episode 7 was the "big game" beginning after the hour the episode took place in, and this patient was eager to get to the game to be with his young son. He requested a rush on all his treatment, but fortunately Meredith remained thorough—even keeping Teddy (Kim Raver) from her hot date—see below—for the sake of her cardiac expertise. Unfortunately, the patient's condition was far, far worse than simple heartburn. By the end of Episode 7, his aortal had torn, and Meredith and Teddy were unable to keep him from bleeding out. Meredith finished a good portion of the "Golden Hour" on the phone with the patient's son and his mother, breaking the news of their loss.
 Teddy, who married Henry (guest star Scott Foley) a few episodes ago for the sake of giving him much-needed medical insurance, had planned a hot date for the evening after getting off work. Her date showed up at the hospital early, and with the medical complications for Meredith's patient, she had to leave the gentleman in the waiting room. This would have been all well and good, except that Henry showed up for an exam of his own, opting to wait with Teddy's date to get a feel for him. Just before Teddy left with the man at the end of the episode, Henry advised her—as her husband—that this one wasn't a keeper.  "We can do better," he mused, though his behavior during the episode suggested a hint of jealousy brewing between the two "fake" spouses.
 Alex (Justin Chambers) managed to land two court tickets for the game, but a threat against him regarding his unsigned charts brought him into the E.R. on his day off. The new obstetrician, Lucy Fields (Rachel Taylor), had been clashing with Alex for several episodes now—until she learned of his tickets, that is. She opted to spend her time helping him by forging his signature on charts, only to ask him in the elevator why he hadn't asked her to the game. When he did, she calmly replied that she was on call, but that she'd wanted to know if she could get him to ask her out. Has Alex met his match with this one? Tell us what you think in the comments!
 However, one of the medical cases of "Grey's Anatomy" Episode 7 involved a 4 year old boy with a broken femur, who had been waiting for hours to get into the O.R. Alex, who has a soft spot for children and an affinity for pediatrics, opted to surrender his tickets to Avery (Jesse Williams) in order to tend to the kid. Avery, who has been flirting with Lexie (Chyler Leigh) since her hard rebound from Mark and his news of his pending-fatherhood, asked "Little Grey" to accompany him to the game. She accepted, prompting many fans to rejoice; if the comments on the "Grey's Anatomy" message boards are to be believed, quite a few avid fans support an Avery-Lexie romance—do you?
 Another medical case during Episode 7 involved a patient with a terrible headache, and his horrible girlfriend. She spent most of her time on the phone, complaining to an unknown third party about how his headache was ruining their anniversary—and how his stroke, which happened after Lexie discharged him only to be caught by Meredith while he was in the parking lot, would ruin their upcoming vacation. The quick save by Meredith was prompted after she saw the change in his signature from check-in to check-out, though she didn't have time to lecture Lexie due to the demands of running the E.R. for the night. At the end of the episode, the patient finally wised-up to the ridiculous behavior of his girlfriend while in the recovery room. After securing his key from her key ring, he kicked her out of his room and his life, before she could give him "another stroke."
  Bailey (Chandra Wilson)'s appearances on this week's "Grey's Anatomy" was limited to her flirting with new her new boy-toy nurse, including a sack session in an on-call room which Derek (Patrick Dempsey) walked in on while attempting to find a private place to have an intimate moment with Meredith. They found a moment together in the elevator, in which Derek promptly dropped Meredith's pants—and injected her with hormones. Is anyone else of the opinion that since their Post-It wedding, we've seen less and less passionate moments between Derek and Meredith? Perhaps the writers are playing along with that whole theory about sex disappearing after marriage.
 Meredith was surprised to find Adele Webber (Loretta Devine) in the E.R., with a fractured wrist and some confusion. Adele told her to take her time, and tend to the other patients who were a higher priority. Meredith obliged, only to be scolded by Chief Webber when he learned his wife was in the E.R. Adele claimed that Meredith didn't know she was there, which was a generous lie on her part—until Meredith realized it wasn't a lie, she was just confused. She ordered further tests and a scan of Adele's brain, and then confronted the Chief about her concerns. He shot her down hard, claiming that she had Alzheimer's disease on the brain thanks to Derek's clinical trial. Meredith let the subject go, but it seemed obvious that she had already planted the seeds of doubt for the Chief.
 A patient with a knife stuck in his head was the 5th patient of "Grey's Anatomy" Episode 15, who arrived in the E.R. with his drinking buddy and a lot of extra booze. The two were quite intoxicated, and amazingly enough the knife was merely a flesh-wound without any neurological complications. While the doctors were debating over how to handle the situation, the patient's buddy opted to remove the knife himself so that they didn't miss the game. He left with a bandage, and instructions to return if he started to have any of the neurological symptoms outlined on the discharge papers.
 "Grey's Anatomy" Episode 15 didn't offer any new plot developments on the "Baby McSteamy" front, though we now know Meredith is taking hormones while trying to get pregnant. Lexie seems to be trying to move-on by way of Avery, a romance which may provoke Mark the same way her dating Alex did earlier this season. Meanwhile, Season 7 continues to be full of baby talk, love triangles and competition at Seattle Grace—just like any good medical drama should be!