'Grey's Anatomy' Season 7 Ep. 12 Recap: 'I'm Pregnant'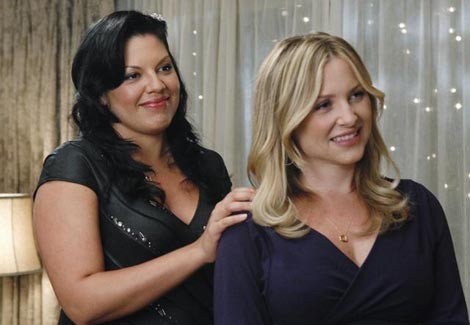 Episode 12 of "Grey's Anatomy" Season 7 is one episode that has all the fans talking. The themes of baby-making and inappropriate relationships continued, but with a twist—and a life changing declaration of "I'm pregnant" coming from a somewhat unexpected surgeon at Seattle Grace.
"Grey's Anatomy" episode 12 started with Derek (Patrick Dempsey) and Meredith (Ellen Pompeo) seated together in the bedroom looking at a pregnancy test. It read "not pregnant," and Derek reassured Meredith that "next time" the results would be different. In typical Meredith fashion, she expressed her doubt that they'd ever manage to conceive with her hostile uterus, and Derek reassured her that they would "keep doing it until they got it right."
Then viewers saw Callie (Sara Ramirez) alone in her bathroom, crying and trying to get control of her emotions before work. Mark (Eric Dane) called from the other room and the two—who have been sleeping together again—left the apartment to find Arizona (Jessica Capshaw) moving into a vacant unit across the hallway. She explained to Callie that she was taking over the apartment from the sub-letters. "My lack of interest in seeing you is not a stretch—I'm not playing hard to get. I don't want to see you, because I turned my life upside-down for you, and you walked away because for a week I was cranky," she stated frankly. "I don't want you in my life." Arizona employed her usual puppy-dog eyes, but Callie seemed resolved. "Get your crap out of my apartment," was her final say in the matter.
At Seattle Grace, Cristina (Sandra Oh) tried to console Meredith in the casual, supportive but sarcastic manner which the two normally communicate with. "Pee on a bunch of different sticks," she suggested. "Don't let the one stick win." Viewers finally saw Cristina return to surgery after the events of the previous two episodes, and the talented young newlywed is back with force. "I'm doing three surgeries today—did four yesterday—I'm unstoppable, and you got defeated by a piece of plastic covered in urine? Buck up!"
The residents were greeted by first-year med students, and a speech by Chief Webber (James Pickens Jr.). "Behind me stand the interns and residents of tomorrow," he informed them, much Meredith and Cristina's chagrin. Alex (Justin Chambers) was excited to be paired with an attractive young woman, but the rest of the Seattle Grace residents were less than impressed. Chief Webber informed them that the race for Chief resident was still going strong, and let Cristina know she was still in the running despite her brief departure from the program. The med students served as typical plus-one characters for the episode, with a few insightful remarks and a lesson in how to teach for Cristina--especially when Chief Webber informed her that a good Chief Resident knows how to mentor. In the end, only Alex's med student gave him top marks, probably due to the flirting going on between them. Meredith's girl managed to send her into a tizzy when she opted to text in the OR instead of learn. At the end of the episode, the med student confessed that she knew Meredith was sneaking off to take pregnancy tests, which made Meredith feel guilty for being an underachiever in the baby-making department and in the race for Chief Resident.
The rest of the "Grey's Anatomy" cast has finally started to meet Henry (guest star Scott Foley) the dying patient whom Teddy (Kim Raver) decided to marry in order to share her health insurance. Chief Webber was adamantly against her decision, even going so far as to teach her a harsh lesson by way of forcing her to make medical decisions for Henry while he was in the OR having a kidney removed; she had to give approval for Chief Webber to remove part of his pancreas, making him a diabetic. Henry had listed her as his person to call, which Teddy didn't appreciate—she had thought their connection to each other ended at the faux "I do" for insurance. However, Henry and Teddy seemed to be truly connecting on a personal level after his surgery, which may indicate a chance for true romance in the future. Hey, anything to keep Scott Foley on the show!
Bailey (Chandra Wilson), who has been dating an attractive nurse, happened to be the one person Teddy approached about the situation. "I am not dating a nurse," Bailey explained. "But I'm going to go with it—why not? That's my attitude these days—why the hell not?" What do you think about their faux marriage? Let us know in the comments!
The first medical case (other than Henry) seen during "Grey's Anatomy" Episode 12 featured a newlywed couple whose ceremony ended with one of the two partners being trampled by a horse. The uninjured party of the same-sex couple explained to Callie that he had fought for the right to be married, and so he just wanted their domestic partnership to be meaningful somehow. "I just wanted the big day that everyone else gets. And I fought for it—I organized rallies, I stood in the cold outside the state house. I had some Neanderthal throw hot coffee on me—I fought for a wedding, and waited. And they still said no," he explained in the touching scene. "I wanted it to be special." The surgeons at Seattle Grace managed to save his partner, who forgave him easily for nearly killing him with a horse.
Arizona reached out to Mark for advice on how to win Callie back, and he tried to council her that she needed to own-up to her mistakes, admit to her flaws, and be real with Callie. The second medical case of Episode 12 featured a teenager who was born without cheekbones, and a clash between Arizona and Mark as peds and plastics and the best way to treat the patient. Mark argued that using a cadaver bone implant would allow the teenager to be athletic and involved in sports—something she keenly wanted—but Arizona argued that it was too experimental. Mark illustrated her unwillingness to compromise, in both her professional and personal lives, and won his case; he also got the message through to Arizona about where she went wrong with Callie. "You bail. When things get hard, you bail," he told her.
The climax of "Grey's Anatomy" Episode 12 came in the last two minutes of the show. At the end of the day, Arizona cornered Callie in the elevator to pitch her case. She acknowledged what Mark said, admitting that she does bail whenever the times get tough, saying she never learned to commit—but that she was ready to now. She reasoned that both she and Callie had faults, including Callie's inability to forgive. And what was Callie's reply to this long pitch and declaration of love? "You want another chance?" she asked, to which Arizona replied yes. "Today I found out that I'm pregnant—with Mark's baby. How 'bout now?"
Thus the first of the "Grey's Anatomy" unlikely plot twists for Season 7 has come to pass, spawning a complex "love square" between Lexie (Chyler Leigh), Mark, Arizona and Callie. Will the writers take the pregnancy to the end, or cop-out and have Callie lose the baby to make the "love square" go away? I don't know about the rest of you, but I can't wait to find out!