'Grey's Anatomy' Season 7 Ep. 11 Recap: Another Shooter, More Pep Talks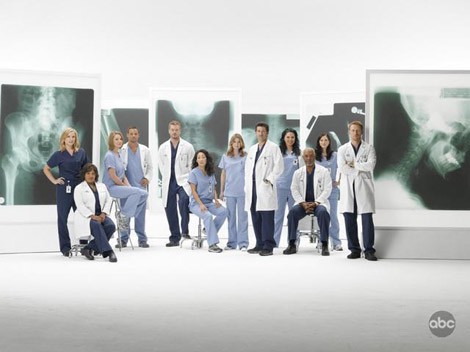 "Grey's Anatomy" has finally returned from the winter break, with this week offering the first new chapter in the lives of the surgeons at Seattle Grace. But will Cristina (Sandra Oh) ever return to work? And will the delicious Scott Foley continue to guest star?
 Episode 11 of Season 7 began as many have recently: In the bedroom of Meredith (Ellen Pompeo) and Derek (Patrick Dempsey), and at the beginning of an argument. In the last episode, Derek took Cristina on a fishing trip—much to the disapproval of Meredith and Cristina's new husband, Owen (Kevin McKidd). Meredith was grilling Derek on the details of the trip, as she was not satisfied with his tale of the get-away, only to interrupt the fight and declare she's ovulating. (If you aren't aware that Meredith and Derek are trying to conceive, you must be new to "Grey's Anatomy" Season 7.) "You stole my best friend," Meredith accused, prompting Derek to ask if they were going to "do this" or not. When she replied that she was too mad to look at him, he countered by telling her to roll over. Apparently, the trouble-in-paradise theme is going to continue for a few more episodes.
 The scene then jumped into the bedroom of Cristina and Owen, who seemed to be enjoying married life much more than Meredith and Derek that morning. "You look different—you seem better," Owen observed while cuddling with his bride. Cristina said she did feel better, which provided a nice bit of foreshadowing. Later in Episode 11, Cristina found herself on the scene of a school shooting. Seattle Grace would see 26 patients that day, and Cristina would arrive in an ambulance after cracking open the shooter's ribcage while en route to the ER. Teddy (Kim Raver) and Owen met her outside, and were appropriately shocked to find her elbow-deep in a patient's chest cavity. By the end of this week's episode, Cristina would find herself back in the OR.
  This week's "Grey's Anatomy" mandatory medical cases came in the form of several spotlighted patients within the 26 shooting victims. Chief Webber (James Pickens Jr.) delivered an emotional, uplifting speech to the Seattle Grace team of doctors just before the ambulances arrived: "Our own trauma is fresh, and we're gonna have feelings today and there's no shame in that. What I want to say is, what we went through six months ago, they're going through right now. Which makes them our brothers and sisters—which makes them fellow travelers—which makes them our own. So to the very best of our ability, we're going to do our work first—and you're going to have your feelings later."
 Considering this season of "Grey's Anatomy" has been all about the main characters' recovery after the shooter and murder spree of the Season 6 finale, it's no wonder that the staff responded rather emotionally to the victims and the situation. When it was discovered that Teddy, Cristina and Avery (Jesse Williams) were all working to save the life of the shooter himself, Avery led a small rebellion which lead to numerous members of the surgical team leaving the operating room. Cristina had already committed to helping with the surgery, and she later told Teddy that the decision to stay—which Teddy assumed had been difficult—had actually been easy for her to make, after all. It seems safe to assume that Episode 11 marks the official return of Cristina Yang to Seattle Grace.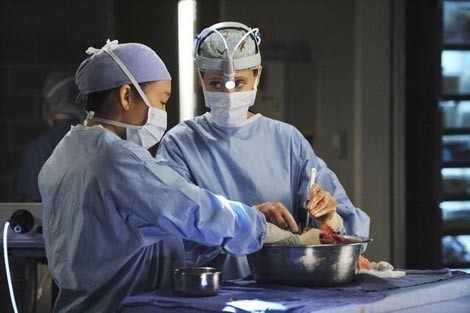 Meredith and Derek continued to clash throughout the show, and the turmoil came to a shouting match in the OR after Meredith insisted on visiting the patient's wife for yet another update. Derek couldn't understand why she seemed suddenly so preoccupied with comforting the woman; she countered with: "Since I was the wife in the waiting room, Derek. I mean honestly, do you think you and Cristina are the only ones who've ever been through a trauma?" He attempted to dismiss her point, but Meredith continued, laying it all out on the table in front of everyone in the OR. "You and Cristina are so busy supporting each other, have you ever noticed I went through a trauma too? I was the wife in the waiting room, Derek. And it's so hard to be the wife in the waiting room—so hard, that I walked into the OR while the shooter had a gun to you and told him to shoot me instead. That's how hard it is to be the wife in the waiting room." She successfully drove her point home, and by the end of the episode Derek had apologized, and finally started to take her trauma seriously.
 Arizona (Jessica Capshaw) was waiting for Callie (Sara Ramirez) outside her apartment on the morning of the shooting, much to the disapproval of Callie. In Episode 10, Arizona returned from Africa to try and win back Callie's heart only to have a door shut promptly in her face. This week's episode didn't go any better for her, and Callie continued to thwart her attempts to reconcile; she even went so far as to forbid Arizona from holding her "hostage" in the OR as the two worked together to save a 15 year old girl's leg. This followed an explosive scene, in which Arizona and Alex (Justin Chambers) teamed-up against the horrible Dr. Stark after he determined that the patient's leg wasn't worth saving. Chief Webber informed Arizona that she could rejoin the staff at Seattle Grace, but that she'd have to work under Dr. Stark—a terrible fate, to be certain. "You flew a whole world away without ever looking back--you just left," Callie explained calmly later that episode. "And you came back today--but I didn't. Whatever else has happened, that hasn't changed."
 I'm sure I wasn't the only "Grey's Anatomy" fan to rejoice upon seeing Teddy actually go through with the wedding to Henry (guest star Scott Foley), the dying patient in desperate need of medical insurance. At the end of the show—and the overwhelming day—Teddy met Henry at Joe's bar for a drink. He requested a toast in lieu of the wedding cake, and she explained that she'd spent the day saving a terrible person. He countered that she had saved his life that morning, with their wedding, and she seemed to soften even more to the handsome fellow. Teddy wasn't the only one enjoying romance this week; Mark (Eric Dane) and Lexie (Chyler Leigh) spent a good portion of Episode 11 kissing, and Lexie even dropped the L-word bomb at the end of the show.
 Bailey (Chandra Wilson) was a source of inspiration, motivation and reality again in Episode 11, as she has been in many episodes of "Grey's Anatomy" Season 7. At one point, she and several other doctors were struggling to resuscitate a flat-lining patient, and in true Bailey fashion she demanded to the patient that he come back to his body. When that didn't work, she looked skyward, and declared: "You Bastard! You better send this boy back right now!" Alex managed to get his heart beating again, and Bailey apologized for the "bastard thing."
 Ultimately, "Grey's Anatomy" Episode 11 was a lesson in unity; from the classmates who launched a candlelight visual outside Seattle Grace, to the manner in which the doctors themselves overcame diversity to work together to save all 26 patients. Cristina managed to find the motivation to return to medicine, Meredith and Derek learned more about each other, and many of the surgeons learned to overlook their personal opinions and save a life as doctors instead of as ordinary people. Avery experienced this first-hand after he walked out the OR, when he found himself talking to the heartbroken mother of the shooter. No one had updated her on the boy's condition, and Avery swallowed his stubbornness and found compassion to explain the situation to the woman. The writers just keep bringing the bittersweet, heart-wrenching scenes which "Grey's Anatomy" is famous for, and Season 7 stands to be one of the most uprooting, emotional and altering yet.