'Grey's Anatomy' Season 4: No Longer a Code Blue

No more new
Grey's Anatomy
episodes are set to air, at least not until the strike is resolved. Let's take a look back at the shortened fourth season of everyone's favorite show about a hospital where you would never want to be a patient.
One cast member left, and new ones took his place. We all learned to how much blood can spray on an intern. Most importantly, we were able to enjoy a show that in the previous season was a melodramatic letdown nearly each and every week.
Major Plot Points
Burke vanished and nobody called any of the
Without a Trace
people to look for him. Yes, as we started this new season
Isaiah Washington
had officially been canned for his colorful language. Most of the characters didn't seem to care. Christina (
Sandra Oh
) was able to use the event to con her way into surgeries, but otherwise Burke hasn't been missed. Hell, it wasn't long before he was replaced.
Seattle Grace's new heart surgeon came in the form of
Brooke Smith's
Doctor Hahn. We're talking about a woman who doesn't take any crap and won't hesitate to call the wacky junior high students that make up the staff out on their crap. She is exactly what "Grey's Anatomy" needs, even if it is bordering on self-referential when one of the doctors is clearly acting as a segment of the audience.
Meredith's (
Ellen Pompeo
) sister Lexi (
Chyler Leigh
) also joined the cast to further illustrate that the Grey family is in need of some serious therapy. She even managed to hook up with Alex (
Justin Chambers
), making her an official cast member! Time will tell if her character will differentiate herself from the rest of the cast, but it really isn't looking that good.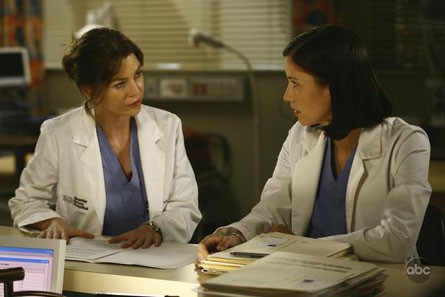 Season four saw the end of the of the uncomfortable "Gizzie" storyline that matched up the least likely Seattle Grace couple outside of a Bailey/Alex hookup (Balex!).The only one who came out looking at all decent in that storyline was Callie (
Sara Ramierez
) who actually was able to act like an adult and respond to the situation in a realistic fashion.
Meredith and Derek (
Patrick Dempsey
) broke up, had a lot of sex, got back together, had less sex, then broke up again. This better not be the future of Izzie (
Katherine Heigl
) and George (
T.R. Knight
).
Standout Moments
-Callie and Bailey team-up to form the best Chief Resident in history, but it doesn't work out so well for Callie.
-
Seth Green
leads the pack in memorable guest patients. Remember when "Grey's" was about those wacky cases? It's good to see that happening again.
-Alex reveals to Lexi that George is a repeater. From that point on Alex became my least favorite character.
-The McDuo become the real "it" couple on the show.
-Doctor Hahn joins the men for a guys night out.
-Christina uses fake sadness to land surgeries.
-Callie calls Izzie a "traitorous bitch."
Lingering Questions:
-How much longer is Thatcher Grey going to be alive? I'll put money on his death happening next season.
-Will any of the numbered interns get a chance to shine, or to sleep with their residents?
-Who will Hahn end up sleeping with first?
-Will Meredith become interesting again now that her and Derek have broken up?
(Until "Grey's Anatomy" returns to my living room I think I'll do something productive with my Thursday nights, like surfing, or slot car racing, or whatever it is people do.)
Story by
Dan Chruscinski
Starpulse contributing writer