'Grey's Anatomy' Season 10 Finale Recap: Cristina Says Farewell In 'Fear (Of The Unknown)'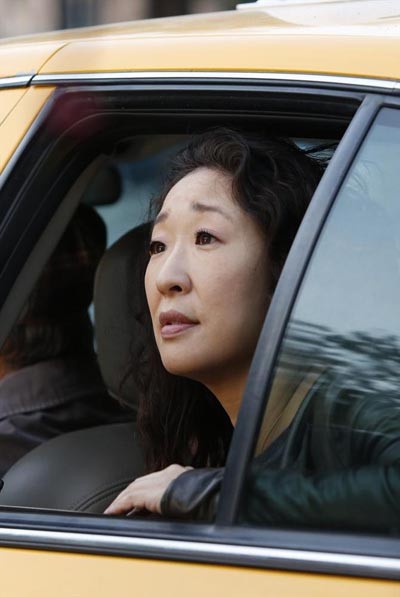 The mall may have exploded, but there are three bombshells Rhimes ignited that left more of a lasting impression in the season 10 finale. Let's see where do I begin? Okay, well Meredith may have lost her 'person,' but she's gained a sister. Yes, another one. Alex and Bailey vie for a spot on the hospital board, and Cristina says farewell to Grey Sloan Memorial and takes someone with her. In the parting words of Cristina, let's do it.
"Fear (of the Unknown)" episode opens with Cristina yelling at the TV weatherman's (isn't that everyone's morning ritual?) forecast of perfect Seattle weather today—let's face it if it's not raining, it's perfect weather there—waking up a shirtless Owen in his trailer. So that lingering and very smack worthy smooch from last week resulted in three weeks worth of sex sessions. Although, she doesn't want a "big goodbye" in the RV, she can't stay either as she's en route to the mall. Uh Oh.
Cue the narration and it's only fitting it go to Cristina as her goodbye hallmark. Correct me if I'm wrong; is this her first and only voice-over? Either way she does a good job foreshadowing the episode's fear theme: "you never know what kind of day you're having."
From the start it seemed like a relatively quiet one for Grey Sloan hospital, at least patient wise. Alex has time to pass around a brochure of his potentially new shiny toy: a sleek sports car. It looks like his private practice has picked up a lot more patients if he can afford such 1% luxuries. He'll soon catch up to Derek, who is pushing Meredith to John Hancock the lease on a ritzy D.C. townhouse ASAP, so their next chapter can begin. More importantly so he can start impressing this guy or him in his newly appointed NIH post that garnered a presidential seal of approval.
However the Harper Avery Foundation does not have Bailey's. Avery told her that despite Bubble boy being healthy and thriving, her genome lab work is shut down. Of course Bailey huffs and puffs she'll find a way to get it re-instated. Does the fact that it saved one life and nearly cost your career mean nothing to you, Bailey?
Meanwhile, Owen is roaming the hospital halls alongside its newest head of cardiothoracic surgery Maggie Pierce (hey, it's humble-brag) getting the rundown on her adopted cases and the reluctance of her subordinate–Cristina—to release them.
What needs to be let loose are all patients with non-life threatening illnesses because a local mall has been BOMBED. Is this a terrorist attack? Is it chemical? Did Cristina ever make it to the mall? How many people are injured, dead? (BTW, who else loved the collage of Cristina pictures in the opening sequence?)
These were the questions thrown at Owen during a frenzied news conference outside the hospital. The chief was careful not to call it a terrorist attack and promised to treat the injured. Gee, for someone trained in trauma situations, Owen sure is jumpy. But we soon learn it's a fear of Cristina's whereabouts that make him unhinged. It sure doesn't help that her cell phone went straight to voicemail, either.
All hands on deck for this one; even fired intern Murphy makes a helpful comeback. Joining her is soon-to-be-grandmother Catherine Avery making a surprising appearance to Webber's chagrin. He asks what's she doing there, She flippantly replies, "isn't it obvious? Guess the frost hasn't thawed with these two.