'Grey's Anatomy' Returns: Who Survives The Plane Crash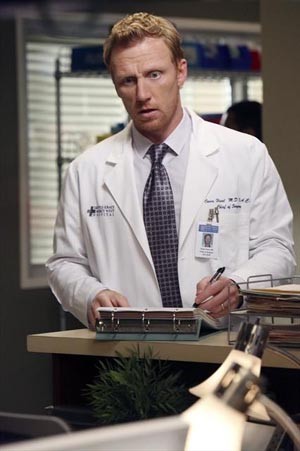 The most disheartening scene was Cali Torrez sitting next to the hospital bed of Dr. McSteamy, Dr. Mark Sloan, who is on life support. In an attempt to bring him back to consciousness, Cali says to him, "it's so hot in here, I am going to take my shirt off." Derek tells Cali that he feels Mark wouldn't want to live this way and would want to be taken off life support. According to his living will, Sloan indicated that Derek could make decisions if he was ever placed on life support. Remember, Dr. McDreamy has been friends with Dr. McSteamy since childhood. And, Mark Sloan and Cali Torrez have a child together. Cali's difficulty in accepting she was a lesbian resulted in her and Sloan having sex daily to help disprove her feelings for Arizonz. But, we all know where that went. Many scenes in the premier was everyone thinking back to their own interactions with Sloan over the years. Let's see how Derek and Cali bond while dealing with Sloan's medical condition.
It seems Rhimes is looking to give the viewers what they are not expecting. Would you have thought Meredith could be as hard on an intern as Miranda Bailey? Would you have imagined Bailey trying to give away a sugery so she can spend time with Ben when he suprises her with a visit back to Seattle? Would you have imagined Alex Karev lending support to Cali when he finds her crying alone in a supply room?
Christina did leave Seattle, however, she Skype's with Dr. Grey and states she is coming back to Seattle to see Derek's first surgery. Owen and Meredith are quite concerned that she won't get on a plane - actually, they plainly state they don't think she will. And, we later find, that her superior's at her new hospital are quite concerned with her competitive nature.
As Cali and Derek entered the operating room for his first surgery, then entire staff in the OR applauded him. "It's a great day to save lives," Derek's statement before every surgery brought smiles to the room. Unfortunately, the positive feelings were short on time. Early into the surgery, Derek experienced an odd sensation in this hand and walked out of the Operating Room. He later admits to Cali that he felt numbness in his hand.