'Grey's Anatomy' Recap: 'Two Against One'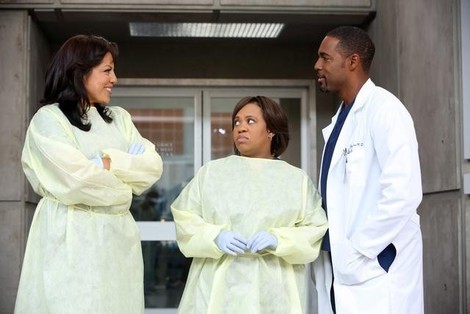 During this episode of Grey's Anatomy, Meredith's new printer causes tension between doctors, Bailey struggles with Ben's return, April and Matthew tackle a serious relationship issue and Cristina and Shane work together to save a patient. Check out some of the highlights below:
Very superstitious - Ben stumbles upon Bailey searching through Tuck's room in the middle of the night. She's convinced her son left a piece of food in the room and although she swears she smells something, Ben says he doesn't. Bailey's obsessive warning signs follow her to work. She initially panics when Owen moves her surgery to another OR and accuses Jo of not scrubbing properly before surgery. Ben makes a snappy remark comparing the OR change to the smell in Tuck's room, which doesn't go over well, but he later redeems himself by helping his wife when she struggles through surgery. The patient makes it through. That night, Bailey finds that her son did, in fact, leave food in his room. She swears to Ben she is fine, but as soon as he leaves the room it's obvious she is far from fine.
Great expectations – Meredith presents her new 3D printer to her fellow colleagues and welcomes them to the "age of personalized medicine" by printing a fork. The doctors seem unimpressed and walk out of her presentation. Meredith later works with Alex on a young patient plagued by several problematical tumors in his liver. The two clash on how to proceed in the OR. Meredith believes she can operate on several of the difficult tumors but Alex tells her to play it safe. Meredith gets outnumbered by the "challenge rule" because Alex and Stephanie both vote against her plan – two surgeons against one – causing her to angrily back down. She's convinced she could have successfully completed the surgery but Alex knows that she's just trying to prove Cristina wrong.
Busted – Cristina and Shane work together on a baby who is facing complications with his heart. Shane believes Meredith's new 3D printer can help the patient, but Cristina doesn't want to go down that path because of her strained relationship with Meredith. Once she realizes she's out of options, Cristina asks Meredith to use the printer but she says no. Shane gets FDA approval for the procedure. Meredith later walks in on Shane and Cristina using her printer without consent. Uh oh!
Teach, teach, teach – Derek becomes intrigued by the 3D printer technician with an eye twitch during Meredith's presentation and enlists Jackson to talk to the man about his surgical options. He decides to let them operate and they fix it. Derek tells Jackson to let his interns do some of the work for him so that they can learn. Derek had to convince Mark to do the same in the past. Jackson later obliges and starts by giving his intern Leah the reins, for once.
Storyteller – Webber's room seems to be less of a hospital room and more of a hangout space for the interns, who love to spend their time there listening to Webber's stories. Webber's next door neighbor, CJ, is unimpressed by his repetitive stories and tries to get him to go on walks with her. He is forced to get out of bed once CJ collapses in the hallway. Once help arrives, Webber realizes he doesn't want to just reminisce over stories; he wants to live his life.
Let's talk about… – April and Matthew take their church's compatibility test and ace it, but Matthew confesses to April that he wants to have sex. April insists she loves and respects him too much to take that away from him, so they decide to stick to the plan and wait until they're married.
Sign of approval – Arizona recommends Owen's girlfriend, Emma, to the board for a job opening at the hospital. As a result, she interviews with Callie – who spends most of the interview focusing on Emma's personal life instead of her professional life. Callie believes Emma is a keeper but Emma realizes that she can't work at the hospital. She knows everyone there loves Owen, so if things went south between the pair everyone would stick with him and not her. She decides it's best not to pursue the job opening.