'Grey's Anatomy' Recap: 'This Is Why We Fight'
Richard tells Bailey he knows about the state of the hospital because of Brooks. Bailey tells Richard that she's giving her patient an artificial artery to help her patient stay alive, a surgery that could become her last here. She asks Richard to scrub in with her as he holds Bailey's hand.
The group finally meets with Mr. Crest, who's done his research on everyone in the room. Although he was impressed by each doctor's background, he has to say no because nobody in the room has the leadership quality he's looking for. "Get someone on your team with some real administrative experience and then we can talk."
Meredith goes to Seattle Grace to find Richard, who's in the middle of a surgery. As he exits to meet her in the waiting room, Bailey makes another snarky comment about Meredith – "What else can Grey take from me today?" – which annoys her intern. Brooks comes to Meredith's defense, explaining to Bailey that Meredith was responsible for suggesting the experimental surgery for her former patient.
Before scrubbing in on their patient, Shane tells April about the rumor he heard from Brooks. April insists it's not true and tells him not to say anything to Owen. During surgery, Owen suggests they'll figure something out for their patient causing Shane to speak up. "What if we're not here in six months?" April tries to stop Shane, insisting he heard a silly rumor about the Pegasus sale, but Shane continues to provoke Owen, calling him a liar. It's never a good idea to call your Chief of Surgery a liar, Shane, especially when he doesn't know the truth. Owen asks Shane where he heard this rumor from: "Cahill." Owen storms out and April and Shane are mortified to learn he had no idea.
Word quickly spreads about the Pegasus sale, provoking everyone to start thinking about their future. Stephanie watches Jackson from a distance as he talks on the phone to the Chief of Plastic Surgery at Boston until Leah stops her. When Stephanie tells Leah she's considering following Jackson to Boston, Leah sets her straight, reminding her that Jo was right. She was totally being that girl. "Every step you take is a giant leap backward for womankind."
Even though Stephanie was being that girl, she spoke with Jackson after his call and he reassured her that he wasn't going to Boston, but he thinks it's time to think about other places. When Jackson asks Stephanie where she's thinking about going, she says she's not sure yet. Jackson mentions hopefully they'll end up somewhere near each other. Aw!
Owen's shocked to find Cristina in the hospital as he's on his way to find Cahill. Cristina tells Owen about the group's intentions and how they're trying to find an investor to help them buy the hospital. The group only walked out because they wanted to stop the sale from going through and if Owen had any idea about what they were doing he could get in trouble due to the nondisclosure agreements he signed. Owen rushes to the board to buy more time, assuring a hesitant Cristina "You need to trust me too."
Elsewhere, Meredith finds Richard and finally tells him about the group's secretive plan. She informs Richard the group wants him to be the leader they're looking for. When he offers his money, Meredith insists he won't have enough. "We need 175 million dollars." After the two share a laugh, he takes Meredith up on her offer and decides to help.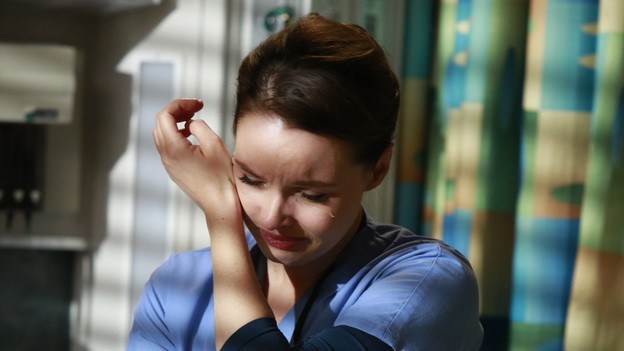 Alex and Jo complete their surgery. Their 6-year-old patient wakes up and Alex happily shares that they "kicked Phil's butt." Jo excuses herself from the room when she gets too emotional. Alex follows her into an empty room where she explains she'll never have a teacher like him. She'll be fine, but she won't find a program like this one. Jo also admits that "it sucked" that she barely saw him this week. Even if she finds another job, she doesn't want to ever not see him again. Awww! But still, no kiss.
Owen storms in on Cahill's meeting with the board telling the group they can't take this deal because he has another buyer. He informs the hospital board about the doctors' plans to buy the hospital. Cahill insists that if they make this Pegasus deal go away this time, it won't come back. Owen pleads to have one more day.
In dramatic fashion, Mr. Crest turns down Richard and Derek after their chat on his helicopter. Cristina rushes off and tells Owen that it's over. Shane finds Kepner outside the hospital, who shares with him how this hospital became her home. Kepner is humiliated once she learns that Shane didn't come to comfort her. Instead he wanted to ask for a letter of recommendation. "I could ask someone else." Sounds about right, Shane. Brooks tells Bailey that she really is the heart of the hospital, but Bailey corrects her: "I was, Brooks, I was." Callie and Arizona look at houses for sale, but they don't have to move yet. Now that the investor deal fell through, everyone begins to consider their future plans.
Back at Alex and Cristina's place, Alex storms in on Cristina and Owen in the kitchen. Cristina finally explains to Alex that the group was trying to buy the hospital. Alex breaks out a bottle of booze and tells the two that they better sit down and start talking to him. At Meredith and Derek's dream house, Derek is writing up letters of recommendation. Meredith tells Derek that she wants to write Brooks' recommendation. Richard tells Catherine about what happened with the hospital but he's not ready to retire yet. He didn't think the hospital would be gone before he was.
The following morning, the doctors meet at a hotel banquet hall with no idea as to what's going on. Catherine tells the doctors to sit down. She knows the group needs an investor and the Harper Avery Foundation wants to take them up on that offer, on one condition: The foundation wants Jackson on the Board of Directors. Wait what? Momma Avery joyfully tells Jackson "Give your momma a kiss, Jackson. She just bought you a hospital." Now how's that for a gift?
What did you think of this week's episode? Do you think Jackson is a good fit for the Board of Directors? And when do you think Alex and Jo will finally kiss?