'Grey's Anatomy' Recap: 'Sleeping Monster'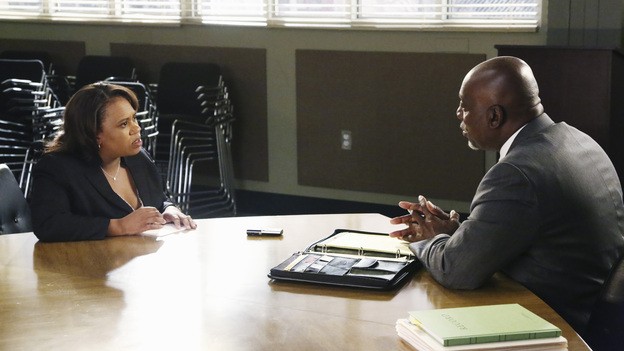 During this week's episode, Bailey is under an intense investigation by the CDC after two of her patients died and one remains in critical condition. During this time she gets the silent treatment, both professionally and personally, by her fellow doctors (excluding Meredith) and friends at Grey Sloan Memorial.
While Bailey's busy preparing for her upcoming meeting with a CDC representative, Jackson attempts to convince his fellow board members to put out a press release about the current CDC investigation before matters get any worse. Jackson's outnumbered (as usual) and the team decides to deal with this matter internally.
Bailey begins her meeting with the CDC representative, armed with extensive note cards. After answering some intense questions, the CDC representative raises concerns about Bailey's scrub habits. She explains that she scrubs to Aretha Franklin's "Think" twice before operating. Bailey also goes into extensive detail about her patients, her processes and who she's operated with. Regardless of her thought-out answers, Bailey is convinced the CDC representative knows something she doesn't. When the representative won't share his insider information, Bailey comes to the realization that she has a staph infection, leading her to believe that she's in fact responsible for the death of her patients.
Elsewhere, Alex and Jo walk the halls together and she asks for him to be nice to Jason, which he agrees to do until she reveals she's moving in with him. After initially disguising his opinion, Alex lashes out on Jo. "I think the guy's a d-bag who you've known for about two minutes and that makes you an idiot for moving in with him," he says. I wonder if he's upset?
April notifies Jackson that Matthew broke up with her once he learned she lied about her virginity. April makes it clear that she blames Jackson for this, considering he's the first person she slept with, even though it takes two to tango.
Meredith reveals to Cristina that she wants to have a natural birth and asks Cristina to be in the room with her. According to Meredith, the minute she starts to scream "Derek is going to have them pump me with drugs," which is why she needs her. Cristina declines because when "Babies come out people poop on the table." (Valid point, Cristina.)
When Derek discovers Meredith is taking over Bailey's post-op patients he explains that she shouldn't take the risk, especially because she's pregnant. Meredith convinces him that she's just looking after Bailey. "This is why I need Cristina in the delivery room," she says. Cristina later agrees that she'll be there, even if Meredith does poop on the table. (That's what friends are for!)
Alex and Cristina spend most of the episode unexpectedly bonding. The two work together with Jo's boyfriend, Jason, on an OB patient. Even Cristina can see right through Alex and calls him out on his feelings for Jo. She explains to him that he needs to take back his girl. How? By punching Jason.
Speaking of Cristina, it seems as if her relationship with Owen is becoming strained due to his new relationship with Ethan. Ethan's grandmother, Cristina's patient's mother, flies in and finds herself heartbroken once she sees the state her son is in. Cristina believes Ethan's father will wake up soon. She just has a feeling. But Ethan's mother isn't so lucky. After Ethan takes her to the cafeteria, she has a seizure and eventually dies in the elevator before Derek is able to get her into surgery.
Richard takes on one of Bailey's old patients, Seth, who's in critical condition after she operated on him. His parents want to have Seth relocated to another hospital but Richard insists that moving him would make his current condition even worse. Richard explains to Seth's parents that Bailey was to blame, even though she really wasn't, just so he can get Seth into surgery. Although he convinced the parents to operate, little does he know Bailey was around the corner and heard every word. Richard explains to Murphy that what he just said wasn't true, but he just needed a way to get Seth into surgery.
A heartbroken Bailey, who just overheard her dearest friend and colleague blame her for this mess, walks into the boardroom as the board members are about to receive the final verdict from the CDC representative. They allow her to stay so she can hear the news. The investigation reveals that the cheap surgical gloves, leftover from Pegasus, were to blame for the infections.
Although Dr. Bailey isn't at fault, she's visibly upset and saddened by the whole situation. When Richard finds her outside, she scolds him. She protected him and made excuses for him during his struggles, especially through his drinking. "You were a drunk and operated on your patients drunk and I stood by you," she quipped. She constantly stood by Richard through his dark times but today he wasn't there for her. In fact, nobody was there for her.
Jason finds Alex after their successful surgery earlier that day to thank him for his help. He also tries to mend things with Alex, explaining that the situation with Jo caused them to get off on the wrong foot. Alex confesses he only wants the best for his "friend" Jo, who's had a troubling past and still managed to come out on the other side. Although Alex's intentions were good, Jo scolds him for revealing her past to Jason, who had no idea.
Jackson shares the good news about Bailey with April. Jackson, frustrated with being ignored all day, reassures April he never forced her to do anything she didn't want to do. "As far as us sleeping together, I'm never going to be sorry about that," he says. As Jackson walks away, Matthew appears, apologizing to April for how he treated her. He asks for a do over which she happily accepts. But could there still be some hope for April and Jackson?
Back at the house, Alex walks into Cristina's room. She was right about Jo. Cristina offers for him to sit on the bed next to her. After some initial hesitation, he lies down and spills his feelings to her. "I always screw myself out of everything good," he says in regards to Jo. After his revelation, Cristina shares that she's losing Owen. Not now, but soon.
What did you think of this week's episode? Were you surprised that Dr. Bailey didn't lose her job?