'Grey's Anatomy' Recap - Season 9 Episode 1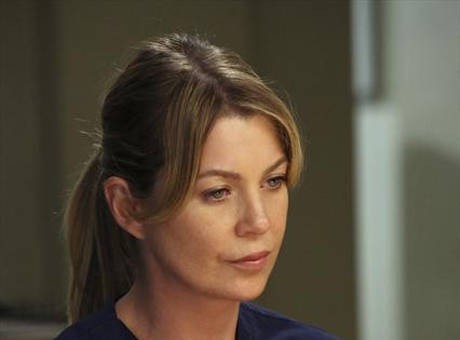 If you missed the season premiere, good for you – saved you a box of tissues and a lot of tears. As you probably know, last season's finale was a doozy. I'll recap the new season's opening episode here to get you up to speed and prepare you for the mist. Warning! Major Spoilers.
The episode opens with Meredith's voice, as usual. She talks about what happens during the every day life routine once someone is dead. Just a reminder and allusion that little Grey is, indeed, still gone. The episode begins in the hospital, and explains NOTHING of the disaster that ended the last season. I was hoping it would pick up in the wilderness and continue that story, but that has come and gone, and we now must learn of the aftermath through patience and attention as they allude to it all throughout the episode.
Apparently, an entirely new group of interns have joined the team, so there are a lot of new faces. McDreamy, or Dr. Shephard, hasn't participated in any surgeries because his hand has been recovering from the accident. He dons a long vertical scar down the inside of his arm down near his wrist.
Yes, Yang is gone, though not all the way. She took the job in Minnesota, but the episode cuts to her life in the cold every now and again. She doesn't seem happy by any means! I'm hoping this is foreshadowing how Shonda is going to justify bringing her back to Seattle Grace.  But one can only hope.
We soon learn that the episode starts 30 days after the accident. Mark is in a coma, and per his directive, he asked to be taken off life support if he shows no signs of recovery after 30 days. The staff of his friends are waiting until the very hour to pull the plug, trying desperately to provoke any semblance of responsiveness as an excuse not to let him go. The entire episode seems to center around 5 o'clock.
The episode then begins a series of flashbacks, chronicling Mark's relationships with different cast members. This is when a few tears fell.
Karev is getting ready to leave Seattle Grace, headed to a fellowship at Hopkins. He learns that the new, replacement pedes Dr. is planning to scrap the exchange program, working on African children and outsourcing it to UCLA. The doctor claims "it doesn't fit his agenda." The look on Karev's face when he hears this statement is daunting – and flabbergasted.  Meanwhile, during his first surgery since his injury, Derrick drops an instrument right in the midst of it. 
5 o'clock arrives. Meredith attempts traveling to see Yang, but can't follow through. We see Dr. Hunt, Yang's husband soon after board a plane, assuming he too is going to see Yang, though, later we find out otherwise. Calli e goes home and opens the door to Arizona lying in the bed, face to the wall, away from the camera. Callie demands her to "snap out of it" and provide more support. The argument escalates just a little and Arizona retorts with a shocking reveal of why she is so mad and withdrawn.
There is an overall looming sense of lament and disruption. Nothing is the same. The audience feels it and the staff feels it. Though everyone is shaken, they long for familiarity and for things to become more like they were. The hopefulness of that return is not so certain, however.
Appropriately, Meredith ends the episode with narration, "You never stop feeling the loss. It's what makes things so bitter sweet. We leave little bits of ourselves behind. Little reminders. A lifetime of memories, photos, trinkets. Things to remember us by. Even when we're gone."
We're promised that next week's episode will explain more what happened immediately after the plane crash, as opposed to being retrospective.
I'll be doing weekly recaps of the Grey's, as well as Scandal, so be sure to visit the blog each week for info.