'Grey's Anatomy' Recap: 'Seal Our Fate' And 'I Want You With Me'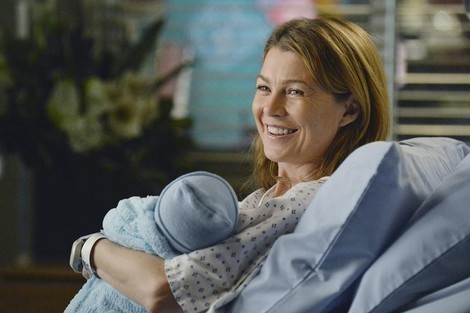 The two-hour season premiere of Grey's Anatomy picks right back up in the midst of the storm the doctors were fighting through at the end of season nine. In typical Grey's Anatomy fashion, the cliffhangers that fans were left with last season were somewhat resolved - at least for now. The premiere brought highs, lows and a shocking death. Here are the highlights:
Seattle Grace Mercy Death - Although Webber's life was in jeopardy at the end of last season and for much of the premiere, he ends up making it out alive but there was another familiar casualty from the storm. Shane, out of jealousy, sends Brooks to look for Webber so he could seize the opportunity to work with Derek. She finds Webber downstairs and tries to revive him but gets electrocuted. The pair are later discovered by Shane but it's too little, too late for Brooks, who succumbs to her injuries.
The Guardian - As Webber continues to fight for his life, Cristina and Bailey clash on his course of treatment. Owen intervenes, questioning what his healthcare plans say about extraordinary measures. Cristina, Bailey and Owen find his personnel file and inform Meredith that she's listed as his medical power of attorney and next of kin. As a result, Meredith has the final say on how the doctors proceed on Webber. After the inital shock sets in, Meredith informs Cristina, Bailey and Owen that she's too hormonal to think clearly so she needs them to run more labs. She eventually sides with Bailey, which later saves his life.
Clash of the Titans - Upon her arrival, Catherine Avery learns from Jackson that Webber is in cardiogenic shock. Catherine storms to the O.R. that Bailey is operating in and demands the team to stop the surgery. After closing Webber up, Owen criticizes Catherine for how she spoke to Bailey. Catherine then directs her anger towards Bailey, who she claims feels guilty for calling Webber a drunk. Jackson later meets up with his mother, who he understands is scared but assures her she can't go running around yelling at everyone who's trying to help. Meredith later visits Webber and asks Bailey her opinion on his best course of treatment. Bailey insists she knows something is in there, but she hasn't found it yet. Meredith books an O.R. for Bailey to do a exploratory laparotomy and she later discovers and removes the necrotic tissues. Later in his room, Cristina puts her ego aside and tips her hat to Bailey for her treatment, but Catherine continues to clash with Bailey. She wants to get a second opinion but Meredith stops her in her tracks explaining it's her decision, not Catherine's. During their exchange, Richard wakes up.
Intern Bonding - After losing one of their own, Jo, Stephanie, Leah and Shane are faced with the daunting task of speaking to Brooks' mom when she arrives at the hospital. Jo, Stephanie and Leah go to Meredith's room in search of Derek, but end up confessing to Meredith that they're having trouble coming up with something nice to say to Brooks' mom. Meredith shares a heartwarming story about George involving stolen JELL-O cups that she told George's mom when he passed away. The interns, who later resort to alcohol to help them prepare, realize they don't know each other very well so they all share something about themselves. Their bonding time gets cut short when Brooks' mom arrives. The interns reuse Meredith's story about George, but with their own spin on it. After making it through the day, the group bands together again, following Shane when he decides to run off and help the firefighters with the wreckage from the storm.
Calzona - Things are as bad as they can get for the pair but to make matters worse Callie publically announces Arizona's adultery to the rest of the doctors. Callie tries her best to avoid Arizona but the two are constantly being pulled together due to the overload of injuries from the storm. Callie makes the difficult decision to move her and Sofia out of their apartment and temporarily into Meredith and Derek's house. Meredith informs Arizona of their location so she can stop worrying but she instead storms over to the house, demanding to see Sofia. Derek takes Sofia outside so the pair can talk, but they just end up having a heated argument. When the pair reunites the next day at the hospital, Arizona begins to apologize but Callie starts dictating a temporary living schedule for Sofia. 
Friends, Lovers or Nothing - Cristina tells Meredith it's over with Owen - for good. Meredith doesn't believe it for a second and rightfully so, considering the pair ends up in the on-call room together (more than once.) All good things must come to an end, though, as Cristina assures Owen the two can't really be friends. When Cristina heads out later that night Owen asks if there's anything he can do but she declines his offer. Could this finally be it?
Love Square - The last time we saw Jackson and April together April was asking Jackson for a reason not to get married. Their intense conversation continues on but gets interrupted when Stephanie, Jackson's current girlfriend, enters the area. Jackson later finds April to see if she can help with a patient of his and although their interactions are brief, Matthew notices and shares his concerns with her. Jackson and April work together on his patient who's suffering from life-threatening necrotizing fasciitis and wants to get married - now. Jackson officiates the ceremony and tries to avoid April afterwards but she insists they talk. He reassures April she didn't want him when he was there but now she does, which makes it all about her. April later seeks out Matthew and drags him to the hospital chapel where she first accepts his proposal (again) and then proposes to him - which he accepts.
What did you think of the premiere? Let us know!