'Grey's Anatomy' Recap: Family Ties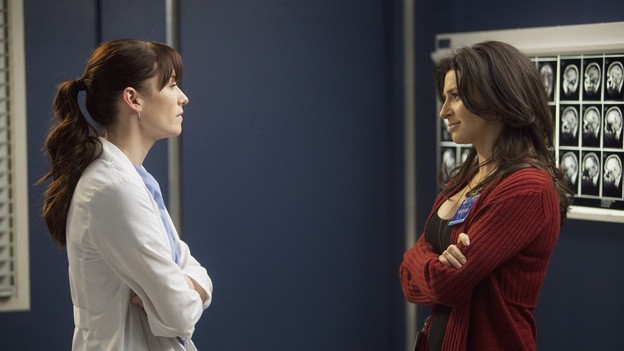 'Have You Seen Me Lately?' Yes, 'Private Practice' cast, repeatedly! The latest episode of Grey's was yet, another 'crossover event.' Fortunately it wasn't too heavily tied to its sister hospital and allowed our favorite medical drama to stand alone. While it was not the most memorable episode of the season (actually the lowest in ratings so far, according to 'The Hollywood Reporter) it definitely had its moments.
Here's the breakdown:
Amelia, the drug addict sister of Derek, arrives to save the ratings of the spin-off- I mean a patient with an inoperable condition. Immediately, Derek dismisses the case and comments 'Amie' is too close to her patients. Determined to save the life of a young child's mother, Amie sets her sights on Lexie to convince Derek. Little Grey works her magic and convinces the hesitant  head of Neuro is willing to reconsider. After several attempts and overly acted 'heated' arguments, they find a way and Derek agress to do the surgery. The trick is the procedure must be completed in 90 seconds. Nice try ABC, even a seemingly amazing surgery is not worth an hour of Addison Montgomery Shepherd.  Did I mention, the surgery is completed on 'Private Practice?'
Meanwhile, the upcoming boards had most of the other residents on their toes. Karev, always quick on his feet and light on friends, decided to use his intern as a study buddy. As usual, his eye is on the prize and nowhere else. He does not know his intern's name or the fact that she is pregnant and runs her ragged around the hospital. In surgery, she passes out and he quickly learns she is having a heart attack. Teddy and Arizona are called in to save both intern and baby, as she needs an emergency c-section. While they are operating he becomes aware how rude he has been and does those 180's we love him for. He goes back and forth between baby and beside, until intern Morgan awakes and her fiance arrives.
In bigger news, Christina and Owen spend the day together saving their marriage. During the most emotional storyline of the night, they fight over how to communicate and the abortion. Christina is floored that it keeps coming back to that. She asks him how can he hold her hand as she 'exercises her right' and then use it against her? It is the only kleenex worthy shots of the entire episode. 
With 'her person' in counseling, Meredith is left alone for studying. So of course who steps in to help, Dr. Webber. The former chief walks into an empty O.R. and asks Callie to share with Meredith her 'secret study system.' In the strangest scene of the night, the two faces are shown on the window above the scrubbing station in a dark and empty O.R., as Webber convinces Callie to get over their past grievances.  Stubborn, but willing, Torres dictates Grey must be the one to ask her and she must earn it. The following interactions are hilarious as the bone popping doc makes Meredith's day hell. After Mer comes up with several great suggestions and is able to save a hand that was stuck in a meat grinder, Callie relents and even compliments her 'nemesis' with 'you're brilliant.' Cocky as ever, Mer replies, 'I know.' Quickly, Callie slides back into her persona and yells that Meredith must be in her office by 4 AM everyday and if she's late, so help her, it'll be death.
Continuing the trend of comedy and touching lessons, Avery gives Bailey a moment she'll never forget. The 'natzi' finds out that one of her 'miracle' patients had been admitted and she was not consulted. We all know what happens when you cross Bailey, but when the patient and Avery by proxy, convince her that a risky surgery is needed, the laughs really start. As Sloane and blue eyes start operating, Miranda is looking over their shoulders, calling out recommendations and is just plain distracting with her comedic timing. Eventually, Avery kicks Bailey out. Yes, you read that right. In fact, he orders her out. Stunned, Bailey angrily walks out. Later, she comes to the king of plastic and admits she was out of line. Then, Sloane gets all touchy feely and offers some advice. The reason she was not able to see that the surgery was a good fit was because she 'has arrived.' That sometimes after all the experimental procedures, we become aware of the dangers and are more cautious about our patients. However, if she ever acted like that again, he would report her- cue sexy wink, you're still you Bailey, you rule breaker.
In the end it was all about communication, forgiveness and the future. 
Grey's Anatomy Airs Thursdays on ABC at 9 PM.