'Grey's Anatomy' Recap: 'Change of Heart'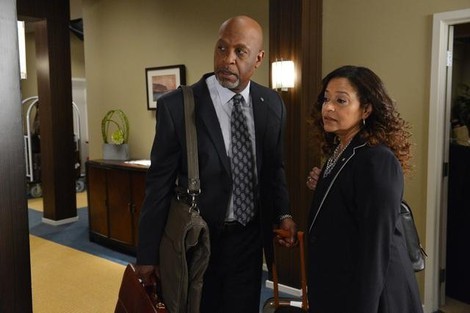 It's the day after Cristina failed to win the Harper Avery Award and she's nowhere to be found. She's not on the flight back to Seattle with Meredith and Owen and she won't pick up her phone, which has them both worried.
Back at the hospital, Shane and Arizona work with Dr. Russell, who takes over Cristina's cases in her absence. After Arizona rounds with him, Alex approaches her with a compliment and she immediately knows something is up. Now that he's been fully backed by the private practice doctors, he decides to tell her about his new job opportunity, since he has to give them a definite answer by the end of the day.
Before Dr. Russell has the opportunity to operate on Frankie, one of Cristina's patients, Cristina enters the operating room and insists she'll take things from here. The whole OR is silent, but she assures everyone that she's fine and considers herself honored to even be nominated for the Harper Avery Award in the first place. Cristina cuts the small talk short because Frankie needs a new heart and Ivy needs surgery. Alex and Arizona fly to Portland to pick up the new heart for her. During the plane ride, Arizona starts to reminisce about the first time the two were on a plane together, but Alex stops her. He thinks she's using this trip to try to talk him out of his new potential job. Alex assures her that he needs to think of his own needs for once. After they retrieve the new heart, Arizona tells Alex she didn't mean to pester him on the plane, but she'll be sad if he does decide to leave.
Meanwhile, Derek gets a surprise when his sister, Amelia, shows up at his house unexpectedly. It turns out she left town after her boyfriend, James, proposed to her. She's not sure if she's cut out to be married and have kids, so she decided to visit her brother to give it a test run. Derek approves of this idea and leaves the kids with Amelia so that he can go to the hospital. When Meredith returns from Boston, she unleashes her anger out on April, who's now an "Avery by association," but lightens up once she learns Cristina's back and she has a "date" in the OR with Derek. After their surgery, Meredith and Derek return home to a distraught Amelia and a mess of a house. Meredith starts to clean up and tells Derek to talk to his sister.
Elsewhere, Jackson's overwhelmed because he needs to cut some of the doctors' research projects. He has an awkward encounter with April, who believes he's going to cut Cristina's research. Before they're able to talk things through, she rushes off to surgery with Callie, Jo and Owen. Callie and Jo make up an excuse to leave, so Owen gets stuck listening to April vent about her problems with Jackson.  
Bailey's "bubble boy" patient, Braden, continues to get worse. Bailey does not think the treatments are making him sick. Instead, she believes he might have picked up a virus. After Braden's mother talks to Ivy's mother, she decides to end the experimental treatments. Although she verbally states her decision, she's already signed the waivers. When Stephanie leaves for the night, Bailey tells her there's not much they can do anymore – but she has the treatment in her hand, ready to go.
Richard visits Catherine Avery with the intent to spend the weekend with her, but she thinks he just wants to get more information about Cristina's snub. Although that's not the reason for his visit, Richard admits he's still confused that she lost. Catherine confesses that Cristina had the votes, but she couldn't allow her to win because of the hospital's association with the Harper Avery Foundation. After he learns the truth, he tells her he planned to propose this weekend, but now he's leaving. He leaves the ring on her desk and walks out.
Cristina informs Ivy and Frankie's parents that a heart intended for Frankie is on its way to the hospital, but they can decide to give it to Ivy instead. The parents tell Cristina she needs to make the decision since they can't. She opts to give the heart to Ivy instead. When Ivy survives and Frankie dies, the parents blame Cristina.
The board gets together to discuss Jackson's research findings. Before they get started, Alex comes in to speak with Arizona. He decides to tell the rest of the board that he's taking the job with the private practice, so he's giving his notice. When he returns home, Jo's ecstatic that he took the job.
When Jackson returns home that night, he's surprised to see April there collecting her things. She tries to leave but Jackson stops her and tells her to come home. He confesses that he regrets a lot of things he said, but believes they can push through this. At the end of the day, they still appear to have different ideas and values and April can't let that go because she's pregnant!
Owen discovers a distraught Cristina in the shower with her scrubs on. Between not winning the Harper Avery Award and losing her patient, Cristina asks herself "What's the point?" Owen decides to tell her that she did, in fact, get the most votes for the award but the politics surrounding the hospital's relationship with the foundation eliminated any chance of her winning. Cristina walks out of the hospital, speechless.