Gretchen Rossi Of 'Real Housewvies Of OC' Chats Fall Fashion & Beauty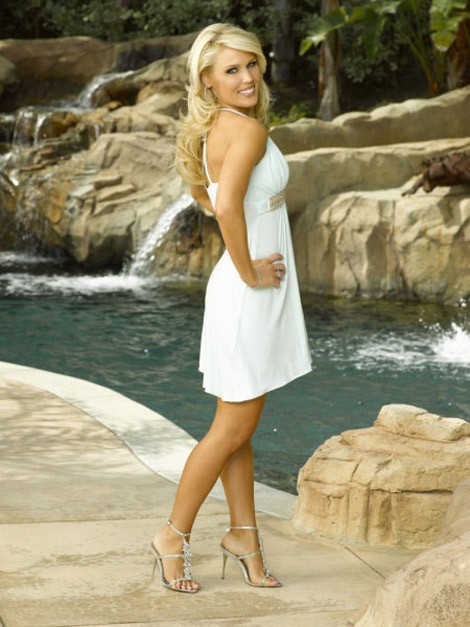 From handbag designer to makeup maven, it is no wonder "Real Housewives of Orange County" darling Gretchen Rossi was chosen to be one of the special celebrity guests for Chicago's most stylish new event: The Magnificent Mile Shopping Festival presented by MasterCard. Starpulse caught up with Gretchen for her appearance at Water Tower Place's In Fashion Lounge for a quick chat on fashion, handbags, and of course tanning!
You're here at the In Fashion Lounge to give shoppers a celebrity styling experience. How did you pick out the outfits on the mannequins? What caught your eye as you were browsing the stores of Water Tower Place?
This was the fastest power shopping I have done in my entire life! I didn't really have anything particular in my mind except for I really like the whole color blocking concept that is going on right now. I just love it so that is what I was looking to do. However, but still keeping my same flair of fun, flirty, and girly, I wanted to have something that you could do from day to night, very versatile and something that everyone can relate to.

It's September and Fall is on the way. What will you be wearing from your Gretchen Christine Handbag Collection?
Right now, we are currently working on the new collection. The thing that I am really excited about for the holidays is my new luggage set. We are looking to do it in a red crocodile finish or in a brown tortoise finish, which is just going to be so gorgeous. What we are going to start with is just three pieces that are a little bit more for overnight. Then, we might do the big piece for travel. The materials we are making everything out of are leather and it's really high quality. Like in California, you can go to Palm Springs or drive up the coast to San Francisco, so a three piece with a little roller, duffle, and an oversized is just perfect.
Can you tell us more about your Gretchen Christine Airbrush Tan in a Can line? What are your tips for keeping an OC glow all year round?
Tips for tanning depend on the season and the color you are right now. I am probably a little bit tanner than I normally would be during the winter. My line has different levels of colors so you can go light or dark. Then, I have two different versions: one you can actually take to your spray tanner and she can put it in the machine. So this is a professional option if you are not good on your own with the can. Then, I have the aerosol which you can use for travel. My best tip for tanning is to mix it in with your everyday lotion. That way it smells good and then it goes on much more smooth and even. It is also really important that you exfoliate because a lot of people miss that step.