Gregory Smith On Dov's 'Ride of Shame' in Tonight's 'Rookie Blue'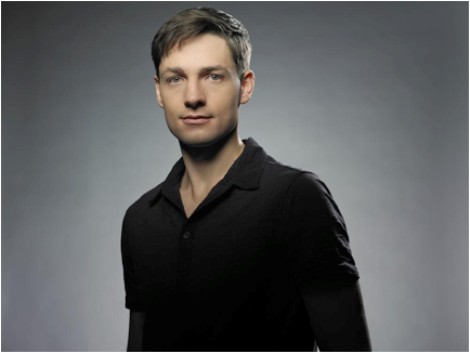 Rookie Blue fans, rejoice! The summer's best cop show is back from hiatus with a new episode - and it's an awkward one for Dov Epstein, played by Gregory Smith. BFTV caught up with Greg recently to ask him how much trouble Dov is in and how he's enjoyed the many changes that have already taken place in Season 4.
"It's like the ultimate walk of shame - or ride of shame," he laughed, because Dov finds himself having to work with new rookie Chloe Price (Priscilla Faia), after having slept with her previously. Aside from that tremendous awkwardness, Greg told us that his character's arc this season will be "a constant struggle to sort of grow up and mature, and have his expectations align with the reality of the job. And to not get cynical, which I think is something that police officers face. Though this season is a lighter one for Dov." Like being stuck working with your one-night stand.
Things are far less awkward off-screen, where the Rookie Blue cast fits like a family. Asked about bringing two new actresses into the fold, Greg said, "I imagine it must be somewhat intimidating [for them] because we all know each other so well, but we all kind of fit right in. Peter Mooney [who joined the cast as Nick Collins in Season 3], I forget that he hasn't been here since the beginning. I felt the same way" with Faia and Rachael Ancheril, who plays other new arrival Marlo Cruz.
Besides another complication in Dov's love life, there are lots of other changes going on in and around 15 Division in Season 4. Yet that's not necessarily a big deal. "It sort of feels kind of natural," Greg explained. "We're in our fourth season, but we've all changed so much in our personal lives and grown so much. I almost kind of don't recognize who we were when we started."
What new development has most captured Greg's attention? "All of them," he continued. "But I - along with the rest of the audience - am riveted by the McNally-Swarek relationship."
That wrinkle - that Sam has started a romance with Marlo and left Andy heartbroken - caused plenty of stir amongst Rookie Blue's loyal fan base. Being that Greg regularly tweets with the fans, we asked him: how big is the uproar over everything going on this season?
"No more than I think I sort of expected," he revealed. "It's sort of the continuous sort of struggle with TV. You always have to sort of be fulfilling expectations, while at the same time, leaving something that people still want to see. I expect the reaction to get stronger. I don't know if anything will compare to the reaction we got when Jerry [Barber] died."
Another addition that fans can definitely be excited about: after directing his first Rookie Blue episode last season, Greg will be stepping behind the camera again in Season 4 - with episode 12, which is the first part of the two-part season finale! "I'm over the moon about it," he enthused, while getting ready to direct an episode of another Canadian drama, Saving Hope.
With he and his character definitely no longer rookies after four seasons, has Greg thought about where he'd like to see Dov end up? "I thought about that even season one," he said. "It's not based on anything but just what I think would be a nice kind of way to sort of tie up the story. I think it'd be cool to see Dov turn into a training officer." After everything he's been through, he'd have a lot to teach incoming officers at 15 Division.
Rookie Blue returns tonight at 10 PM ET/PT on ABC. You can also keep up with Greg on Twitter (@gregorythesmith).
(c)2013 Brittany Frederick. Appears at Starpulse with permission. All rights reserved. No reproduction permitted. Visit my official website and follow me on Twitter at @tvbrittanyf.