Greg Laswell's 'Three Flights From Alto Nido' To Be Released July 8

Renaissance Man
Greg Laswell
finds himself released from heartache with
Three Flights From Alto Nido
, his sophomore full-length album on Vanguard Records, to be released July 8th.
Three Flights From Alto Nido
is the enigmatically, yet aptly titled third volume of his trilogy of heartbreak and redemption.
In 2006, Laswell's
Through Toledo
was an intimate account of a devastating experience in his life. How The Day Sounds, a six song EP released earlier this year, served as a bridge toward self-realization while vividly capturing the sense of healing and moving on.
Three Flights From Alto Nido
resonates with a grand, therapeutic soundscape gained from renewal and letting go of loss.
Pointing out that 'alto nido' translates from the Spanish as 'high nest,' Laswell explains that "'Three flights up' implies that you're on your way to a 'high nest,' even if you're not quite there yet. Whereas Through Toledo was intimate and autobiographical for the most part, the EP reflected the transitional time of coming out of it," Laswell explains. "With this album, I wanted to do something really big sounding-a little bit bigger than I am, really. In a sense, the album was shaped around the fact that 2007 was a difficult and strange year for just about all of my friends and family members."
With his elegantly expressive piano technique and feathery acoustic guitar work, Greg has drawn comparisons to such reputable songsmiths as
Jeff Buckley
,
Coldplay
,
Ron Sexsmith
and
Radiohead
. His intense lyrics and sweeping melodies amplify to create an eloquent sound that matches his hypnotic and haunting tenor.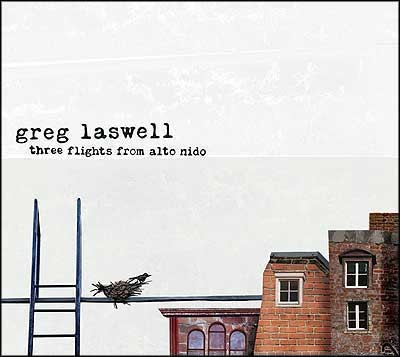 As with his prior Vanguard releases,
Three Flights From Alto Nido
was written, recorded and produced at his home studios in San Diego, Dana Point and Santa Ana, CA. The task of mixing the album was placed in the hands of Greg Collins who has mixed, produced and/or engineered tracks for Grammy winners
U2
,
Joss Stone
and the
Dixie Chicks
as well as many other notable acts.
The demos for
Three Flights From Alto Nido
were first introduced to Vanguard via arrangements created using Apple's GarageBand software. Apple took notice, and Greg has since appeared at various music industry trade shows on their behalf to demonstrate GarageBand's capabilities. His profile is prominently featured on Apple's Pro website.
Early support for
Three Flights From Alto Nido
comes from tastemakers such as KCRW's Morning Becomes Eclectic, Indie 103 in Los Angeles and WXPN in Philadelphia. He has been heard on NPR, the iTunes Indie Spotlight, Yahoo!'s Who's Next viewers choice program, and Laswell's music has also been prominent on TV shows such as
Shark
,
Without A Trace
,
Smallville
,
One Tree Hill
and MTV's
The Hills
.
Laswell, an integral fixture at the famed Hotel Café in Hollywood, is taking part in the 2008 Hotel Café Tour, which highlights the premiere singer/songwriter venue's communal sense of DIY artists. Other artists on the tour include
Sara Bareilles
,
Cary Brothers
and
Ingrid Michaelson
. Greg is featured in Ingrid's "The Way I Am" video and in June will be kicking off a summer tour with her including stops in New York, Philadelphia, Boston and Los Angeles.
Listen:
"The One I Love"
-
Enter to win an autographed copy of Three Flights From Alto Nido & an autographed poster!