Greg Finley Ready To Shine In 'Star-Crossed'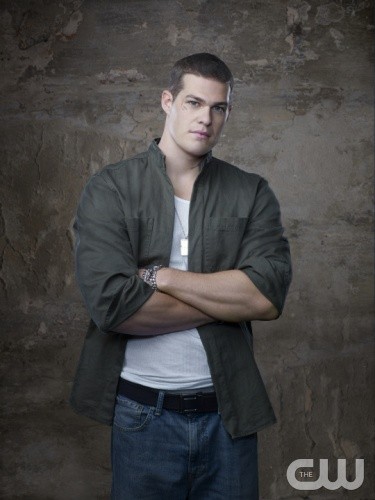 The CW is hoping young audiences will fall in love with Star-Crossed, its new science-fiction romance series. Featuring a human girl and an alien boy who connect when he and his cohorts are integrated into a suburban high school, it reminds us of The WB's cult hit Roswell. So what is it, exactly? BFTV asked Greg Finley, who plays the alien Drake, to shed some light on this already buzzed-about new show.
"I didn't know where it was going to go when I booked it. I knew it was a love story between an alien guy and a human girl," he told us. "But what I love the most is where it's gone. How intricate all the stories are. The whole sci-fi angle, how in depth they've gone. They've created this whole world."
"It's exciting. I think we all weren't expecting these storylines to develop and be so intricate. It's gone so many other places and everyone's like, 'What's going to happen next?'," he continued. "Every episode, it seems like Roman [played by Matt Lanter], he and I are saving the world."
To that end, Drake has plenty to do in Star-Crossed other than just be Roman's wingman for his budding romance. "There's a really cool fight scene in episode three," Greg revealed. "And I really feel like my character develops in episode five and on. They really start focusing more on Drake. There's a lot of cool stuff with my mom. My mom is in a prison and my whole goal really in the first season is to free her. I love those scenes with her."
He's likely a familiar face to the target demographic of the series. Up until last year, Greg starred as Jack Pappas on ABC's Family's The Secret Life of the American Teenager. And his last TV credit was a guest-starring part on another CW series, the hospital comedy-drama Emily Owens, M.D. But neither of those are the role he'd recommend for new audiences to check out.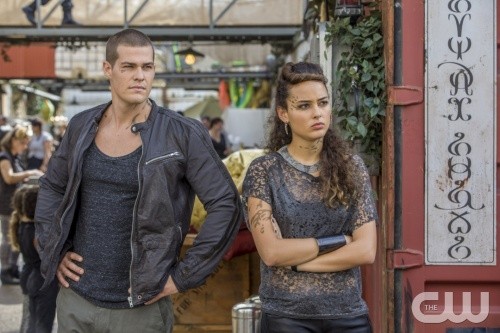 "I loved being on Secret Life and that was a great thing," he reflected. "But my first role was on a show called Cold Case. The character was a pretty tough character to play and it was a pretty intense episode [season four's "Shuffle, Ball Change"]. My first scene ever on TV was a scene with Danny Pino on Cold Case. I was really nervous, and he just said 'Greg, it's going to be fine.'" The two actors were recently reunited; Greg just completed filming on an episode of Law & Order: Special Victims Unit, presumed to air early next month.
For right now, Greg's focus is on Star-Crossed and joining the ensemble of another series that will hopefully be on the air for several seasons to come. He's just happy to be present and be working. "I never thought about wanting to win an Oscar or wanting to be famous. I think I became an actor for personal reasons and the right reasons," he said.
Those reasons can be found in a turning point that nearly cost him his life. After his basketball ambitions were derailed by injury, he faced another uphill battle. "I got really sick. I had a throat infection and almost passed away. The thing that got me through was film and TV," he reflected. "I would get lost in these stories and lost in these characters, and for that moment I was good. And that was what made me want to do this for a living."
"I just want to be working on stuff I'm happy with," he told us. "I love this character."
Whether he ever wins a major award or not, Greg certainly has our admiration for his values and for the things he's persevered through. With this new series, more people will hopefully be exposed to the talent of this actor who might be playing an alien, but is decidedly down-to-earth.
Star-Crossed premieres tonight at 8 PM ET/PT on The CW; for more on Greg, you can follow him on Twitter (@Greg_Finley).
(c)2014 Brittany Frederick. Appears at Starpulse with permission. All rights reserved. No reproduction permitted. Visit my official website and follow me on Twitter at @tvbrittanyf.