Great Road Trip Movies You Need To See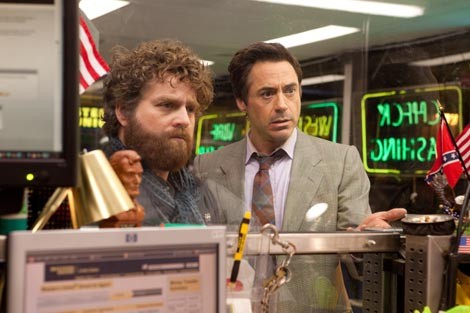 Robert Downey Jr. and Zach Galifianakis make a quirky pair as they team up in Todd Philip's newest comedy, Due Date, respectfully came in second to Megamind at the box office over the weekend, grossing 33.5 million. With Todd's writing skills, R.D.J's incredible acting and Zach's off-the-wall humor, we recommend you work this movie into your plans. After viewing an early screening and a special Q&A with the writers, Alan Cohen, Alan Freedman and Adam Sztykiel we were inspired to dig a little deeper into the ever exciting road trip genre. So grab your trail mix, Road Bingo game and headphones, strap on your seatbelt and let's take a trip with our favorite Road Trip movies.
Planes, Trains and Automobiles- If you're too young to remember this holiday classic, we suggest you put it in your Netflix queue in preparation for Thanksgiving. Steve Martin plays a normal family guy trying to get home for Thanksgiving after his flight was canceled. Coincidently an obnoxious shower curtain ring salesman played by John Candy is headed in the same direction and cannot catch the hint that he is not wanted.
Rain Man- Tom Cruise (Charlie Babbit) and Dustin Hoffman (Raymond Babbit) star in an emotional flick about two newly found brothers who travel cross country together via car due to Raymond's fear of flying. After Charlie learns that his father left him out of his will but all his belongings were going into a trust in the name of someone else, he sets out to find out whom that someone else is. He quickly finds out he has a savant brother who loves People's Court, reading the phonebook and K-Mart.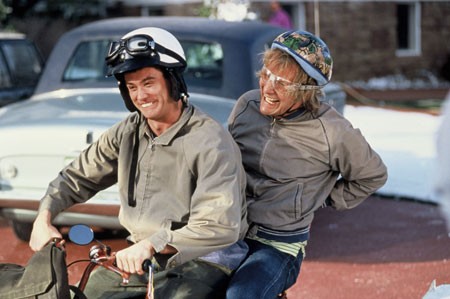 Dumb & Dumber- Two idiots who lose their jobs, their money and their pet's heads set across the country in a sheepdog van to return a briefcase full of money to a redhead. If you haven't already coined this one of your favorite movies of all time, you better be on your way to Blockbuster. Our favorite scene? Two words- Colon Blow.
National Lampoon's Vacation- We've all been forced to be in a car next to that annoying brother or sister who won't stop touching you, or screaming and a dad who has to stop and pee every ten miles, but have you had to travel with your dead grandma strapped to the roof? Walley World, here we come!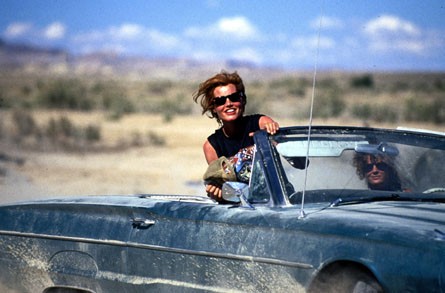 Thelma and Louise- This classic nineties movie stars Susan Sarandon and Geena Davis as a waitress and a housewife on the run from the law in a Thunderbird. Directed by Ridley Scott, the movie stars a very young Brad Pitt and keeps the audience on the edge of their seats wondering if these two fugitives will get away or not.
Me, Myself & Irene- Another classic Farrelly brothers film, Me, Myself & Irene gets better every time you watch it- we promise! Renee Zellweger fittingly enough plays Irene, a woman on the run who is forced to ride a motorcycle with a Rhode Island cop with a split personality played by Jim Carrey.
Road Trip- Another great Todd Phillips film, this movie has to be on the list, due to its title and the fact that Tom Green is the star- remember him? After accidently mailing a sex tape with another woman to his girlfriend Breckin Meyer (Josh) sets out with a few friends to get it back before she sees it, taking a few crazy turns along the way of course. They're headed to Austin. Austin, Massachusetts, right?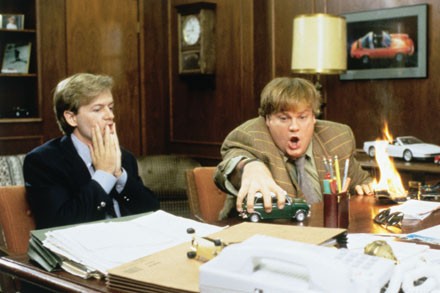 Tommy Boy- R.I.P. Chris Farley. As funny as this movie is, we tear up every time we see the hilarious comical duo of Chris and David Spade knowing that we'll never experience anything new from him. But if we could watch any road trip or Chris Farley over and over again, Tommy Boy would be it. After his father's death, Tommy takes off on the road with his father's right hand man (David Spade) to try to salvage his father's auto parts company, but hits a few snags along the way just as any clumsy chubby guy would. Oh Richard!
Have any favorites? Let us know in the comments box below.