Grassroots Campaign Wants 'Psych' Stars On 'SNL'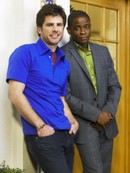 If one show has impassioned, loyal fans to be reckoned with, it's "Psych."  
They call themselves "Psych-Os," and in just a couple of weeks, nearly 30,000 of them have united in an online effort to nab leads James Roday and Dulé Hill a dual hosting gig on NBC's long-running, live sketch show.
The grassroots campaign appeared about a week before the official "Psych" Facebook page cracked the 1 million member milestone on October 20.  Dubbed "Psych Out SNL," the movement's own Facebook group states that the writers of USA's quirkily funny police procedural have given the undertaking their official endorsement. 
Last May, Betty White made out like an adorable bandit when she earned an Emmy for her own Facebook-prompted performance on "SNL," which also reeled in super high ratings.
Several copycat campaigns were spawned in the wake of White's social media success, including those supporting celebs like Reba McEntire and Neil Young.  But the one that's most visible is likely the niche backing Carol Burnett.  The 77-year-old queen of American sketch comedy has fans who've produced a few Facebook groups pushing for her "SNL" debut, and the combined member count adds up to about 160,000.
But such numbers should only fuel the fires in the bellies of the world's Psych-Os.  They've launched an official website and Twitter account, and in a very short time, the "James Roday and Dule Hill to host Saturday Night Live" Facebook page has already accrued more members than the vast majority of "Get So-and-So on SNL" endeavors.
Fans cite the chemistry between Roday and Hill, as well as their comedic acting ability, as selling points for a hosting possibility.
Featuring double hosts isn't unexplored territory for "SNL."  They've done it several times: Roseanne and Tom Arnold, Beau and Jeff Bridges, Mr. T and Hulk Hogan, among other duos.
What's more -- "Psych" cast member Corbin Bernsen hosted back in 1990, during his "L.A. Law" run.
Last July, Roday and "Psych" creator, writer and executive producer, Steve Franks, talked to us about the show's fifth season, which is scheduled to start back up in a couple of weeks.  We got the exclusive scoop from Roday and Franks when we asked about an upcoming "Twin Peaks"-inspired episode, scheduled to air later this season.
We'll have to see how many Psych-Os mobilize in the name of their fist-bumping twosome, but we're sure they'll be tuning in to watch "Psych" resume season 5 on November 10 at 10 p.m. on USA.