'Graceland's' Jamie Gray Hyder: Rest Of Season 2 Is 'A Whirlwind'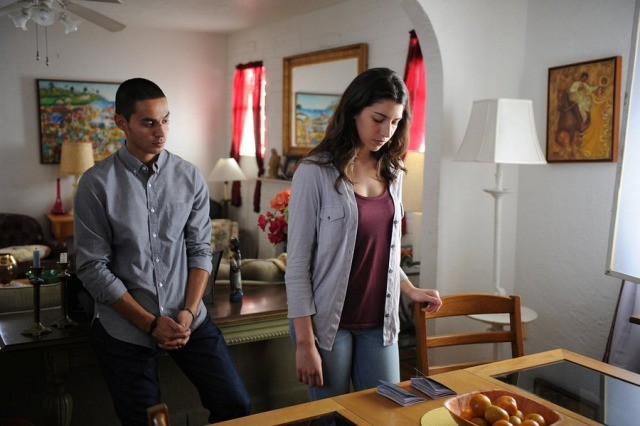 Jamie Gray Hyder is keeping things interesting on Graceland. The True Blood actress plays Lucia Solano, the sister of Carlito Solano (Erik Valdez) and daughter of the head of the Solano drug cartel, who doesn't know that Johnny (Manny Montana) is actually an undercover agent. We caught up with Jamie last Wednesday to talk about her Graceland experience and how it stacks up against playing a werewolf.
"What I love about this part - and something that's super important to me - is to make her a real person and not a caricature of herself," she told us. "[Lucia]'s got such a cool, complicated backstory to her; it's really interesting to play that. She wants to do the right thing for herself, as well as do the right thing for her family."
However, Lucia's been finding out recently that those may be two entirely different things. In last week's episode, she and her brother got into a pretty nasty fight that Johnny had to break up. Still, that's got to be pretty tame compared to the stuff Jamie had to play in her recurring role as Danielle on True Blood, right?
"You know, it's kind of crazy," she laughed. "It's all got its own set of challenges. After being on a show like True and playing supernatural characters, you'd think being a human character in a human world would be easy. The werewolves often seem normal compared to the crazy things that happen to Lucia in her life!"
Thankfully, the off-screen experience was much calmer. "It's been so amazing. We shoot everything down in Florida, so it's been like a summer camp atmosphere," Jamie said. "And working with Manny has been absolutely incredible. I really lucked out with Erik and Manny as many main scene partners for the season. They are both such talented actors!"
Of course, when you're playing the sister of a bad guy, you can assume that you're not going to be around forever. Given Graceland's serialized storytelling, was Jamie able or interested in knowing what's ahead for Lucia in advance? "From the beginning, I sort of had an idea of the arc," she told us. "I kind of like getting the script week by week, because then it kind of allows you to react more naturally."
"I think the season gets so convoluted as we progress, and there are so many ways that things can go. Knowing these types of crime shows, you assume that your time is sort of short-lived," she continued. "But this show has really managed to think of creative ways to involve us all with each other."
Graceland has been Jamie's biggest role since True Blood, so we asked her what she'd like to follow it up with. "I would like to work next, first and foremost," she reflected, saying the next series she'd want to guest on would be HBO's True Detective. "That's what's so great about this character. As an actor, this is one of those roles you're so grateful for, because it allows me to show my range. I think also playing a character that's strong and that's so interesting and based in reality will also help build interest."
"I love this character a lot, and I'm very grateful to play her," she added, "and I'm lucky to have amazing co-stars, and USA has been a great network to work for."
Yet as entertaining as the ride has been for everyone so far, Jamie did warn us that it's far from over yet: "The rest of the season from here on out is a whirlwind for Lucia and the rest of the characters," she teased. You'll just have to keep watching and see if she makes it to the end.
Graceland airs Wednesdays at 10 PM ET/PT on USA. For more with Jamie, you can also follow her on Twitter (@JGHyder).