Graceland Celebrates 30th Anniversary As A Tourist Attraction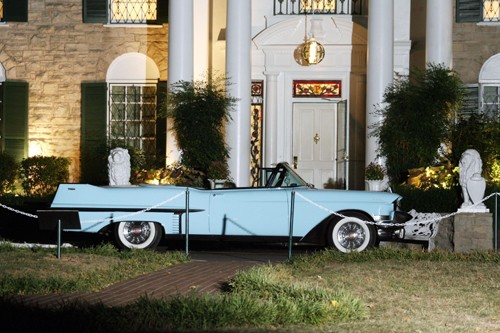 This month Elvis Presley's famous mansion, Graceland, celebrates its 30th anniversary as a tourist attraction. Each year about 500,000 people visit Graceland, and over 18 million people have visted the Memphis, Tennessee, property in three decades.
The King of Rock and Roll died in 1977, and Graceland opened its doors to the public five years later in 1982. According to the Daily Mail, the house was turned into a tourist attraction due to high estate and inheritance taxes.
Former wife Priscilla Presley is still mesmorized by the place and it still holds a special place in her heart. She said recently,  "Every time I go in there, I feel like Elvis is going to come down the stairs any minute,' she said in a recent interview about the landmark's anniversary. I have no doubt that he's there, somewhere, his spirit. I think people feel that," she said.
Graceland includes an exhibition area and the Hearthbreak Hotel across the street. The area also boasts the Gibson guitar factory and several blues bars on Beale Street.
Presley also said about the place, "It's been incredible to see that the legacy of Elvis is still going strong. We wouldn't have imagined that when it was opened in 1982. Elvis is as popular now as he was then, if not even more."
Meanwhile, Elvis' daughter Lisa Marie is open to the idea of her late father returning to the stage as a hologram as long as it's done tastefully. Digital firms are bringing dead artists back to life as virtual performers after Dr. Dre wowed crowds at April's Coachella Valley Music & Arts Festival in California with eerie images of slain rapper Tupac Shakur.