'Gossip Girl' Recap: You've Got Yale

Sometimes I wonder about
Gossip Girl
. I mean, how is it possible that everyone gets their college acceptance letters (on their cell phones, no less) at the exact same time? I thought that sort of milestone was still reserved for snail mail. And, what's even odder is that Blair's father (John Shea) and his French lover flew into town for the big day. And with all that anticipation, Blair (
Leighton Meester
) still got waitlisted for Yale. At least she didn't get rejected. But, in her eyes, she might have well been. I really do ponder how much Josh Schwartz takes from the Gossip Girl books, recycles from
The O.C.
, and actually comes up with on his own. He certainly writes about the same type of kids…and if I remember The O.C. correctly, I believe one of those characters went to Brown also. Only the Ivy Leagues for spoiled, rich kids.
So, even though Serena (
Blake Lively
) got accepted to Yale, she chose to decline her acceptance after a heart to heart with newcomer Ms. Rachel Carr (
Laura Breckenridge
). Serena realized that Yale wasn't her dream, and that Brown was a much better fit. This disappointed Dan (
Penn Badgley
) because, like every good soap, he too got accepted to Yale! Don't you people realize that everyone goes to the same college, especially when it's a teen soap we're dealing with? But, Serena's decline was Blair's happy ending. It just so happened that Serena was the only one keeping Blair from her dream of attending Yale. Too convenient? I believe so.
But, enough about college! Let's go back to Constance…and talk about this new teacher. Apparently the cute, young thing is fresh from Teach for America. Apparently teaching in urban schools gives you the perfect training for spoiled brats, like Blair Waldorf. Ms. Carr thought that Blair's work deserved a B. And a B on Blair's transcript is not going to help her case of getting into Yale. So Blair fought back the only way she knows how. She invited Ms. Carr to a closed restaurant for dinner and offered her fake tickets to the opera. But, she was on to Blair's tricks; while she accepted Blair's apology, she still told the head mistress. Blair received detention, I believe until further notice.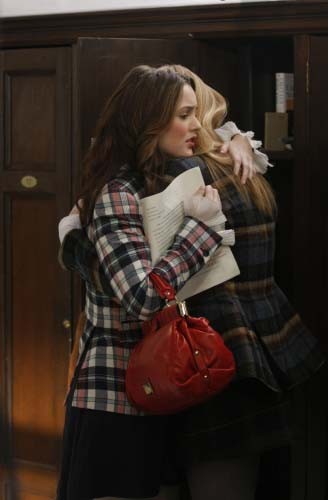 While Blair was busy worrying about Yale and her grades, Lily (
Kelly Rutherford
) and Rufus (
Matthew Settle
) were worrying about their social debut. Rufus and Lily have been not so secretly sneaking around and living out their coupledom to the fullest. This slightly bothers Serena and Dan - because they are currently also a couple. It's not as awkward for Eric (
Connor Paolo
) and Jenny (
Taylor Momsen
), however. Eric, even, was helping Rufus become acclimated to the opera atmosphere. But Chuck (
Ed Westwick
) threw a small wrench into their plans with his fight to regain control of Bass Industries. He came to Lily asking for a favor - to help him rid Jack (
Desmond Harrington
) as the CEO. As a 20% stockholder, Lily had some pull with the board. But, after talking to them, she knew what she had to do. Bart and Lily had previously discussed adopting the other's children, which would put Chuck under legal custody of Lily. This would relieve Jack of his new parental responsibility, and his job of running Bass Industries. As much as Chuck resented Lily, he decided that being under her care was better than that of Jack's.
Jack had the opposite opinion, however. He thought that the best revenge was to attack Lily in the ladies' restroom. He wanted to, I guess, prove to everyone that she was a whore and an unsuitable parent. Instead, it made Jack look like an assaulting jerk. His failed attempt landed him one ticket back to Sydney and a bruised face from Chuck's fist. Lily was honored that Chuck stood up for her and protected her; she offered him the entire company on his 18th birthday and a place in her home. Chuck actually accepted and the two of them shared a moment.
In other current events around the Upper East Side: Nate (
Chace Crawford
) and Vanessa (
Jessica Szohr
) are having very minor issues about money. But, they went to the opera together and happily made out in Nate's private box. Blair got a bulldog puppy from her daddy that is sure to become Dorota's (Zuzanna Szadkowski) new best friend. And it looks like Dan and Serena aren't fairing as well as their parents. Dan ignored Serena's call, only to be greeted by Ms. Carr in the Brooklyn café. I'm sure all these minor events will blow up soon; they always do.
Gossip Girl stars:
Blake Lively
/
Chace Crawford
/
Leighton Meester
/
Penn Badgley
/
Ed Westwick
/
Taylor Momsen
/
Jessica Szohr
/
Kristen Bell
/
more
Story by
Beth Wickman
Starpulse contributing writer