'Gossip Girl' Recap: Where Is This Show Going?

Gossip Girl
needs to learn that the old way of doing things just isn't cutting it anymore. Storylines keep repeating themselves week to week and they aren't improving. With that being said, in this episode titled 'Enough About Eve,' Blair (
Leighton Meester
) started off this week upset about the fact that she's still not running NYU. Vanessa (
Jessica Szohr
) having a major article about herself in the paper didn't help matters either.
NYU was hosting a parents' weekend and Blair thought it would be a fabulous way to fall into the hierarchy by giving a coveted toast. However, Vanessa was the one being asked to give the toast, and that just irritated Blair even more. But, both were astonished when they learned that Mr. Ellis (some sort of Dean at NYU, no formal description was given) decided to give the speech to the famous Olivia Burke (
Hilary Duff
).
The speech was only given to Olivia, despite the fact that she's famous, because Dan (
Penn Badgley
) convinced her to go to the parents' weekend dinner. The irony is that Vanessa originally convinced Dan to invite her. So, with Olivia in attendance, Vanessa's speech was DOA. Vanessa had already invited her overly judgmental mother Gabriela (
Gina Torres
) to listen to her toast, so she had to find a way to make it hers again. After battling with Blair, Vanessa thought she had to take matters into her own hands so she pitted Dan against Olivia, telling them both lies to ensure they wouldn't be there. She made it seem like Olivia was nervous to meet Dan's parents and that Dan was afraid to introduce Olivia to his overly judgmental parents. Vanessa, of course, projected that last part onto Dan's parents to escape her own unfortunate parental unit.
With Vanessa defending her speech-giving title, Blair decided to do what she knows best - manipulate. Blair told Chuck (
Ed Westwick
) they were playing a little game and got him to fake seduce Mr. Ellis. This fake seduction was really only fake on Blair's side. Apparently Ellis was in on the scam and had promised her the speech if he got a kiss from Chuck Bass.
The drama broke loose once everyone arrived at the parents' weekend dinner, including Dan and Olivia who decided to come after all. Blair informed Vanessa that the toast was hers to give, until Vanessa snuck a microphone into her purse and broadcast her manipulative plan to everyone in the room - including Chuck. Olivia ended up giving the toast, even though she completely humiliated herself in front of Dan's parents.
With that being said, the Humphrey clan is a way too forgiving one, and everything ended up fine in the end after all was explained. Well, for Dan, Olivia and Vanessa at least. Blair had wronged Chuck and he was not so forgiving. She begged for him to forgive and forget, but Chuck Bass doesn't take matters like this lightly. He knows how little Blair thinks of those she manipulates and shut the door in her face.
The second seriously lackluster storyline this week dealt with Carter (
Sebastian Stan
), Nate (
Chace Crawford
) and Serena (
Blake Lively
). Serena was trying to get Carter out of the hands of the Buckley brothers who pretty much abducted him last week. Nate knew about a poker game where Serena could bet Carter's freedom. Nate raised the stakes and let Serena bet an incriminating photo of Nate's cousin who was running for office. Serena lost the poker game, and thought she ruined Nate's family election. However, Nate had planted the picture all along as a trap to help his cousin and used Serena in the process.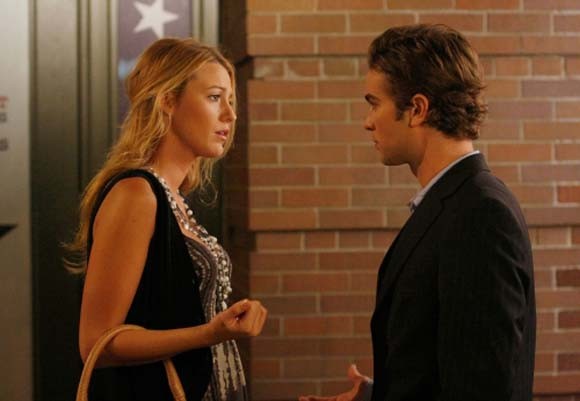 Image © CW
Serena found out about this and told the Buckley family the truth about the photo and in return saved Carter from working on an oil rig in Texas. Unfortunately, Serena can't catch a break. Carter was upset that she saved him from rigorous labor. He wanted to prove that he could be a better person. I'm so confused as to whether or not Carter is leaving the show. I don't really care about his character, but I'd like to know one way or another.
In fact, I'd like to see a map of where creator Josh Schwartz sees this show going, because right now it's not looking pretty.
Grade: C
Bookmark our 'Gossip Girl' News page & check back for regular episode recaps & news!
Story by
Beth Wickman
Starpulse contributing writer