'Gossip Girl' Recap: 'They Shoot Humphreys, Don't They?'

It was time for
Gossip Girl's
very own Little J (
Taylor Momsen
) to prove herself to society's finest. Cotillion was upon the Upper East Side, and Jenny was struggling to find an escort to match her queen standards.
The minions were set out to acquire Graham Collins, only the most attractive boy at school. However, Eric (
Connor Paolo
) could have just as easily asked Graham to be Jenny's escort, but that would require Eric and Jenny to actually be getting along. Eric, still raw about the Met steps incident, decided he would take the limelight away from Jenny…in order to save her and make her a better person, of course.
Unfortunately, Eric was way too trusting of his own escort - a new girl named Kira. She apparently lived in the same building as Graham and told him of Jenny's desire. Kira was hoping this would land her in the good graces of Queen Jenny, but her plan backfired. Jenny, still acting like a human when no one is around, confided in Eric that she just wished she could have an escort who she could have fun with. Eric suggested that she take his boyfriend, Jonathan (Matt Doyle), because of his high society last name. But, just as Jenny agreed to this endeavor, the infamous Graham texted her and asked to be her escort. She, however, did not receive this text. It was preempted by Eric.
Of course, as per usual in the Gossip Girl world, secrets aren't secrets for very long. Kira spilled the beans about Graham getting rejected by Jenny. Jenny then confronted Eric and decided to go after Graham anyway. This left Eric and Jonathan in the dust. By the time cotillion rolled around, Jonathan had enough with Eric and his scheming against Jenny and dumped him.
But, Eric wasn't the only one dumped. After Jenny's blow up at Eric, she also disowned her cotillion mentor, the one, the only Blair Waldorf (
Leighton Meester
). Blair, who doesn't like to lose at anything, decided that Jenny must pay for this. Blair took Kira under her wing and, with Eric's help, sabotaged Jenny's escort. She gave Kira a makeover and made sure Graham was escorting her down the stairs. Jenny has always been quite resourceful, though. In a moments notice, she got Nate (
Chace Crawford
) to be her escort. A hot college guy beats a hot high school guy any day. Jenny went back to be loved, or feared (take your pick) by her minions and was actually accepted into society.
Blair's plan to foil Jenny might have turned out differently had she not been swept away under false pretenses by Chuck (
Ed Westwick
). Chuck was tired of Blair and Serena (
Blake Lively
) fighting and corned the two in an elevator until they made up. Serena dished the truth out about searching for her father and her new feelings for Tripp Vanderbilt (Aaron Tveit). After last week's election, Tripp hired Serena on as his new media consultant, or some other name of a job Serena isn't really qualified for, because he returns the feeling. Oh the lovely mess I see brewing between Nate, Serena, Tripp and oh, Tripp's absent wife. But, other than that, the two frenemies left their bitterness behind…for now.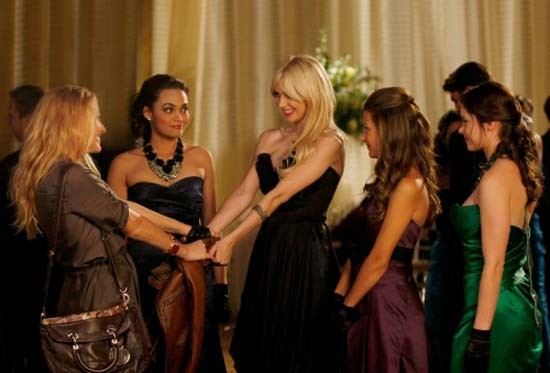 Image © CW
And last but certainly not least, there was that little thing that the CW used to promote this week's episode…the threesome. The big "who's gonna do it" scandal became painfully obvious the further the episode progressed. Dan (
Penn Badgley
) and Vanessa (
Jessica Szohr
) were trying to prevent Olivia (Hilary Duff) from leaving NYU to go work on another Twilight…I mean "Endless Nights" Saga film. Dan and Vanessa found an article in the paper describing 15 things every college student should do before they graduate. This included the three of them getting painfully drunk off tequila shots and beer pong, all leading up to the last item on the list - a threesome. It started with Olivia kissing Dan. And then Olivia kissing Vanessa. And then Vanessa kissing Dan. But, that's about as hot and steamy as it got.
The episode ended with the three of them in bed together, and a text to Olivia's phone saying the movie was no longer going on. Looks like they've finally opened the "Vanessa's in love with Dan" can of worms, and they aren't getting rid of Hilary Duff quite yet. Either way, this storyline was quite anticlimactic - bad pun intended.
Grade: C
Bookmark our 'Gossip Girl' News page & check back for regular episode recaps & news!
Story by
Beth Wickman
Starpulse contributing writer