'Gossip Girl' Recap: 'The Wrath of Con'

This week, the
Gossip Girl
gang united their powers for good, instead of evil…sort of. After Gabriel (Armie Hammer) supposedly took everyone's money, Serena (
Blake Lively
) enlisted the help of her friends to get it back. Blair (
Leighton Meester
) used Serena's crisis to avoid talking to Nate (
Chace Crawford
) about living together next year. And Chuck used this to his advantage to bring Georgina Sparks (
Michelle Trachtenberg
) back to the Upper East Side.
Serena originally was going to tell her mother (
Kelly Rutherford
) about the stolen money, but Lily prevented her from doing so by telling Serena how proud she was of her acceptance to Brown and giving her a fancy family bracelet. So, Serena came up with a plan to lie to Gabriel about being pregnant. She has him meet her at Chuck's (
Ed Westwick
) hotel to discuss the fake baby. However, Chuck tells Gabriel that he isn't going to be leaving the hotel until he gives back everyone's money. That's when he breaks down and admits to scamming everyone, but claims the idea originated with Poppy Lifton (
Tamara Feldman
).
After this bit of information is leaked, Serena lets Gabriel leave, despite his pleas for her affection. Blair, Nate, Chuck and Serena all decide they need a sting to get Poppy to admit to stealing the money; Georgina is just the girl to do it because she's the only one Poppy wouldn't recognize.
Newly religious Georgina takes it upon herself to ask Blair for forgiveness for her wrongdoings of last season. Blair claims the only way to earn her forgiveness is to go through with this sneaky plan and lie to Poppy to set her up so she can be arrested.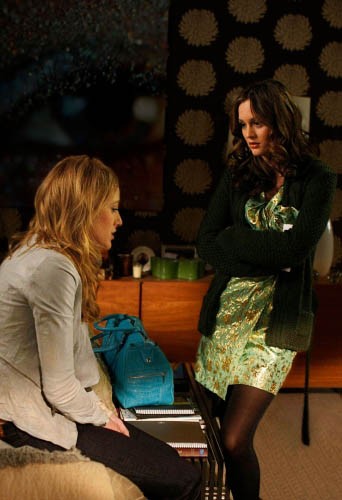 Unfortunately, Dan (
Penn Badgley
) found out about the fake investment money that was stolen. This included his dad's (
Matthew Settle
) savings for college tuition. Dan, worried about his own future, tells Lily about the stolen money. Lily decides that this is an adult scandal and will be handled discreetly. She decides to pay everyone who invested money back, except Rufus. She decides to pay Rufus dividends, making him think he was earning something. However, Rufus finds this information out and is truly hurt, especially since he was planning on proposing to Lily.
Serena, against her mother's wishes and annoyed with Dan, goes along with the plan to set up Poppy anyway. Georgina pretends to be an oil tycoon's daughter and meets with Poppy at the Russian Team Room. While waiting for the two to discuss "business" matters, Nate calls Chuck out about his feelings for Blair. Blair in return tells Chuck to tell her, once and for all, if he actually has any true feelings for her. Chuck lies and tells Blair it's all just a game to him. Serena overhears the conversation and asks Chuck why he lied. Chuck simply responds with, "because I love her and I can't make her happy." After Chuck denies his feelings, once again, Blair returns to Nate. She tells him she's not ready to move in together, though.
The cops arrive while Poppy and Georgina finish discussing financial matters; only they decide to arrest Serena instead, leaving Poppy to escape with Georgina's Bible camp money. Blair automatically assumes that Georgina had something to do with Serena getting arrested and says that she and Jesus will never forgive her for what she's done.
This makes Georgina snap, however. She later calls Blair and tells her that she's finishing the job that she obviously can't do herself and takes off after Poppy.
Nate, Blair and Chuck all try to get Serena out of the slammer, but only her mother can save her now. In fact, Lily was the one who had Serena arrested in the first place, to teach her a lesson about not listening to her about the money scandal. After hearing this, Rufus decides that Lily isn't the person that he wants to marry after all and tells Dan and Jenny (
Taylor Momsen
) to return the engagement ring.
Story by
Beth Wickman
Starpulse contributing writer