'Gossip Girl' Recap: 'The Unblairable Lightness of Being'

Gossip Girl isn't complete without some big party looming on the horizon; so, when very pregnant Dorota (Zuzanna Szadkowski) and her fiancée Vanya (Aaron Schwartz) were in need of a shotgun wedding (due to Dorota's parents coming to visit) Chuck Bass (Ed Westwick) was there to save the day. Chuck, as always, comes complete with ulterior motives, so he was hoping he could get back into Blair's (Leighton Meester) good graces by putting on this extravagant show.
Blair wasn't overly quick to forgive Chuck, though. She could barely even tell anyone about the whole pawning her for the Empire ordeal. Nate (Chace Crawford), taking the place of Serena (Blake Lively), came to Blair's side and told Chuck he should be ashamed of his actions, after he finally pried the information out of her with the "old friends can tell each other anything" approach. Chuck tried to tell Nate he didn't know the whole story. Chuck then turned the tables on Nate and informed him that he didn't even know what was going on in his own relationship, so he was in no place to judge anyone else's.
Chuck was referring to the reappearance of Carter Baizen (Sebastian Stan). Serena lied about hanging out with her surrogate Humphrey family in order to talk to Carter about finding her father. When confronted by Nate, Serena was hard pressed to let any immediate details out. At the pre-wedding festivities, Jenny (Taylor Momsen) was continuing her pursuit of Nate and encouraged him to snoop in Serena's purse to find out what she got from Carter. The results were a hotel key, making Nate even more suspicious and forbidding Serena from seeing Carter again.
Blair and Chuck continued to fight at the pre-party; however, Blair came to the realization that she was an awful person and only deserved to be with someone as demented as Chuck.
As part of their cultural tradition, Dorota and Vanya needed a happy couple to walk them down the aisle to ensure a happily ever after for the two before they wed. Chuck said that Blair and he would escort them down the aisle, but right before the ceremony Blair admitted that she wasn't happy with Chuck or the person she was turning out to be. Dorota rushed to her side to make Blair feel better. Eleanor (Margaret Colin) was having her own maternal crisis after her husband Cyrus (Wallace Shawn) decided to get Dorota and Vanya their own apartment for a wedding present because they were "like family." Eleanor walked in on the tender moment Blair and Dorota shared and finally came to terms with having Dorota as part of the family. Blair also came to terms that she needed to be happy, so much to her and Chuck's dismay; she ended it…possibly for good.
In an unlikely turn of events, Blair found a friend in Dan (Penn Badgley) who was missing his counterpart Vanessa (Jessica Szohr). Even Dan thought that Blair should deserve some happiness and asked her to dance. Chuck, in turn, asked some overly attractive Russian girl to dance. And so their games begin again…
A few people were missing from the wedding, however. Serena jumped ship after Carter came with a plane ticket to go to Palm Beach, where her father was supposedly hiding out. Carter made Serena leave without telling anyone. She quickly realized Carter was up to his old tricks, kicked him out of the limo, and continued on her way. She called Nate, but unfortunately Jenny answered. Still trying to get her hands on Nate, Jenny refused to pass along the message of where Serena went and decided to ask Nate to dance instead.
Also missing from the wedding was Lily (Kelly Rutherford). Rufus (Matthew Settle) attempted to get in touch with her, but she had lied about being with her mother. Rufus threatened to Lily's mother that he was walking out the door if he didn't find out some answers soon.
While Rufus may not get the answers he's looking for, Serena ended up finding more than she bargained for in her father's Palm Beach hotel room – Lily.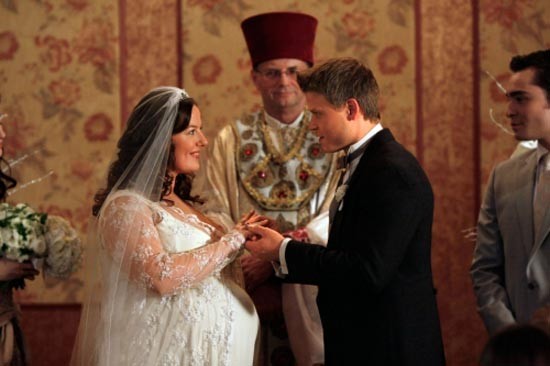 Story by Beth Wickman
Starpulse contributing writer