'Gossip Girl' Recap: 'The Last Days of Disco Stick'

Serena (
Blake Lively
) may have started out this week's episode of
Gossip Girl
apologizing to Blair, but by the end of it, she sure needed to apologize to a few more people.
For starters, Serena and Tripp's (Aaron Tveit) chemistry was heating up. It became uncomfortable to watch the two of them in the same room. Serena at least knew she was doing something wrong, or thinking about doing something wrong, so she turned to someone who had some experience in the married affair department - Nate (
Chace Crawford
).
Nate decided to be a friend, despite the awkwardness about coming to him (who's she's had sex with) to talk about her wanting to have sex with his cousin…I don't know about you, but that seems a little incestuous to me. Nate's grand solution was to kidnap Serena until Tripp left for Washington D.C., which he was conveniently doing the next day.
Nate and Serena spent time drinking in a bar. Once the liquor started talking, Nate confessed that he's always been in love with Serena. But, when he went to lean in for the kiss, they were interrupted by Tripp. He had been calling Nate, distressed after learning that it was not their grandfather who had staged the man in the Hudson on Election Day, but his own wife. His marriage was now not what he thought it was, and this opened the door for Serena. Nate urged her not to go with Tripp, but to her the line was blurry enough to cross it without feeling guilty.
Even though Nate didn't really help with Serena's problem, he happened to also be playing therapist to Dan (
Penn Badgley
), who was dealing with the aftermath of his super lame threesome from last week. Dan was suffering due to a misunderstanding about the correct rules of a threesome. The most important rule he apparently forgot is that the third party must be a stranger, not his best girl (who happens to be a) friend.
Dan, Vanessa (
Jessica Szohr
) and Olivia (
Hilary Duff
) were at odds with each other throughout the entire episode, but leave it to Blair Waldorf (
Leighton Meester
) to bring the three together over
Lady Gaga
(guest starring as herself).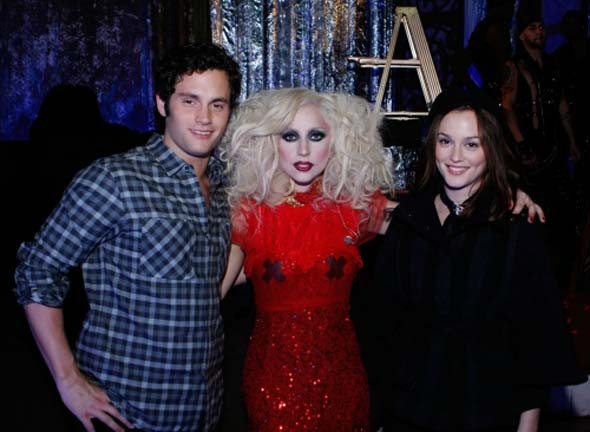 Image © CW
Blair had finally developed a plan to get in with, "the only people that matter," at NYU. Of course, she was talking about the Tisch School of the Arts elite. They were hosting a gathering of actors and writers performing fairy tales based around pop-culture. Or at least I think that's what was going on. It was an obvious plot device, however, to play on the tension between Dan, Olivia and Vanessa…with a little Blair thrown into the mix.
Blair was originally not invited to this gathering, but used her somewhat futile connection to Olivia to get in the Tisch kids' good graces. Olivia wanted to distract Dan from a previous concert engagement with Vanessa, so she said it would be good connections for him to make when he applied to the playwright program.
Dan decided to end the squabble between Olivia and Vanessa, by bringing Vanessa on as the director of this Snow White/Lady GaGa themed play. This only made matters worse with the two of them vying for Dan's attention. During the play, Olivia called Dan out for playing an aptly titled, "Love Game." She then abandoned ship and left Vanessa to fill in for Snow White. Dan kissed Vanessa again. He realized it, as Olivia pointed it out, that he actually had feelings for Vanessa all along.
Unfortunately, Vanessa had become interested in one of the artsy kids at Tisch, leaving Dan stabbed in the gut after Olivia decided to leave him…and NYU…to make some witch movie she originally claimed was the "worst idea ever."
But, Blair's fairy tale came true. She brought Lady GaGa to the stage and impressed her fellow classmates for the first time. Maybe Blair can finally stop acting like a highschooler and embrace the fact that she's in college now.
However, speaking of high school…Jenny (Taylor Momsen) spent the entire episode escorting a hotel client of Chuck's (Ed Westwick) around the city. She got herself into some highly overrated trouble involving illegal drugs. Chuck stepped in and saved Jenny from the potential danger. That's such a sweet, semi-sorta-step-brotherish thing to do. Those two have truly moved on from their first encounter, back when Chuck wanted to take advantage of sweet, innocent little J. She's turning out to be not so innocent anymore. Apparently, Queendom isn't enough to quench her appetite on the Upper East Side.
Other than that, we'll have to wait until after Thanksgiving for the next installment of Gossip Girl drama.
Grade: B
Bookmark our 'Gossip Girl' News page & check back for regular episode recaps & news!
Story by
Beth Wickman
Starpulse contributing writer