'Gossip Girl' Recap: 'The Hurt Locket'

Even though audiences had to wait for Gossip Girl's long winter break to end, two of our favorite Upper East siders didn't have to wait at all to cultivate their newfound relationship. Serena (Blake Lively) and Nate (Chace Crawford) couldn't keep their hands off each other the entire episode, despite what their close friends, Dan (Penn Badgley) and Blair (Leighton Meester) suggested.
Dan, who's still reeling from his break up with Olivia (Hilary Duff) as part of the backlash from the threesome with Vanessa (Jessica Szohr), decided to push Nate to take it slow with Serena. He tried to offer words of advice from his own Serena dating experience, and Nate responded. Nate had initially invited Serena to a French Ambassador dinner party, because where else would a hip 19 year old want to be, but pulled the offer off the ambassador's dinner table after talking to Dan. This, unfortunately, perfectly coincided with Blair's terrible advice to Serena to play games with Nate to make sure he keeps eating the ice cream in the future. Her bad metaphor, not mine.
So, Serena thought that Nate had already had enough "ice cream" and was deciding to take a break. Considering it'd only been a few hours since they'd done it, she might have been overreacting. But, nevertheless, she used this opportunity to call up Damien, new addition to the Gossip Girl world and friend of Jenny's (Taylor Momsen) who's a world class drug dealer.
Damien, thinking he could get back into the pants of boarding school Serena, decided to take her up on the offer – giving Jenny the shaft. This wasn't the best idea considering Jenny was helping Damien get drugs smuggled into the party to give to the French Ambassador's daughter. Jenny decided to sew the pills onto a jacket that the ambassador's daughter would then wear home in exchange for her own jacket. But, after Damien gave Serena the jacket to wear, it seemed that the plan was ruined.
Never fear, because Serena isn't the boarding school slut she once was…sort of. She wouldn't let Damien put the moves on her, refusing to take her pill-popping jacket off. But, Nate's charm lured her into the coatroom where he proceeded to remove her jacket, and the rest of her clothes, so they could ever so intimately make love on a couch behind some rich people's coats.
Jenny spotted the coat on the floor and got it into the ambassador's daughter's hands, saving Damien from getting excommunicated from the drug dealing world of New York City.
While Serena was preoccupied with Nate, Blair had her own beau to deal with. Blair was looking forward to the ambassador dinner as a way, as per usual, to help her climb up the social ladder. Chuck (Ed Westwick) had other things in mind – primarily the strange woman he saw standing over his father's grave in the winter finale. Chuck was using his private detective to seek out information on the locket he found, dropped by the woman at the gravesite. He traced it down to a woman named Elizabeth, who claims she was only one of Bart's girlfriends. Of course, being the smart audience members that we are, we know that isn't really true. This could also be deducted by how much Josh Schwartz and gang love to bring in random, estranged family members of our core group; think back to the illegitimate love child of Lily and Rufus that took up way too much time at the beginning of this season.
Blair ended up ditching the French Ambassador to help Chuck seek out this woman. In the end, he finally confronted her about his father and the locket, and she claimed to know nothing. Blair, following her usual precedent, called the woman out on lying and told her to confess…or else.
Chuck's story ended by having him miss a call from this "mysterious" woman, only for the audience to see the other half of the locket, a photo of the woman and a baby.
But, though it is Blair's overly self-confident nature to call people out, Rufus (Matthew Settle) took a play out of Blair's book and decided to confront Lily (Kelly Rutherford) about the letter he found during the winter finale which led him to believe she slept with her ex-husband (Serena's father) during their engagement while he was back in NYC taking care of the kids. Lily, tearfully, claimed it was only a kiss, but this still drove Rufus out of the apartment, and into that of another woman – their overly friendly downstairs neighbor. Guess it's simply the circle of Gossip Girl life, as soon as one couple can't keep their hands off each other, another ends up being driven apart.
Grade: B-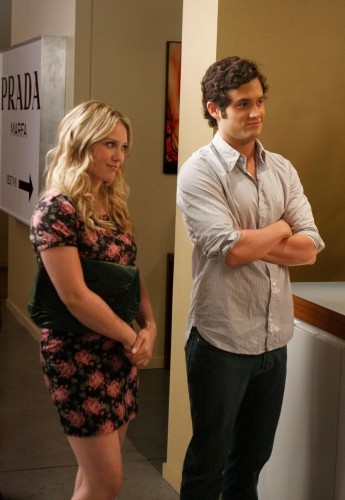 Story by Beth Wickman
Starpulse contributing writer