'Gossip Girl' Recap: 'The Grandfather: Part II'

Nate Archibald (
Chace Crawford
) must have been missing from the
Gossip Girl
universe because he was super busy working on his cousin, Tripp's (Aaron Tveit), congressional election. But, Nate made up for his lack of screen time by inviting all of his Upper East Side friends to Chuck's (
Ed Westwick
) hotel for his cousin's political watch party.
The moments leading up to the party weren't quite as good as the end result of Tripp's obvious victory. Serena (
Blake Lively
) needed an invite to the Vanderbilt election party so her new boyfriend Patrick (Olivia's (
Hilary Duff
) ex from the knock-off Twilight series) could make headway on a political thriller movie. However, after the Carter debacle, Serena was not in Nate's good graces. It was the innocent (or not as innocent as it may seem) invite from Trip that allowed Serena and her drunk of a fake boyfriend to come crash the party.
Blair (
Leighton Meester
) needed to one up Serena's new boy toy by finding a friend. Apparently, her minions don't count. She said in the episode that she didn't befriend the staff. I just feel sorry for Dorota, now! Much to Blair's dismay, someone walked into their quaint little NYU coffee shop holding a designer purse to rival anything in Blair's closet. Blair immediately wanted to befriend this new girl, and invite her to Nate's party.
Unfortunately for Blair, this new girl ended up being a call girl. She was there to work the party and ended up using Blair - something that is rarely done.
Both Blair and Serena were not happy with how the other has been acting, or treating one another. Blair made a choice; she chose Chuck and Nate and her new, albeit not as fabulous, lifestyle over Serena. Serena decided that even though she might have lost Blair (for now) she didn't have to belittle herself for KC anymore. She pushed drunken Patrick into a cab and sent him back home with a note saying, "I quit!"
While the guest list was being finalized, Tripp, Nate and Vanessa (
Jessica Szohr
) went outside on the streets of New York to video tape people's reaction to the election. While standing by innocently, a man started screaming and splashing for help in the Hudson. Trip went to save him and became a public hero within a matter of minutes. Vanessa, documenting the entire campaign, had her handy-dandy video camera to catch the whole thing on tape. Unfortunately, when Vanessa looked over the footage she saw the man jump into the Hudson on purpose…staging the entire event for publicity.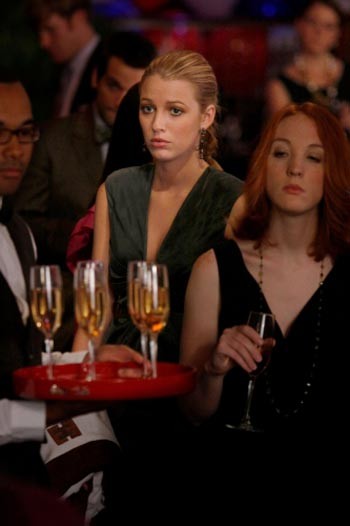 Image © CW
Vanessa still wanted to sell the footage to the news, but Nate tried to bargain with her. When that didn't work, he set up a fake meeting with a fake news station producer to get the footage out of Vanessa's hands. Despite Nate's best efforts, Vanessa still managed to find the right producer and get the footage on the air. She confronted Nate about losing his moral compass, while he chastised her for being selfish about putting her career before their friendship.
Either way, something got into Nate and he decided to take the blame for the public scandal and reminded everyone that Tripp didn't know about the hoax. Maybe the balloon boy family could have taken a few notes.
After Tripp was safely elected, his wife told their grandfather (James Naughton) that the whole set-up was her idea to rid Grandfather from the family. But, while the wife was off being conniving, Tripp was secretly slipping off to the basement. He wound up having drinks and chatting the night away with Serena. Foreshadowing? I think so…
Grade: B+
Bookmark our 'Gossip Girl' News page & check back for regular episode recaps & news!
Story by
Beth Wickman
Starpulse contributing writer