'Gossip Girl' Recap: 'The Freshman'

Gossip Girl
went back to school this week, but they're not at Constance anymore…despite what Blair Waldorf (
Leighton Meester
) may think. Blair's main goal was to take over NYU the same way she did Constance. But, taking over NYU students' brains isn't as easy as dictating where they sit on the steps of the Met. First off, Blair began fighting an uphill battle as soon as Georgina Sparks (
Michelle Trachtenberg
) revealed herself as her roommate. At the end of last season, Georgina connived her way with the admission lady to become Blair's roommate, but played the innocent victim in front of fellow NYU students, Dan (
Penn Badgley
) and Vanessa (
Jessica Szohr
), begging for them to give her a second chance.
As a bribe to her fellow classmates, Blair brought Dorota (Zuzanna Szadkowski) with her to college to supply the girls in her dorm with goodie bags. Can we say cut the cord already? Needless to say, Blair's bribery and condescending tone didn't work. It also didn't help that Georgina formed an alliance with Vanessa and lured the girls in the dorm away from Blair's sushi and sake party to watch Vanessa's documentary. Of course, Georgina is being just as conniving as Blair, but it seems nicer because Georgina isn't playing the role of a stuck up brat.
Georgina then decided to throw her own party on the rooftop. Blair graveled to Dan and asked if he would take her to the party. It was probably because Blair wanted to hear her alter-ego Leighton Meester sing with Cobra Starship in the background. Shameless self-promotion anyone? Georgina warned Dan that he was being used, but Dan tried to see the best in Blair. But, he was proven wrong after Blair brought Georgina's old "Jesus Freaks" to the party and told everyone it was Georgina's trick to convert everyone. Dan finally stood up and told everyone to stay and have a good time. Apparently though, Dan had too good of a time. At the end of the episode Georgina and Dan woke up next to each other and kissed. I can't believe Gossip Girl decided to go there. Again. We already watched the whole Dan and Georgina storyline and it didn't play out too well. There's no need to see it again. I didn't like it the first time, and I doubt I'll like it now. I'm still uncomfortable with how normal Serena (Blake Lively) and Dan are acting about their parents getting married and them becoming step brother and sister.
Speaking of Serena, she decided to defer Brown for a year and stay in NYC. But she didn't do it quietly. After lying to Rufus (
Matthew Settle
), she decided to hang out at Chuck's (
Ed Westwick
). Chuck, however, was working on a business deal to make an underground speakeasy posing as a restaurant. Blair ruined this deal twice with her antics and the help of her new on-again off-again boyfriend Carter (
Sebastian Stan
). Chuck then went to Rufus and told him about Serena not going to Brown. Eventually, Rufus and Serena came to an understanding and shared a moment. It wasn't too creepy, unlike Rufus' illegitimate love child who is posing as Vanessa's new boyfriend. Scott (Chris Riggi) is a little too eager to talk with Dan, and last week he was too eager to meet Rufus. They just need to move his story along faster, because I'm already losing interest.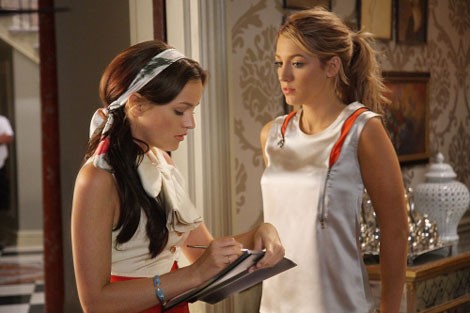 Gossip Girl © The CW
And last but not least, there was Nate (
Chace Crawford
) and his new girlfriend Bree (
Joanna Garcia
). They stayed in bed and played the get-to-know-you game. It really was barely worth mentioning. But hey, at least Nate got to appear in this week's episode. He was missing a little too much last season for my liking.
Bookmark our 'Gossip Girl' News page & check back for regular episode recaps & news!
Story by
Beth Wickman
Starpulse contributing writer