'Gossip Girl' Recap: Thanksgiving Table Serves As Love's Chopping Block

This week's episode of
Gossip Girl
felt more like a Valentine's Day Massacre, rather than Thanksgiving dinner. Cupid's arrows were flying every which direction, ensuring that trouble was cooking alongside the turkey.
First up on love's chopping block - Nate Archibald (
Chace Crawford
). Nate hinted in the last episode that he'd been harboring feelings for Serena (
Blake Lively
) for the past three years. He's been doing a pretty damn good job of hiding those feelings, considering in the meantime he's been with Blair (
Leighton Meester
), Vanessa (
Jessica Szohr
), Jenny (
Taylor Momsen
), and who can forget Duchess Catherine (
Madchen Amick
). He's definitely occupied his time well. But, Serena's arrow of love decided to land on Nate's newly-elected cousin Trip (Aaron Tveit). There was a little unfortunate side effect, though. Trip is still married to Maureen (Holley Fain), making Serena the somewhat dirty mistress.
Blair had a fairly good idea what was going on; she may be evil, but not blind. Of course, her disapproval put her and Serena on the outs. Luckily, what Blair didn't see was caught on the security camera of Chuck's (
Ed Westwick
) hotel. After potentially blowing off her family for Thanksgiving, Serena headed back to Chuck's and shared a passionate elevator rendezvous with Trip. Chuck, possibly unaware or uncaring of Nate's feelings for Serena, told Nate about the incident. Nate then took it upon himself to steal the tape from security and use it as blackmail to get Trip and Serena to end their affair. I don't know about you, but that's how I love to be won over in a relationship.
Maureen, unhappy about her pending divorce (which Trip claimed had nothing to do with Serena), came back to Manhattan to spend the holiday with her husband to try and patch things up. Lucky for her, she ran into Lily (
Kelly Rutherford
) who just so happened to invite Maureen and Trip over for dinner in hopes to see her daughter, who'd been working such long hours with Trip. Lily didn't know what a terrible idea this was because she's completely oblivious to Serena's love life. She can't even manage her own with Rufus (
Matthew Settle
). There's no real point to explain this subplot more - Lily is keeping a secret that only her mother, CeCe (Caroline Lagerfelt), knows. That's all we found out in the entire episode. I'm sure it'll play more of an importance later…especially with spoiler rumors circulating that Bart Bass (
Robert John Burke
) might return from the dead!
Anyway, so love's chopping block turned into the Thanksgiving table. While Rufus tried to tell a joke, Maureen called Serena out on her and Trip's affair. Lily happened to be strategically placed behind Serena to see her elevator passion on Nate's phone. She was very disappointed. Nate, trying to play a man of dignity, claimed he did this to help Serena. Blair concurred and said "the other woman" never gets a happy ending. Still, all this ruckus and Serena still left Nate standing at the curb while she took off with Trip. There were implications that Nate's declaration of love was lingering in Serena's mind. Maureen's not completely out of the loop just yet, either. Serena, for a split second, wanted to jet off to Paris with Blair (more on that in a minute), but was sidetracked when she found the letter her father wrote her locked in her mother's safe. Her mother, later rereading it and hiding it from Rufus, stuffed it in a jacket pocket. Coincidentally enough, that jacket pocket belonged to Maureen.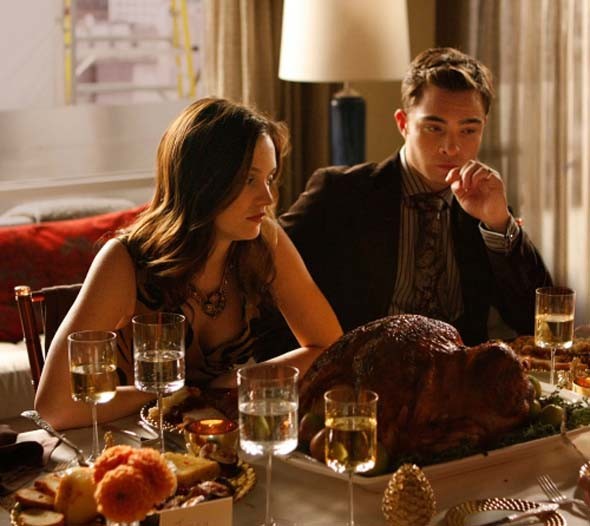 Image © The CW Network
And if this wasn't enough drama, Gossip Girl creator Josh Schwartz pulled a cue from his other successful series about over privileged teenagers (The O.C.) and used the Jason DeRulo remix of Imogen Heap's "Hide and Seek" song for every entrance and exit from the Thanksgiving dinner table. Schwartz previously used Imogen Heap's "Hide and Seek" in the second season finale of The O.C. I'd love to see another SNL parody on this, though I doubt it can live up to the excellence of the first rendition. But, I digress.
Dinner was filled with other fits of rage. Jenny and Eric (
Connor Paolo
) happened to still be fighting over what happened at Cotillion. It's becoming trivial and boring, but still a cause of leave the table exactly on cue (Mmm... What Ya Say...).
Blair was annoyed (also on cue) at dinner with her mother, Eleanor (
Margaret Colin
), after thinking that Dorota (Zuzanna Szadkowski) bought her a pregnancy test…or that's what she thought. Eleanor pointed out that Blair was going crazy (which is a fair assessment). The truth about Dorota's pregnancy came out a little later. Looks like behind closed doors Cupid's been shooting a few extra arrows at the hired help - Dorota will be having the doorman's baby. Meanwhile, Eleanor is simply moving to Paris, much to Blair's dismay. Parents must be too complicated to write into Gossip Girl: The College Years. But, Blair gets a vacation out of the deal, so no one is complaining.
And last, but certainly not least, we have poor, lonely boy Dan Humphrey (
Penn Badgley
). Olivia (
Hilary Duff
) has left him questioning his true feelings for Vanessa after their threesome. And he keeps making a face. Everyone points it out, including Vanessa's mother. In a typical lackluster subplot, Vanessa was at odds with her mom and forced to spend Thanksgiving with the Humphrey-Bass-van der Bilt-van der Woodsen clan (Try saying that three times fast). Dan invited her to make amends and she pointed out his infatuation with her daughter, and encouraged him not to act on it based on past transgressions. At least he's not pining away for his step-sister anymore. Vanessa left to go grab a drink with a fellow NYU film buff. Apparently Dan's the only one Cupid missed completely. Its okay, Dan, Valentine's Day is right around the corner…at least in TV land anyway.
Bookmark our 'Gossip Girl' News page & check back for regular episode recaps & news!
Story by
Beth Wickman
Starpulse contributing writer